2005 Sightings
May 7, 2005
Illinois State Morel Mushroom Hunting Championship Official Results
Grand Champion: Alex Babich, Ft. Wayne, IN, 110 mushrooms
Men's First Place: Randy DeDecker, East Moline, IL, 103 mushrooms
Women's First Place: Becky Evans, Braceville, IL, 52 mushrooms
Men's Second Place: Tony Arends, Tiffin, OH, 56 mushrooms
Women's Second Place: Ann Gibneski, Madison, WI, 46 mushrooms
Largest Morel: William Heitzman, Edwards, IL, 9 inches tall + 5.5 inches girth = 14.5 inches
Smallest Morel: Justin Burris, Springfield, IL, .875 inches tall + .875 inches girth = 1.75"
Arizona
3.29
We found 58 nice sized morels in Arizona (Sedona area) on March 29 and 31. Being from Indiana, we're guessing that the unusually large rainfall in AZ must account for this.
Arkansas
3.29
Found one small gray in Harrison, AR on 3-29-05. Warm weather and damp ground hopefully is sign of a good year. Larry, Denny and Don get packed and ready to go. See you soon. Jim H.
4.8
We found 67 large & small grays in two different locations.......
California
3.1
Hi, my name is George L. and I am in Monterey, California and think I have spotted some Morels sprouting around my office. Could you E-mail information about distinguishing poisonous vs. non-poisonous Morels? The specimens I am finding have the correct shape but the stem is translucent yellow in color. I'm not crazy enough to eat these till there is positive identification. Your prompt reply will be greatly appreciated.

Tom's reply: Hi George, I'm happy to help. A true edible morel has three characteristics: 1. A sponge cap with true pits and ridges, whereas the non-morels have wrinkles and folds (wavy in appearance) 2 If you slice the specimen in half, it is completely hollow - both cap and stem. The non-morels have a fibrous material inside the stem or possible solid or chambered. 3. The cap and stem connect to one another at the base of the cap. Some of the non-morels have a stem that goes up and connects at the top of the cap. Imagine a closed umbrella as being a mushroom. The stem of the umbrella goes up inside cap and connects at the top of the cap. On a true morel, the stem would connect at the bottom of the cap. If you have all three of the factors, then you have a true morel. For further information, Check Michael Kuo's pages on identifying true and false morels: www.mushroomexpert.com/rules_for_morels.html
Bill B. from Stockton CA. Last night I was taking a walk through the back yard. In the back planter area I noticed the ground cover was lifted upon inspection I found this years first Morel. The Morels are of the gray verity, and the one I choose to eat was three inches in height.

3.5
Greetings. I was walking with my son and his dogs this afternoon in a watershed area which is surrounded by irrigated farmland and found my first morel mushroom in more than 20 years. The nearest town is Hanford, California...about 5 miles north in the central part of the San Joaquin Valley. This area is basically stripped of native vegitation including trees and most of the land has been laser leveled for easier irrigation so I was very surprised to see an average gray mushroom growing sideways in a small hole in the ground. As soon as I showed it to my son, he pointed out 2 or 3 more a short distance away. They were growing in an area where a mixture of mostly grass and clover grows. I hunted and enjoyed eating these mushrooms while growing up in Iowa, but have never seen them since I left. THANKS FOR THE VERY INFORMATIVE WEBSITE. Dean
We have yellow morels sprouting up in our backyard and garden beds this past week and a half. We did not know they were morels, but thought they looked very similar, so decided to have them identified and keyed by local college professor familiar with mushrooms. They are abundant, growing in the lawn and beds under and near our Ash trees! We have lived here 8 years and this is the first crop we have noticed. We aerated the lawn last year and have had a good deal of rain this season. We live in northern California. Michelle G
3.23
hey,Tom,thought i*d let you know i have a freind lives in cave junction,oregon. southern ore, 30 miles from calif. shes just found morels in her yard she lives out of town,she said there about 3 weeks early this year. just passing on information,. later dude.
3.24
Mike Hanley (1997 Grand Champ) at Disneyland, California, March 24, 2005. Always looking for mushrooms!! Believe it or not!! Mushroom found while standing in line with the family at the Matterhorn. (picture on right)
5.15
On May 15, 2005 my friends and I collected in about 3 hours as many morels as we could carry from a 2004 burn area at about 5000 ft elevation in El Dorado National Forest. Flush is so good that we left many smaller srooms behind. With ongoing rain events in the area, it appears fruiting will continue with gusto in the next couple of weeks or so.
Colorado
5.4
It gives me great pleasure to report that the morels of Colorado, after an absence of several years, have returned in abundance. This morning I picked 41/2 lb. which is about 31/2 lb. more than I have ever picked before at one time. They are just coming out and are in prime condition. My usual indicator, the blooming irises, is missing. But when a friend called me last night and said he had picked some yesterday, I HAD to go. What a day. The soil is very moist and it is cool, so I hope they will last well into May. With some more rain, we could even see the big 8 inchers this year. Ellen
5.7
Ellen got me all excited with her report, so I had to go check my patch to the southwest of Denver. I didn't find anything at first, searching in the deep wooded area of narrow leaf cottonwoods. I searched for about two hours in the rough stuff and decided to mosey on back the easy horse path. To my delight and surprise, I found about a gallon jugs worth of prime, early yellow beauties, all within three feet of the trail! With a touch more rain and if it stays cool.........well, I'll be bach, John B
5.15
Eagle County, Colorado. Found a handful of yellow morels slightly past their prime. Thinking that a good indicator may be the appearance of dandelions in the area. The yellow flower is a good reminder to start looking anyway! Timm
5.16
Second trip to secret spot for morels netted 50, far less than the previous trip, but they were bigger and heavier. Members and guests at the May 8 club meeting brought in quite a few and some had a lot. We then had several days of hot, dry weather and many were predicting that the season was at an end. I went again yesterday in drizzle and rain and found about 36. The weather is now cool, rainy, and unsettled and since yesterday's collection was fresh, I think the season is going to continue for at least another week, maybe more. They are a continueing challenge. Ellen
6.6
Found the first Black Morels of the season. Just a half dozen, but I've seen more Wrinkled Thimble Caps than ever before, so perhaps the season is about to begin here in earnest. The Morels are making an appearance 7-10 days later than in the past. Timm
Connecticut
5.4
Coming home from work this evening I saw what looked like a whole flock of morels next to my driveway. We live in a wooded area of SW Connecticut. This is only our second year in this house, so maybe it's an annual occurrence... didn't see them last year, but who knows? We harvested 34 nice morels (and a few bugs) and left a few to spread for next year. Woo-hoo! Great site, thanks! John
Georgia
3.28
Tom, I found my first tiny Grey Morel here in Central Georgia. The season is at least two weeks behind normal. Chris Matherly
Idaho
4.17
Found 10 small black morels on Sunday near Harvard Idaho Good luck, JS
4.22
Wahooooo Season is finally to North Idaho. I found my first 3 inch blacky north of Hayden on an East facing hill on 04-22-05.
4.23
found our first three, 23rd lewiston idaho .
5.25
These morels were found in the mountains of the panhandle of ID May 25,2005. Found nearly 160 weighing about 10 lbs... largest of them measured about 5-6 inches... had to use a shirt as the bag as I was going for a hike not expecting to find this many morels! Greg Good Moscow, ID (picture on right)
Illinois
A controversy has erupted over a report to this page concerning the State of Illinois not allowing mushroom hunting in state parks until after 1:00 pm. Click here to check out the facts. -Tom
3.22
Joe McFarland here. I picked a few black morels today in Jackson County, Illinois. These were the first of the year for me (the first time I bothered to look, for that matter). It's early, of course. Over the years I've found black morels as early as March 14 in southern Illinois. This date, March 22, is about average.What's the significance of the first morel? The first morels really don't mean much beyond bragging rights. I always compare the first morels with the first ripe tomato in a garden. One ripe tomato--the first one--merely indicates there should be plenty of ripe tomatoes in the weeks ahead. But not yet. Right now, there are just a few black morels barely popping up in southern Illinois. Most places probably don't have anything yet. The ones I picked were on a south-facing slope in the forest, a place where I manage to find black morels fairly early each year. For the first year ever--with Abe Lincoln as my witness--I actually had a 2005 penny in my pocket to insert as evidence as I took a quick snapshot. Take that, morel conspiracy theorists. As for weather, we received some much-needed rain here today, a slow, steady shower, following weeks without more than a few sprinkles. Good luck morel hunters. I wish you better luck than last year. (picture on right)

3.28
Mike and Kelly found 3 blacks today,March 28,in the Cave-In-Rock, Illinois area,in pine needles, not much but a start. Thanks
3.29
live in marion county , il. went mushroom hunting on 3-29-05 and found 10 black morels facing the south and 1 grey and tonight were gettin rain so i will be back out
4.2
Thought I would let you guys and gals know a group of 5 of us went mushroom hunting on April 2 in Union county in Southern IL. We hunted for 4 or 5 hours and found one small area with 51 black morels. Nick
4.3
nancy here in christian county, il. found five going out to see if there are more. april 3 2005 at 9:30 am. getting my bag and going back. HAPPY HUNTING and hope it's a good year.
4.4
Jay of Sangamon County, IL phoned from his patch to let us know he was looking a two gray morels. One the size of a BB and the second the size of a kernel of corn. Granted, not much of a meal, but a sure sign that the season is soon upon us.
I'm 9-year old Matthew Hanley, son of Mike Hanley of near Kickapoo, IL. I found my first mushroom, a gray morel, on April 4, 2005.
4.5
Found one 2-inch grey this afternoon (5 April 2005) in Fairview Heights, Il. South-facing hill. Too dry, need rain. Larry

I found 13 smokies last night (4-5-05) in Perry County IL. Perry Co. is in Southern Illinois. Expecting rain for the next two days. Should pop them up then! Charlie Gaines
4.6
Hello from Jimmy D here in East Central Illinois. Found 7 very nice black morels this morning in my favorite spot. Have never found them this early before (April 6). Maybe this is a sign that this will be a good year. Calling for a rain tonight. That will help.
Im from Greene county Illinois and found 4 yellows 4-6-05, no greys we need rain , it is very dry out. LH
4.8
Went to the strip hills today , found 72 greys. need rain. Western Perry county.
4.9
We found 13 little greys in the hills of Macoupin county on the 9th . Allwere very fresh. Hopefully with the rain were supose to get this week there will be many more right behind. Roady
Late report! Went out Saturday, April 9, and found two itty-bitty ones. They're coming !!!! (picture on right)
K and J were out Saturday in North Sangamon County, found 12 grays, all hidden very well. Biggest one was approx 1/2" high. Looking forward to a fun year!!!!! Janet Winkler
Monroe County, IL, four of us walked the timber for 3 hours and found one small gray. Temperature was in the 80's
4.11
My First Mush was a mess of blacks found in various locations in Southern Illinois. Yum! It's a tad dry on the warmest slopes, but rain is headed our way so we are all in luck! Eve
Matthew Roe in Peoria found 27 small grey's in our back yard! This after traveling 200 miles yesterday to find nothing at all...go figure.
4.12
'Tiss the season to be jolly, we found grays north of the Peoria area. We reported last year on the 17th, this year the same spots produced 29 on the 12th. Hopefully the year will be better than last, good luck, the Reed family a year older and a year wiser.
I found 92 greys in Athens, Il, Menard Co. under a big ash tree after our rain on 4.12.Most had some good sizeto them. Going out again after work.Roger
4.13
Shawn in Mapleton, Illinois. Morels have been out in southern part of Peoria County, Illinois this past week. Found 11 greys on 4/13, followed by mixed greys and yellows the following 4-5 days. Have picked about 90 total - mostly greys, but a surprising number of larger yellows. Several mushrooms in the last couple of days have been very dry. A good rain (soon) and we should have a nice crop of yellows popping out in this area.
4.14
Tammy and 3 pals found 31 gray small morels in Shelby county of Illinois. Most were very small and in clumps of 3 or more. A couple were out apart. Low to mid ground level.
It's Alex K. I went out last Thursday and Saturday(14th and 16th), and found a few(50-60) in my two regular spots in Godfrey, Illinois. It is really too dry right now and many of them were dried out.
4.15
Hi, Roger here again in Athens, Il south Menard co.my buddy&i went behind his house along an old fence row &found 80 greys some growing in bunches of 5 to 8 mushrooms.Looks like a very good year so far.Going to the south east inCrawford co. to hunt some more this weekend.Happy hunting.
We got a couple days of rain here in Jackson county, and now a couple days in the upper 60's/lower 70's and sunny. I have found about 50-60 greys and yellows. It's been a real mix. Some as small as a quarter and some as big as 3". Haven't found a real mess yet, just sporadic patches of 5-10 or 1 at a time. I'm still havin a good time!!
I found 100+ greys of all sizes north of Decatur. One of three areas that have always produced together? They weren't out last Saturday when I checked same areas. These that I found were already on the verge of dry. We would only need 2 or so inches of rain to make a great season I think, but probably soon. John
I found a whole 5 more in Peoria County, IL.on 4/15. It was almost dark and I just had to stop for five minutes. That's what I found. three were tiny, but two were the length of my thumb but 2x's as fat and grey. Slowly but surely they are coming.
Found 24 on 4/15/05 and 14 on 4/16/05 but not in my usual places although nearby ( 50 to 100 yards away ). Grays and yellows, 1/4 inch to 3 inches tall. Carried them out in a perforated onion sack from the produce dept. of my local grocery store. Most stores throw the sacks away so just ask for them. After getting skunked last year I hope to distribute the spores for future crops. Good luck, Rick in Illinois 60 miles S.E. of St. Louis
4.16
I found 100+ yellow and grey ranging from 1 to 4 inches tall in 2 patches about 20 yards away from each other on the north edge of a field in northern Fulton County IL. I would estimate another 20 were dried up and crumbled when I went to pick them. Should have checked a couple of days earlier. Todd S. (picture on right)
4.17
Hi, My name is Jay H. and I am from Mattoon, Il. and I just got back from Turkey hunting in Southern Illinois and I was sitting down in the pinewoods and saw a morel. My dad went west lookin for a turkey while I stayed and looked for some morels because I had killed my Gobbler a week earlier and I wanted to find some more morels to take home. I had most of my findings in the thicker timber and had quite good luck for the little time I was able to look. I found 30 yellows and I called her quits because my dad came and got me and 30 sounded like a good number to quit on. 7 of the 30 were over 5 inches tall and I was excited to find them as my first ones of the year......Thanks.....Eagle-Eye Jay H. (15)
I foun about 30-40 today (Sun. 4/17). Some were grey and the rest were yellow. I even found one "arrowhead". Most of them were all on the verge of drying up. Most of the ones I found were feeding off of a natural spring nearby, on a south facing slope. The forcasts lookin good though....lets be hopefull! Jason Parish Cerro Gordo, IL.
Hey its Bill. Me and a friend found a total of 18 very small greys between today and yesterday on the edge of the woods. It was in the Kickapoo area and we was on our hands and knees. We need rain.
hey everybody there here .where? macoupin county in illinois.just found 6 ponuds today4/17/05.all types yellow and greys.well have to hit the woods. see you justin
My brother and I found 109 gray morels in Christian County, Illinois. Most of them were between 2" and 3" tall. Eighty-nine of them were in one spot. The area was about 4' wide and twenty-five feet long. Sure looks like a better season than last year already. we went out on sunday april 17th and found 20 yellow morels we need some more heat and moisture here in southwest iowa fremont co. Just thought i would let you know we love your site and visit it frequently thanks jeremy
I found 50 grays north and west of peoria IL on Sunday 04/17/05 walked half of the day and found most of them in one small area need rain badly I just keep hoping it is better than last year
4.18
On April 18 found 20 grays & 30 yellows in Fulton County. Grays small but nice & fresh. Yellows dried out & already starting to deteriorate. Parts of Fulton County had 2 inches of rain last week which has definitely helped.
4.19
They were up, up, up in Perry, Union and Jackson counties! Blacks were on their last legs and we found only one lonely half free but grays and yellows were plentiful almost everywhere we looked. We found the mother lode of giant morels on the first day - much bigger than a fist with two of them hanging off an uprooted tree stump. Many were around mature tulip poplar stands but were also found around ash, beech, and hickory, paw paws, cottonwoods, black oaks and the ever-annoying sweet gums (those little balls look like a small yellow and are the bane of our hunting in couple of spots). They were plentiful in bottomlands and on high ridges, so it did not seem to matter where we looked. We found more on this trip than we have ever found before - I don't know how many or how many pounds but we already have a gallon dried with more on the rack, plus we ate them fresh, too. Some were very fresh and some were very dry, even in the same area - there is no question that far southern Illinois needs rain bad but they are out there and plentiful. So are the ticks - when I went to brush my hair out, a shower of the little bloodsuckers landed on my lap. But I got to spend my 44th birthday in the woods plucking morels, so life is good beyond words! C'mon Northern Illinois - I am ready to go picking here but I know it is still too early. FYI - There are plenty of morels in Cook County - just look for the dead elms and eventually you will find them. I'll post my Northern Illinois finds when the season gets here which I would guess will be the last week of April to first week of May. Mama Doe and Unkle Korpse
4.20
We found over 100 grays, small and large in a small area just behind our home. Taylorville, Illinois.
Hello from Sangamon County, home of Lincoln central! Went out Sat and only found a handful of half-frees. Haven't had rain since last Tues. so didn't expect anything, but decided to check my "test patch" just in case. Were we surprised to haul in 2+ lbs of beautiful greys and yellows! Nice sizes, some 4" or better. They are a tad dry, but not shriveled. Found them in all sorts of terrain, not really under any particular tree. We ALWAYS seem to find them under wild rose bushes! Unless we get the promised rain on Thur eve and Fri. there will be no new growth. Too dry. Will go out tomorrow to a much larger woods we know of, and let all know how it goes. Good luck to all you shroomers out there!
I went yesterday on April 20 and found 5 pnds of grey shrooms. Today I found a pound and even a couple yellows! I have be finding them in open green areas. Thanks Travis J. Kickapoo
Hey its Bill again, we found 118 yesterday by Kickapoo mostly yellows and 77 the day before near Glasford also mostly yellows.
I found 52 on April 20, mostly yellow. I found them just outside of Arenzville Illinois. Arenzville is in Cass County. It has rained the last two days so I am going to check again tomorrow. I will let you know how I did. Adam Stock
I had two very good days, April 20-21 in McLean Co, Central Illinois. The first day I picked about 15 lbs (yes that's pounds). Day 2, I got about 50 morels. All seem to be the gray variety but a few were almost yellow. All were around dead elms. The weather had been warm, sunny and dry the days prior to my hunting. Then the rain and cool weather hit. I must of hit the right day, April 20. Here's a couple of pictures to go along with the sightings. DT in McLean Co.
4.21
Hey, Mike here from LaSalle Co. picked 35 grays today and just hung up the phone with my buddy who finished turkey hunting today. No bird, but, 300+ gray's and yellows. Put all he could get in his decoy bag for today. Going back to get the rest Sat.. Definetly a better start to the season than last year. Good luck to all !!!!!!!
Jimmy D from East Central Illinois. Found 86 yellow morels today with a combined weight of three and three quarters pounds. All within a 20 foot arc of a (you guessed it) dead elm tree. April 21, 2005. Happy hunting.
found 53 mushrooms today in 2 patches, the first patch had 39 and was all little grays and white mushrooms, between 1/2 in to 3 in, the second patch had 24 mushrooms between 2 to 5 inches, all white mushrooms, fatter and plump, took me about 1/2 hour to find these, as I had to make a quick exit do to the oncoming rain,which we really need,the woods was very dry, found these all on a creek bottom ,where there was still a little moisture,on mossy banks. Ken J Canton, IL
Since end of March,I have found approx. a couple dozen of what I call the whites around the Kingsport area in east Tennessee and Gate City Virgina. Hope this recent cold spell hasen't set them back. We had up to 3" of snow in some areas on Sun. the 25th April. I plan on looking again today since it rained yesterday and had some warmer temps since Sunday.
4.22
I found 18 yellows and grays mixed about 3 inches average in Eastern Sangamon County. They were looking a little dry, the rain last night will help! Dan
dave from danville il. has found over 100 nice grey mushrooms and about 30 or more yellow. this is going to be a good year if it warms up some. happy hunting.
We went out this evening after a day and a half of rain totaling 1"-2" in the area. Found 85 mixed grays and yellows. The rain sure has helped but now it's supposed to turn off colder for a few days.
Letting you know I found 120 nice sized grays and some yellows in Central Illinois. One of my better years at this one spot of mine. Looks to be a prosperous year for the Morel lovers! Happy hunting!!! Brady from Bloomington
4.23
My name is Jack Rieger. I am four. I was hiking in Jubilee when I was looking around, and then I found a mushroom...my first ever. The first of tons! (picture on right)
Hey its Bill again, we found 24 today and 38 yesterday mostly yellows in the Kickapoo area. Some are even drying up and getting burnt. I've been taking pictures of morels this year so if you want to see them check MorelPictures@groups.msn.com Over 200 pictures.
Me and my brother-in-law found about 10 pounds in henry county IL on 4-23-05 along river bottoms hope to have this good of luck on the 7th see you then!!! Randy B
4.24
We found over 200 grays and yellows today. We were out for about 5 hours and found three main patches, two south facing and one north facing. I brought home 110 and my sister had probably around 100-150. We gave some to a land owner who's property we did not realize we were on. He was very nice about it though.. Don Hickey
4/24 husband found 35 in macon county and 4/25 best bud and i found about 50 near ramsey. grays and small yellows. happy hunting
Hello fellow shroomer's, e went out yesterday (Sunday April 24) and we found a total of 16 shroom's. 15 were grey and one yellow. They were mostly found in Putnam county, with the exception of one grey that was found in Lasalle county. Good luck and Happy Shrooming to all!! David K. & family Peru IL
Found today 4/24, pretty cool this week, but just had a long soaking day of rain day before yesterday. I'm ready!!! Lets go!
Bugman here. My buddy Luke and i collected about 40 greys from northern Kendall County on 4-24. We returned on 4-26 and found about triple that number in larger greys with a few medium yellows mixed in for good measure. It's still a bit dry, but if the early crop is any indication, this season just might make up for last season. Tick, tick, tick...
On Sunday, 4/24 three of us found about 200 yellows and grays (in 2 hours of hunting) on NW facing slopes in Knox County IL. Most were on the lower areas of hillsides. On Wednesday, 4/27 two of us found about 240 yellows (in about 3 1/2 hours of hunting), again on NW facing slopes in Knox County IL. They were larger on average than those found three days before, with the biggest measuring about 7 inches. orm R.
4.25
found 163 yellow and gray on 4 24 05 dureing a snow storm in northern fairfeild county in ohio what a day cant wait to eat them yuuuuummmmmmmmmmmm
4.27
We found greys and yellows for a total of 18. I think it's going to be a good year. Lawrenceburg, Ind.
Since end of March,I have found approx. a couple dozen of what I call the whites around the Kingsport area in east Tennessee and Gate City Virgina. Hope this recent cold spell hasen't set them back. We had up to 3" of snow in some areas on Sun. the 25th April. I plan on looking again today since it rained yesterday and had some warmer temps since Sunday.
The season's just about shot in Fairview Heights, Il. This was the second worst year I've ever had topped only by last year. Same problem as last year. Warm and dry early and cold and wet late. Got over 500 all together but that's 1/4 of my normal year. Let's hope for a warm, wet season next year; Larry
4.28
went to my wifes patch today found 6 -7 pounds of yellows. she has been there 3 previous trips in the last 10 days and picked over 10 pounds herself. this patch is just the bomb. it has produced mushrooms for 11 consecutive years now. from greys to yellows, not a dead tree in the patch, just maple trees shedding limbs and hedge apple trees. hope to get some rain today and maybe get one more pickin. thanks jeff & eliane
4.30
northern il 4/30/05 attached photos tell story ,good luck. (picture on right)
I've been finding yellow's and grey's for the past week . But today saturday the 30th of april only found a few 5 or 6 but they were dry. I hope we get some rain or it's all over with and I should know. Not to boust but I've been at the game for 30 yrs. Do a rain dance and we minght get more to pop up.
I'm a novice morel hunter who got the "morel fever" 2 years ago from a business contact who went out every year hunting. That year I found about 7 or 8 close to my home in a suburb of Chicago. Last fall my husband and I bought 13 acres of land about 5 miles outside of Princeton, Illinois where today we found our first morels for this year. We found 11 blacks? (not sure about the kind yet) after about 1 hour of searching. They were on a slope at the edge of the wooded area.
Went out this afternoon 1/2 mi nw of riverside hospital!!
5.1
Hey tom this has been a very weird year . this weekend i found blacks greys and yellows all with in 100 yars of each other . it has been cold hear with minimal moisture but boom !!! what an exploision of shrooms this spring im not willing to give any numbers but holy cow how sweet it is ive done great and im north of you by an hour. the best is yet to come with the fest nexct weekend . Heythanks for all yhe info year after year keep on shroomin'.slim in the QC. IL
Found 13.5 lbs in less than an hour after turkey hunting. Mostly yellows and some large greys. The thing different than normal is the groups coming out of the same stem. Numerous clumps of eight to ten and one record thirteen. Near the Quad cities, Il.
5.3
On Tuesday, 3 May 2005, while mushroom hunting in the Elmwood, IL area I found by myself 107 mushrooms, yellows and grays. The following day, yesterday (4 May) I found another 60. Will probably go back put in the woods again today while they are still good enough to pick, most are getting dried up. Need to get them while we can. Thank You! Stan Pelka
5.5
I wasn't out for long today but found five fresh 6" yellows west of Peoria. They're still out.
5.6
I have found about two dozen more small yellows, some in the area that I found a lot last year and some in a new spot around some very large dead elms. These morels are quite small and dry compared to last year when they large and fresh and I am finding them in areas that have a lot of thorn bushes. I think the thorn bushes are holding some moisture which is why I am consistently finding morels there. Must do rain dance to find more, I think, because it is really, really dry in Northern Illinois right now. I am hoping that a few stray showers will help out the morels and my garden too. Mama Doe
5.7
My husband and I found about 3-4 dozen very nice yellows and grays on Saturday 5/7 in a Cook Country forest preserve. Added to the finds from the previous week, a fine Mother's day feast was enjoyed by all. I will look a little today before I go for a 3 day business trip to Texas and will have to hope there are a few left for this weekend. It rained here last night and I am hoping that will extend the season by another week around here. Mama Doe and Unkle Korpse
5.9
I live in dearborn and was going through a local park and found 5 nice yellows. What a supprise that was, so close to home. Dan
5.10
THe big ONE! Found 5/10/05 near Rockford, IL crayt77
5.15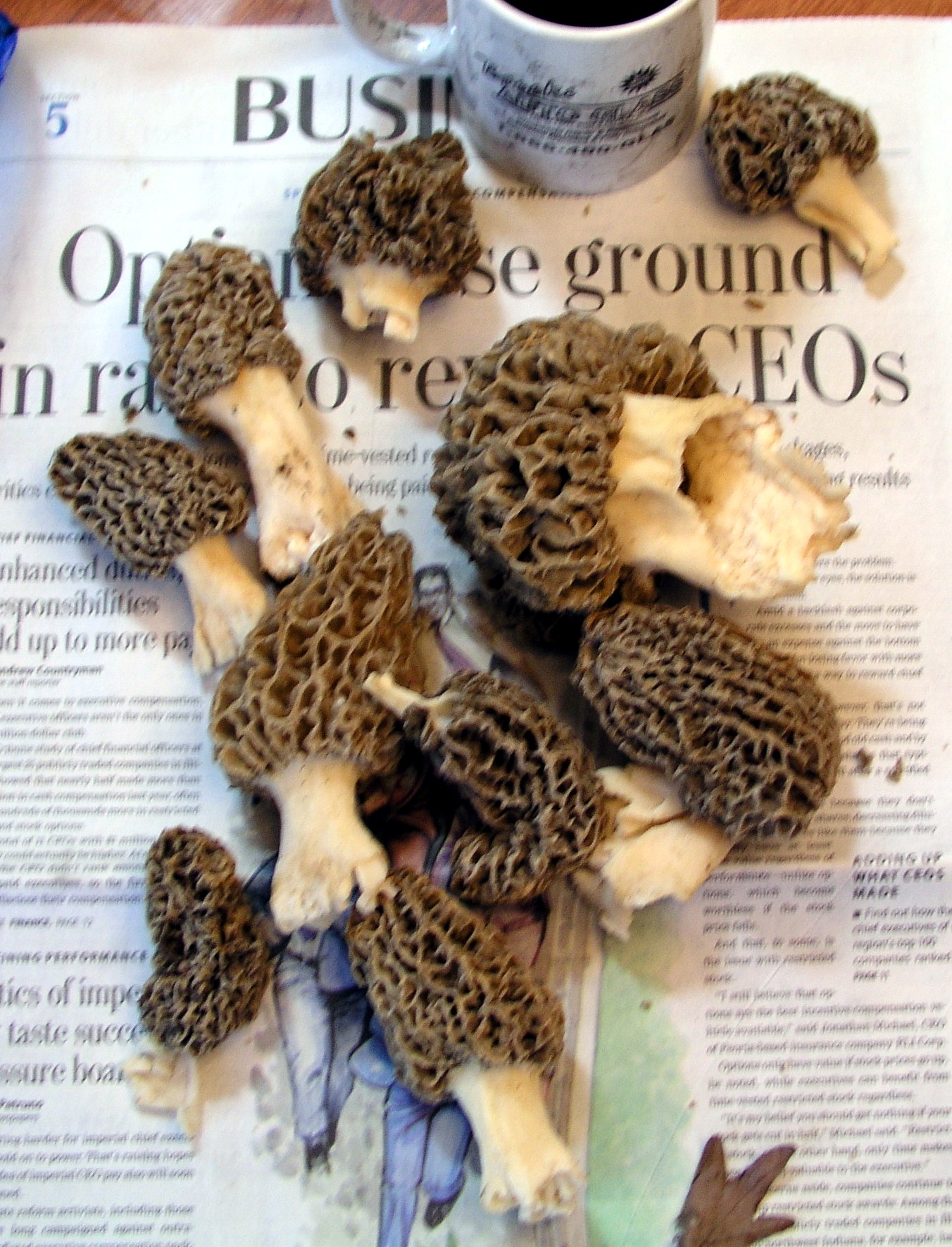 I found these yesterday and took the pic this morning (that's the front page of today's Business Section in the Chicago Tribune that I spread them out on.) All were very close together under a dead Elm not more than 50 yards into the woods in a Cook County Forest Preserve near Tinley Park (SW Chicago Burb) (picture on right)
we picked about 3 dozen big yellows near our favorite site - they were definitely on their last legs but still quite delicious at Sunday dinner. There were a couple that we did not pick because they were shot but it was nice to come home from Texas and get one last Northern Illinois hunt in. FYI - these were found in a Cook Country Forest Preserve at the far northern edge of Cook County, about 25-30 miles north of downtown Chicago proper.
5.22
Hey, everybody. Glad I finally got to report in. I found 6 yellows in a Cook Co. forest preserve yesterday. Just 2 were fresh. Looks like today should be a good day too, up here.
I am looking in So. Cook County. Went 5 hrs. on 5/22. Found 16 large yellows weighing 1.5 lbs. Obviously all large, old and scattered. Went 4 hrs. on 5/25 and found only 10, but still 1.5 lbs. One 9" tall. Season here too cold and too dry. Hope for better luck next year. Ron
Indiana
4.2
Hello. I was just writing to let you know that my cousin went out hunting some morels about a week ago...specifically March 26th and 27th. He found a handful of black morels.

4.13
Nice pic from Central Indiana yesterday. Zoiks! (picture on right)
Central Indiana, April 13: Got some needed downpours on the 12th, and the next day, BAM, they are up. The black ones showed themselves in my indicator patch, and they weren't there on the 10th. Found 50 or so, one patch we were literally on our hands and knees. Mushrooms were very shiny and fresh. Estimate the mid-season of the blacks to be April 14 at the latitude of Indianapolis. Visit the full set of pictures at http://treeguy.info/articlebody.php?section_id=3&article_id=91 Sincerely, Jim Clark
4.15
checked my favorite spot this morning and only found 1 hickory.here in north central indiana it has been to dry.praying for rain.dave reprat repya
Just thought I'd drop you a line letting you know that we've found a few gray morels this week. I have only found one black morel and my husband found one. We found 20 this morning and 37 on Wednesday. We are in Paoli, In which is in the southern part of the state. It is about 15 miles from French Lick. Mary
4.17
washington county indiana...my son went for about an hour sunday 4/17/05 found 20 greys of fairly good size. just a couple had been up for more than a day. just need a little rain after all this too warm weather. luck to all you morel hunters, the season is just beginning!!
4.20
April 20 Found 40 yellow morels had found 42 on Saturday previous hope to get rain tonight woods dry Good Luck to all fellow shroomers Tammy Jo&Johnny Dobert
4.23
yesterday on the 23rd we had a terrible cold front blow in with temps down in the upper 20's and snow flurries while working last night I happened to get stopped Just After day break at a field with a couple of cotton wood trees there and thought i might have a look anyway well to my surprise and 45 minutes later i came in with 38 morels from the Calumet Indiana area. Morels Are Popping in the Northern half the state !!!!
4.25
We found greys and yellows for a total of 18. I think it's going to be a good year. Lawrenceburg, Ind.
found 163 yellow and gray on 4 24 05 dureing a snow storm in northern fairfeild county in ohio what a day cant wait to eat them yuuuuummmmmmmmmmmm
TOM MY HUSBAND AND I HAD A VERY GOOD PICK THIS MORNING. IT WAS COLD BUT WE FOUND SIX POUNDS AROUND LAFAYETTE IN HOPE TOMORROW IS EVEN BETTER. JAMIE-JERRY GIBSON
5.1
Found approximately 100 greys & Blacks this past weekend. Pay close attention to the Pin Oak trees for early greys! Thats where we found them. The blacks were found all over a woods thick with dead & decaying cherry trees. It looks like it is going to be a good year...
5.3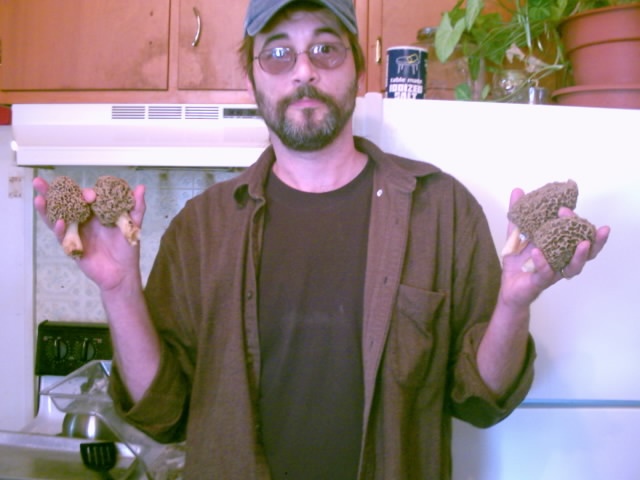 Indiana, Montgomery County. Good year overall but the weather is getting colder, freezing temps overnight. Everything that I found was large and all in one spot. Here are a few of the grays. I went out last weekend, found a few rotten ones, season is about over. Happy shrooming.. (picture on right)
5.4
Is this year's hunt going to be a lost or what. Do a rain dance. 5/4/05/ streator Il.
My sweet spot from last year has just started to produce. I found about two dozen small grays last weekend and supplemented those with a few dozen more from a Will County trip. I went out last night and found a couple dozen more genuine yellows, about 2-3 inches high under 3 dead elms, more or less. I also spotted quite a few little yellows and left them to grow to gather tomorrow. I am guessing this weekend will be peak for the area I hunt in Cook County which is in the Northern suburbs near Lake-Cook Road. FYI - I checked my posts from last year on Morel Mania's sightings page and it is the exact same date that I started to find them, only they were a lot bigger than they are right now, so it seems like we are a few days behind last year so far. My Iowa born Mom sure enjoyed the ones we had last weekend, so I hope I have some for Mother's Day this weekend for her! Mama Doe
Iowa
4.8
found 10 morel mushrooms today April 8, 2005 in southern Iowa, Wapello Co. They are about 1/8" high, well watch them grow and then pick them - they are here!
found morel mushrooms in southeast Iowa today April 8, 2005. They are about 1/8" high, weather is warm and we are getting rain off and on - expecting a good season. Cheryl S.
4.10
Found two little pimpsqueeks about the size of a quarter down at the old hotspot. 4/10/05 Dubuque County Iowa.
4.11
Found 2 in southeastern Kansas. Temperature and moisture was perfect, but only 2 found. Obviously, they are going to pop this week. Hope the cold weather (36 degrees) does not hamper the season. Wolfie
4.13
Found 20 VERY Tiny grays in Johnson County Iowa....biggest one was about an inch...Brad
today i went to a park nerby (Kansas City, MO) and found the first morals this year they were littel grays about the size of my thumb . I hunt them every year and find hunders from here to illinois . I have many differnt spots to go most of them are park and rec ares open to all people . Good luck the hunt is on 4/9/2005
2nd time out 4/13 and starting to find the bigger yellows. About a pound, found in south east IA. Only expect it to get better.
4.15
Dallas county Iowa, found since 4/15 small grays collective over the past three days 100 +. They are tiny and takes a lot of work to find. Beginning to find some larger ones today. Hope for even bigger ones as the week continues.
4.16
West Central Iowa - Went looking in a couple of different places today but didn't find any. It has been wet enough they say but maybe not warm enough... Then again, since we have never hunted them before maybe we missed seeing them.
4.17
Found 29 yellows 2"-4" today, April 17 in Boone, Iowa.
Iowa- Linn County has little grays. Went out 4/17 and found a nice mess to calm my taste buds. Happy hunting to all.
4.22
Found a couple of pounds today 4-22-05 near Coralville lake north of Iowa City, Iowa. Most were gray but had some size to them. The ground is plenty moist, just need a little more sun and humidity. The largest morel was about 4 inches tall.
Hello I found these in the woods in Iowa, Polk county. they have come up big in the last week,mainly they were around dead elms....Dave
4.23
We found about 1 1/2 pounds of grey and yellow by Villisca, Iowa today, but they don't seem to be out just too good yet, next warm day will be better!
went saturday got 4 bags full in des moines yum yum
4.24
We found about 20 today in Northeast Iowa, Clayton County.
Hi Tom, My husband was out horse back riding and found these in the hills near Glenwood Ia. yesterday.(pics from yesterday) I found about 10 pounds near Cresent Ia. April 24.
4.25
Since end of March,I have found approx. a couple dozen of what I call the whites around the Kingsport area in east Tennessee and Gate City Virgina. Hope this recent cold spell hasen't set them back. We had up to 3" of snow in some areas on Sun. the 25th April. I plan on looking again today since it rained yesterday and had some warmer temps since Sunday.
Found lots of large morels today!!! St. Charles, Ia. area. Talked to my Dad. He also found several today. He lives around Lacona, Ia. Thanks for your great web site. Peggy
4.30
Hoping to hit my favorite places this weekend! Work constraits don't allow it for me during the week! A couple of guys I work with have found between 5 to 10 pounds of a little of everything the last few nights. We've had plenty of moisture but weather cool now in the 50's. Hoping the season hangs on for another couple weeks as warmer temperatures arrive and it should be a heck of a year! Steve Spencer, IA
5.1
along west Nishnabotna River 6 pounds 11 oz. 5 inch yellows old growth timber edge. All around 1 dead elm tree. What a blast. About 1 pound found in other areas of same timber.
hi just wanted let ya know that 3 of us (brothers) went to brooks iowa south western iowa an found 67 shrooms bout size of a 8 oz can of soda pop night time lows have been in high 20s an lo 30s they keep poppin
5.15
Went out Sunday May 15 in southwestern Iowa and still found a considerable amount of mushrooms. Had a good rain 2-3 days prior to this. Sheryl
Kansas
Hey, this is Ed over here in Taji, Iraq (civilian contractor-helicopters) and I am planning my two week vacation, hoping you all near Derby & Agusta saved me some for last week of this month.
4.1
April 1st Paul from Holton hunted a few minuets on the river in Topeka and found a small handfull of little greys (7 exactly) and one small tan that was dry. Just starting. Respectfuly; Paul T. Utterback
4.6
We found 18 Morels on April 4 and 4 Morels on April 6 in Southeastern Kansas.... Kent
4.7
topka kansas i found 4 pounds of small grey ones i always get around 80 pounds out of my spot per season.late fishbone
Found 79 greys and yellows today (4-6-05) down by the rivernear Topeka, Ks.. Very small, most 1" or less. The big ones will be on the way.
We found 51 Morels April 7 after work in Southeastern Kansas. Kent
My boys and I have found 486 greys and tans from April 7-10. On the River near Topeka, Kansas.
The Paden family in Horton Ks started picking in Central Kansas Thursday 7th of April, by Tuesday they had picked over 825 morels none taller than 4inches. Pray for the cool weather & rains to stay with us.
4.8
We found 33 Morels in Southeastern Kansas... Kent
4.9
We found 14 Morels total road hunting. A contested road-spotters award went out on April 4 but my hunting partner road spotted a patch of 12 Morels today .... We are still fighting over who gets the first road-spotters award. He took the MasterShroomer award on April 4 by finding the first Morel of the season. He's got the edge cause he uses a ShroomStick..... Kent
Found 56 little grays 4 elephant ears along the river in NorthEast Kansas on Ft.Leavenworth. First of the season for us They were delicious.!!! Tammy.
4.10
I just wanted to up date those of you that are in Oakland county.Mi., i went out to get my first morel, but still no sightings. I'm doing the rain dance. One good rain,and warm days will be the day you can here em pop-in. Help keep us informed one your sightings. Scott Ranch
We found about 50 small mushrooms this afternoon, in tuffs of moss and fringes thereof—largest was 1 ½ inches. All grays. Northeast Kansas.
Hi my name is Greg I hunt morels every year on the kansas river between Lorwrence and I 435 and I use a jetski to get to my finding places last sunday I found 200 mushrooms Sunday night it rained and rained good on monday so yesterday 4/12/05 I went back to the same places and in the very same spot I found another 500 mushrooms that had poped up after that good rain we had. And I find that alot if you find musrooms in a spot in a few days and for sure if you get a good rain that 8 out 10 times they will be there again Greg.
4.11
Found a few medium sized yellows in a sheltered area where the ground warms sooner that other areas. john_w
Been overanxious for 3 weeks now. Everything just seemed right, but wasn't. Went today and found 2 smaller morels, 11/2 x 11/2 inches. Also found one red beefsteak about the size of a softball. Things seem like they're just getting started. Here's a link to the morels: http://img191.exs.cx/img191/4977/shrooms0515fn.jpg
4.12
Found 2 in southeastern Kansas. Temperature and moisture was perfect, but only 2 found. Obviously, they are going to pop this week. Hope the cold weather (36 degrees) does not hamper the season. Wolfie
4.13
Found 2 in southeastern Kansas. Temperature and moisture was perfect, but only 2 found. Obviously, they are going to pop this week. Hope the cold weather (36 degrees) does not hamper the season. Wolfie
4.16
We found 24 Morels Saturday April 16 and 127 Morels Sunday April 17 in Southeastern Kansas. Kent
4.17
Found about 2 pounds on the Kansas River 4/17 got the poison ivy last week but that won't stop us. Going to N central ks this weekend on a friends farm where will gross 10 or 20 pounds a piece. There just aren't enough hours in the day!!! Good luck to all Sandy and Ray
4.19
Found 111 in central Kansas on April 19. Some were already dried up. Nason J
4.20
the mushrooms are up in Kansas! Everyone I know is finding them like crazy. We went out last night for about an hour and found 2 1/2 lbs. We took the kids they loved it. My oldest son (11) sounded like a broken record - I found one, and another and another and another. They were everywhere. We have a spot we go to every year and actually started to find them in places we had not found them in the past. I believe that is because we use mesh bags to carry our shrooms in and the spores fall out as we're going through the woods. Not bad for our first hunt of the season. We will definitely be out looking this weekend! Good luck to all you hunters.
We found 42 Morels in Southeastern Kansas last night, 04-20-05. "PatchFinders" award went out to the hunting partner. We each took a "Road-Spotters" award at the same time with Morels found on both sides of the road. Last Sunday a "SteppedOn" award went out too ... Kent
4.24
Went out on 4/24 found 2 dried ones. They were in a rotten dead tree, very shaded area. Regards, Chris Cichon
4.28
Came home from Iraq for 10 days, went out April 28 in Southcentral Kansas for total of 4 hours, only to find my timing was perhaps a week late. Alot either dried out or rotted down, but found two small (3 inch) and yes-the biggest Morel in my 4 years of hunting-a whopping 9" tall and 6" around. That mushroom alone, made a great breakfast on toast the next morning. ED
Kentucky
3.27
Hi, my name is Greg Shubert. We have been finding them in Barren Co. KY. Found 80-100 last week. They were almost all blacks.
4.1
Jim Maynard Found 3 Blacks under Old pine trees on 4/1/05, going to eastern KY this week I always fine morels there in late March and 1st week of april. will report back in a few days. Thank You.
4.8
I just wanted to let you know that I went out in my favorite little spot and found four black morels. The largest was about 3" tall. I am in the Ft. Knox, KY area. Friday April 8th 2005. Klaus W.
4.10
Hello! Live in Harrodsburg but no mushrooms here that I know of. Took my kids to a junior rodeo in Bowling Green and stopped in the Mammoth Cave area for a couple of hours on the way. We stopped in random areas to hunt. No luck but when we went back to try to find a glove, there they were, 2 yellows in oak leaf litter. Searched and searched but that is all we found.CD
4.11
Morel found 4/11/05 lawerence CO KY
4.14
Found one small yellow morel yesterday along with 4 nice blacks, two of which were over 6" tall. They're here!
Maryland
4.8
Rockville, Maryland. Found four small grays during a brief search at lunch. They were growing among pine needles from what I call a "landscaper's pine" (quick growing pine tree with long needles), chickweed and other ground-hugging wildflowers.
4.22
Hi Fellows! This is Rodney Lehman and I wanted to send a picture of a great mushroom hunt. I found these 3.5 to 4 gallon of black mushrooms in the Northwestern part of Allegany county, MD. I found three to four that were seven inches tall and plenty that were six inches tall. I found these under or around the White Ash. I found them on Friday, April 22. 2005 thanks
4.23
Found abaout 50 between the 23 and 24 of april. Mostly blacks but some nice yellows too. Same spot in North Eastern corner of Maryland, wild cherry, and cottonwood around. Most blacks came up in black leaf litter, weather is getting cool, I hope they keep coming up!!! Happy Hunting!!! Alena
4.24
Near Baltimore, MD in mixed tulip tree & silver beech woodland: Found 10 good sized yellows (4"+) and 2 half-frees but we really had to work for those. Four of the yellows were in pretty far gone (dry and/or moldy) so they were left to spread spores for next year. We aren't sure when these would have come up because until late last week it had been hot and dry. However, judging from their size and condition they had been up a while. It should continue to rain on and off and the temperature will rise slowly which I hope will spark a steady wave of morels. We'll see. Happy Hunting!
5.1
Found over 200 morels near Baltimore, MD. Yellows, greys & a few half-frees. Most the the half-frees were old/water-logged. Most of the other morels were 2-3" but a few monsters were 6"+. Thank goodness it rained yesterday. We'll probably cook the first batch tommorrow because right now we are too tired!
May 1st: Found almost 200 morels on the 1st of May between Baltimore and Washington D.C. Most of them were small grays, with a few blacks and yellows. One yellow/gray was very nice reaching 5 inches. (We are still arguing over which color it actually is) I hope things continue for quite sometime. I&R
Picked about 90 near Baltimore, MD. Most were good sided yellows with a few 6" + monsters. Many were on that fine line between dry and TOO dry, and we left about a dozen that were just too far gone. For eating that is. Hopefully they will still spread spores. I hope it rains this week, that should add time to the season. If not, it has still been a good year. (We also had a morel hunting first on Saturday - A deer tick picked one of US. Yuck.) Happy hunting to all, especially those of you who are still waiting for the season to start. And watch out for the blood suckers.
Massachusetts
5.6
I found around 15 on the 6th of May in a landscaped area of an office park in Lexington. I'm not sure if you would call these yellows or grays. We had more rain this weekend so I am going to go back and check them again this evening.
Michigan
4.9
Shroom meister George here. Just hoping for a great season. Went looking in the Mesick area over this past weekend, but still snow covered, and not much in the way of green covered floor. Will be back up on 04/09, and expect to find some then. Report to follow.
4.11
I just wanted to up date those of you that are in Oakland county.Mi., i went out to get my first morel, but still no sightings. I'm doing the rain dance. One good rain,and warm days will be the day you can here em pop-in. Help keep us informed one your sightings. Scott Ranch
4.13
found 3 very small morels in montcalm county michigan
4.17
nothing in sw michigan yet.....too dry.....
4.22
Black morels found today 4-22-05 near Alden, MI which is 18 miles NE of Traverse City. Found 5 in a space of 10 minutes. Going out for more.
Mark C. found 3 black morels aprox 1/12 inches in height in Ogemaw county on 4/22. Going back on 4/30 will update upon return.
Hi, April from Calhoun County. Found five blacks yesterday, but are supposed to get 5-8 inches of snow tomorrow.

4.24
Found 40 yesterday 4-24-05 in lower michigan, I had found 50 on 22apr05 before it snowed. Blacks are starting staewide here. little-shroomer
4.25
found some saturday about 35 in lake county mich. and found about 135 today not bad size just enuf to feed the family no need to be greedy alot of pepole rape the woods to make a profit in this county and it others dont seem right 20$,s a pound is what there getting in my neck of the woods they need to make it to where you buy a licence to pick! or pay by the pound if you sell them and have weight stations .icant shoot a deer and sell the meat with out a licence why sould pepole who pick and sell morels. also they should have a tax licence to sell thank you any questions please email me at arcameatys2000@.com
Found a few Half Free Morels (Morchella Semilibera) on public land here in Tecumseh, MI today. Looked as if they had JUST popped, the bottom edges of the caps were quite close to the grounds, and the stalks hadn't fully developed yet. Also found a HUGE patch of Wrinkled Thimble-Caps. No yellows or greys yet, will keep you posted for Southern lower Michigan area. Gracie
Only 6 brave & dedicated members attended the hunt at Lapeer. the weather was terrible, cold & wet snow. The good part is that every one found at least (1) morel. when we returned to the parking lot everybody ran to their cars & put the heater on to warm up after the 3 hour hunt. We did not count mushrooms but I did find 19 small to medium size BLACKS my self. It was really hard to see them because of about 1/2 inch of snow was hiding them. Next weekend should be excellent if the snow melts & it warms up. The Lapeer radio station said they were expecting 6 to 11 inches of snow today & tomorrow. J.P. P.S.No verpas (Caps), May apples & wild flowers are small. Only the members who attended the hunt know the SECRET spot where they grow.
4.29
I work in the new center in Detroit Michigan. I love mushrooms and am a third generation picker, but I was amazed to find 3 morels in one of the tree beds in the city. So I guess they are everywhere. What a blessing!!!
5.1
Found about 100 blacks yesterday and a handful of grays in Calhoun County, Michigan.
Searched for 4 hours on Saturday and became lost, only to find ONE Verpa Conica, the precursor to the morel! Washtenaw/Livingson County area.
Was visiting my buddies in Llake Ann, Mi area 1-5 of May.Went to the woods to find about 18 little blacks. I found 2 Mom Fran found 2 and of course George had to find the most with the rest. The weather was cool so they should find more by the weekend.Happy hunting
5.4
Found my first morels in lower MI today. I went to three spots different spots(all except for one which I visited last week and found nothing). The first spot found around 20 or so grays (and some stems), most of them 4-5 inches tall. Second spot found both grays and yellows but left them because they were just popping(less then an inch). The third spot I did not see anything. All three places were pretty dry. Marty in MI . Came back from my favorite spots in the Crystal Mountain area, and have been pulling a few pounds of blacks each day. If and when it warms up, picking should be great. Mothers day weekend will be one of the best in a few years. Happy shrooming. Shroom-meister George.
checked my spot, got a full haul (1 pound) wet, mostly smaller than I expect, 1" to 3" max. last year I looked later and they were bigger but no more weight after drying.
5.9
morel count 45 small may 10 56 medium 2 to 3 inch may 12 22 medium may 14 7 all small weve got the moisture now we need the warm weather all were found in mixed forest with wild cherry close by good luck mad morel hound
5.15
Found about 50 in my old apple orchard in the Brighton, Michigan area. First time I have ever looked for them on my 5 acres. Not a bad day.
5.19
We have picked @ 4 to 5 lbs. 3 to 5 inches tall in washtenaw county. No blacks found this year. I would think its almost over in the SE corner of Mi. Not a good year.
5.21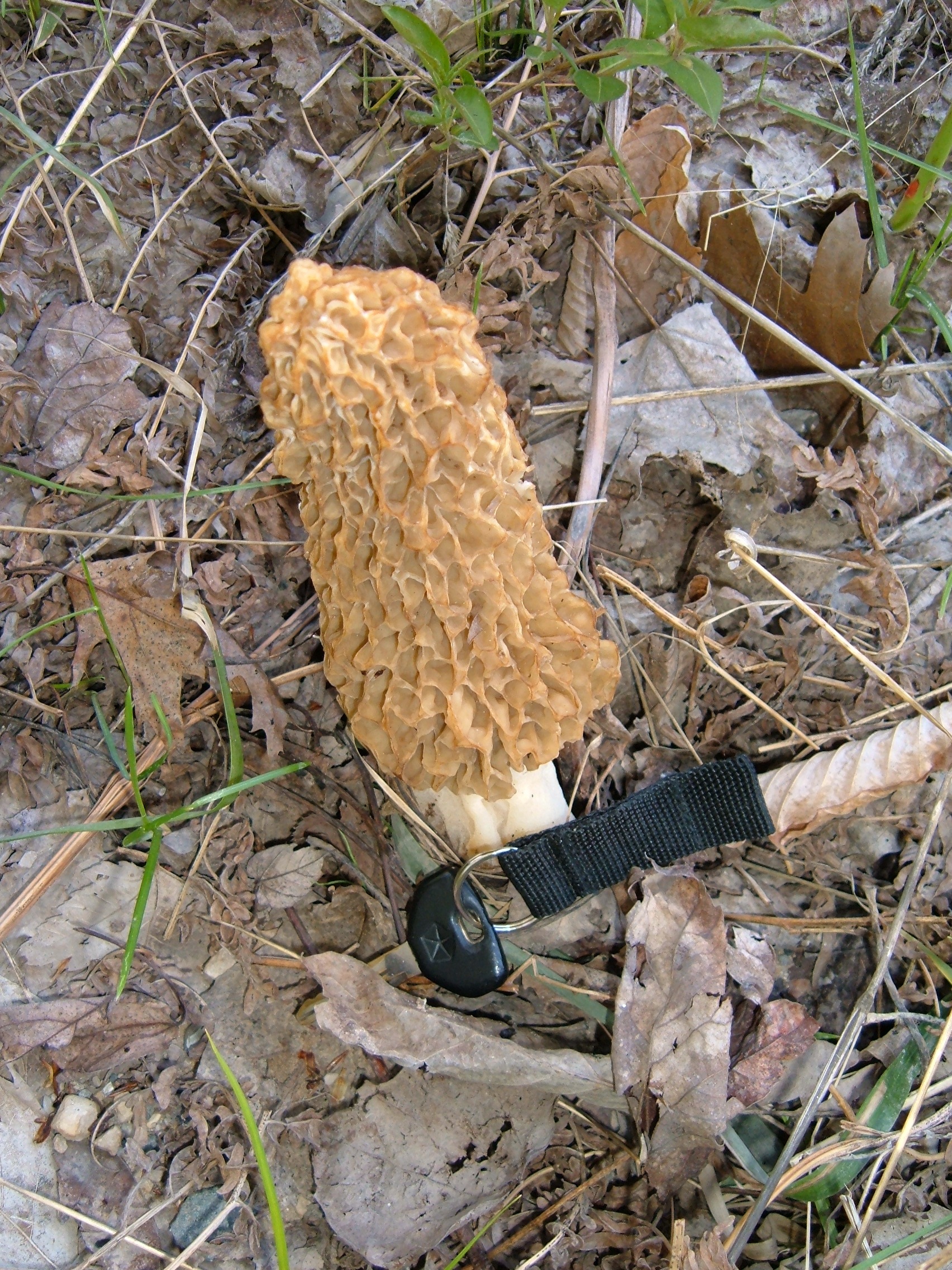 Found 2 giant yellow morels in Mason County, Michigan on May 21. Common trees nearby are poplars and mature maples, mixed with oaks and white pines. I've found other giant yellows in this area before. Finally, we had enough rain and warm weather to get them growing. The tallest of the two was about 8". These mushrooms always look like someone's loofah sponge! Also saw false morels ("beefsteaks") are growing for the second time this season. First time I saw the beafsteaks this year was early in April. (picture on right)
Sat 5/21 - Somewhere near Petoskey - 4 experienced hunters found 25 grays, yellows, & blacks in a 6 hour time frame. REAL sparse. Will be re-visiting Memorial Weekend. Last year over Memorial the yellows were 4 - 6". Lee
Minnesota
4.21
Found a handful of small blacks near motley, MN today. Gonna be an early season!
5.9
Found 2 small grays on 5/9 in the same warm grassy SW facing slopes that I always find my 1st shrooms of the season. Wouldn't you know the weather turned cold, 40 degree high today (5/12)! Have briefly looked last few days and found nothing. On the bright side it's been raining (and sleeting) the last 24 hours...plenty of moisture. Odd's are a big change to hot weather next week and the big yellow's will start blastin! Gonna sharpin up the chain saw. Good luck all. DIGGER
5.11
Finally found 10 small yellow ones and 8 gray buttons. A couple of the grays were peanut sized. Cold spell put a stop to them apparently. Found these on the Cannon river South of Twin Cities.
5.14
this is my find for the day near lanesboro MN. Where are they? (picture on right)
5.15
Mankato area - 5.9 found 15 nice sized greys 5.12 found 40 more nice sized greys in our same spot 5.14 found 7 big blondes on our newly purchased property! Great year so far - going out again today
5.21
25 good sized yellows yesterday 5/21; in swamp/marsh area with no competing vegetation, only dying leaves in poplar stand. Found as singular growth pattern approximately 1-2' away from the base of the trees. Appeared to be at peak height...we will be out again tonight no doubt!
5.22
After 10 years of prolific hunting in Illinois I was skeptical about the potential in Minnesota. The locals promised me they were here….now I know. Despite cool temps for several weeks I found my first Morels near Chaska. Lifted 15 or so….more to come Kevin Kowalski
Mississippi
4.2
Found two small deliciousa (type E) on April 2. Looks like a poor season here this year, unless it's late. Looked in normally good places, no others found as of April 10.
4.13
Went today three small yellow mushrooms. Thereout there just hard to find.. J.J.
Missouri
4.1
mark p here from k c mo. found 7 grey's 4-1-05 at my early spot. their starting to pop mere in missouri. good luck to all hope it's a good year.
4.3
My brother Lane Hale found some small whites in his yard in Lincoln, Co. MO on Sunday 4/3/05. We are going out to our favorite sites Saturday to get the big ones. We will update. Larry S. Hale
4.5
First find of the year in Kansas City Missouri. April 5th. Found 3 little greys and 7 small yellows. Let the hunting begin!! Gary Sellars
4.7
Here in Ste. Genevieve County, it's early Morel Season, but I did find 4 blacks yesterday!
4.8
Let the morel season begin in St. Louis! Found a 1 3/8" grey today!! Jonah
Central Mo. Friday April 8th, we found 2 small greys and 3 red Elephant Ears. It's early and dry.
4.9
Hunted with my brother and Dad today and none found-a bit surprising for this date. We need rain. Larry S. Hale
Found few small gray ones 4-09-05. Found many more on 4-11-05. Rushvillem is 10 minutes south of St. Joseph Missouri
Found five morels in the gravel of the parking area next to a local spot I search in as my barometer for the popping. Got me all fired up and spent the next two and a half hours looking to find no more. Oh well....THEY ARE HERE!!!! Timber Troll
4.10
Terri H found 2 small black ones on 4/10/05 in Jefferson County Missouri.
4.11
I'm from Cape Girardeau County ,MO and this is my first year looking for morels. After three weeks of frustratingly searching for them, I was driving in town and took a little used back road. It was raining and I happened to look down at a ditch that had recently been bush hogged, on the south side of the 4ft. ditch was a 3 in. yellow morel . Go figure!! My husband and I went back later but didn't find any of his buddies. How can only one morel decide to grow in such an unlikely site? We went home and believe it or not I cut the sweet little thing in half and sauteed it. It was only a taste but *Oh, Man am I hooked now*!!! I finally see what all of the hype is about! We are getting lots of rain now and I'm not afraid of getting wet so I'm going out today to search again. Again , My sighting is for April 11,2005- Cape Girardeau County, MO.-one 3 in. yellow morel in a road side ditch. I don't know if my local is rare for sightings but I haven't seen any reports for my area yet. Thanks! AS ALWAYS, BONNIE
TE here from Kearney, MO. found my first small batch of grays on my lunch hour. I'm going tonight after work. Happy Hunting Everyone!

Found 18 small gray morels Monday April 11 in Southern Lincoln County here in Missouri.
Drew in Kansas City Missouri hunted April 11th in same spot from last year. In less than ½ hour found 15 – 2 greys rest white/golden. Approx 6 oz. Let the hunting begain!
4.12
Couple of us gals went out on the Mo River yesterday and found 170 morels. We are headed back today. Looks like we might have a good hunt this year. Good Luck to all! Rhonda
They are a popping in Mid-MO, I found 70 grays and yellows yesterday (4/12) near Columbia Missouri. In one spot they were huge for this early in the season. I found one that was nearly 6 inches tall and 4 inches across. By itself it weighed over half a pound. I have never seen them this big so early. they must have been up for many days. See you in the woods history.
4.13
found 6 or 7 small grays. had to move leaves to find them, I've never seen the small gray ones before. They were near a small ravine, or a "not quite a creek" outside of Iberia Missouri. I know there's a patch of yellows back in that area every year, so hopefully this is a sign of things to come. I've got to get out of this office and get back out there!!!
4.15
Were from Laurie Missouri and on Friday 4-15-05 my boyfriend found 30 deep in our backyard and on Saturday 4-16-05 he found 53. Oh boy what beauties!!!!!!!!!!
4.16
This is Todd K. from Nashville TN. Traveled to Perryville MO on Saturday April 16th. Found 80 yellow and grays ranging from 1 inch to 6 inches. Most were fresh and were found around ash and elm trees.
4.17
I found Nine beautiful Yellow Morels in McDonald County Missouri Sunday after noon. THEY ARE HERE GOOD LUCK TO ALL
We went south to Kirksville looking for morels today. Found a few small one's in Missouri, but we found more grays and yellows in Iowa. Biggest one is 3 1/4 inches. YUM! We found those north of Ottumwa. Hopefully with warm weather they will be up around Waterloo area soon, like this week. It's On!
4.24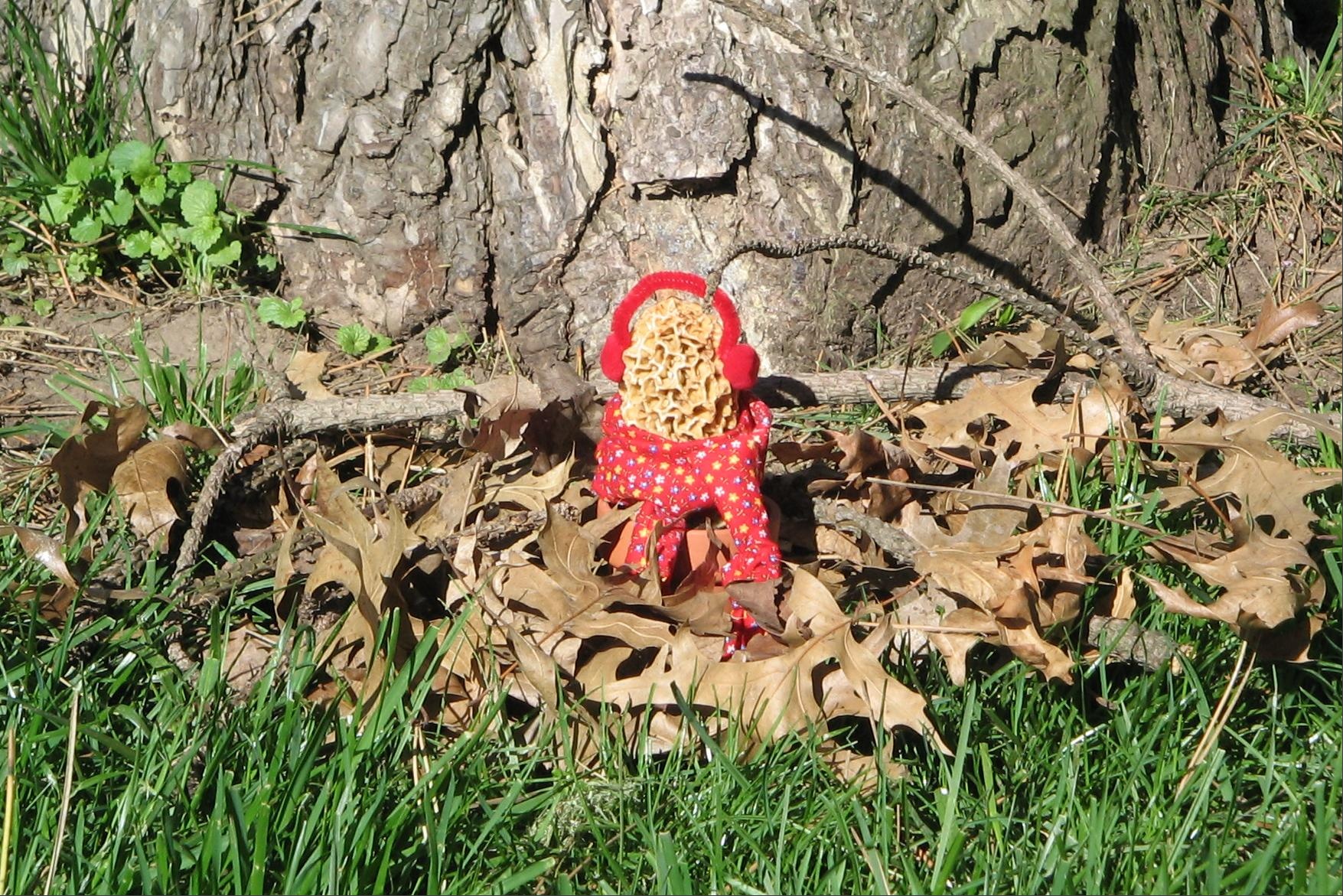 We were having a little fun, and took this picture Sunday, 4/24, when temperatures dropped in the low 30's. The season appears to be coming to an end here in Central Missouri. It has been a long one. We found our first tiny morel on 3/29, and then 45 more on 3/29, on river bottoms. On Sunday, 4/24, we are still finding a few in the hills, but some not so fresh. It has been fun! Mushroom Annie (picture on right)
Nebraska
4.17
I found 4 in south eastren Nebraska on 4-17 its about to start. JJ
4.24
Season has been going strong here in Central Nebraska! I found a nice patch in my yard while mowing last week. Weather has been good the past week with rains and warm days, cool evenings. Hopefully this lasts a couple more weeks. Denise
4.30
The season started late here and then the cool weather hit but this Saturday we found a real honey-pot at desoto bend north of omaha that was one of the prettiest sights we have ever seen--approximately 75 large morels in a 30 foot square. Steve&anne
5.1
Hubbie nearly ran over a morel mushroom in the back yard 40 feet from the house with the riding mower. He showed me his find, which prompted me to immediately tromp off into the woods with the 13 month old baby strapped to my back. Found about 20+ morels, some of which were fairly dry (it hasn't rained in about a week.) I was pretty happy 'cause I haven't had a successful morel hunt since I moved here two years ago. May 3, 2005 -- Went off into the woods again, this time found 10 more, half were quite dried. Season may be tapering off unless we get a good rain! 'Course, I'm only hunting on 11 unfamiliar acres and I'm rather hampered with a baby strapped to my back!
Nevada
5.11
I have about 30 growing in redwood chips covering my front yard. Some are at least 7 inches hig and 4 inches wide. The mycologist at UW said they are a new species. We are unfamiliar with hunting and are hesitant (afraid) to eat them. The cap is solidly on the stem, some have a tiny hole at the very top. They all look delicious. The newspaper doesn't seem to think this is unusual but I feel that they are uninformed.
Tom's response:
Hello Doctor, We happily welcome Nevada to the Sightings Page. Yes, they are morels. They are at full maturity when the pits on the cap are fairly open as are the ones in the pictures you forwarded. Here is some general information about identification of morels: Morels range in color from white to tan to black. Sizes vary from less than a quarter-inch to fourteen inches tall. What they all have in common can be narrowed down to three characteristics. One - they all have a spongelike or honeycombed cap with true pits and ridges rather than folds or creases. Two - when sliced in half, the cap and stem are completely hollow. The key word is "completely". Completely means that, other than the occasional sowbug or springtail (both are insects common to morels), the inside of a true morel is not chambered and does not have a cottony substance. Chambered or cottony interiors are indicative of some of the false morels. Three - The cap and stem are connected to each other at the base of the cap rather than up under the top of the cap. In other words, the cap of a true morel does not hang down over the stem. There is one exception to rule number three which is the half-free morel, but that's in your favor. If you follow the three rules, you can't go wrong. Some people are allergic to morels just as some people are allergic to apples. Remember, whenever you want to try eating a mushroom you're not familiar with, check it in at least two field guides. If they say it's edible, try just a nibble, wait 24 hours, and if there are no ill effects then consume larger amounts. Tom Nauman, Morel Mania, Inc.
New Hampshire
5.9
After lots of rain and cold weather for the past two weeks we have had our first two days of 60+ day temps. Today we finally found two yellow morels on a south slope of an apple orchard. We have been checking regularly so we believe these are among the first. If the weather holds up warm enough, more to follow.....
New Jersey
5.8
talk about finding a needle in a haystack. the morels were so small and under leaves, i had to look several times before i spotted them. , i go to this spot every year, morels are coming up late this year im guessing because of the cold weather were still getting. im hoping to find some more this weekend after the nice weather this week and rain in the forecast. i hunted in sussex county.
5.19
Hello, I'm a little new to morel hunting; but this 3rd year hunting them has been awsome. I generally hunt them during turkey season. The first year I only collected about thirty, but kept mental notes. Last year I ventured out on my property and found well over a hundred. This year I more than doubled that with a few pounds, literally every day out there I pounded them. It didn't rain that much, so the numbers would have been much higher. I'd like to contribute to this web site, Please assist and I'm in. Thanks, michael Jediny , garwood nj. (picture on right)
New York
4.22
Found Three black Morels (3-4 inch range) in Westchester county, New York today (Hurray for Earth Day!). Forecast is for approximately 1 inch of rain over the next two days, which should really bring them up. These were found in my secret early season spot.... Happy Hunting - Chris
4.30
today found 2 very small yellowsin sw facing shale bank in se ulster county, in site that is about 4-5 days earlier than previous year's experience
5.1
Found 4 yellow morels in my favorite spot in Harriman Park, just south of the Bear Mtn. Bridge. Not as plentiful this year as other years. Maybe I'm a bit late in looking.
North Carolina
4.1
Found 2 in southeastern Kansas. Temperature and moisture was perfect, but only 2 found. Obviously, they are going to pop this week. Hope the cold weather (36 degrees) does not hamper the season. Wolfie
4.7
I just arrived in N.C. yesterday and yesterday I picked up two yellow spounge. I found them on the south western side of N.C. It is still al little early yet. The may apples are still a little small. The two I found yesterday was the first of the year. I hope to do really well this spring. Thank you, Don

North Dakota
5.18
Found 5 false morels and one fresh black. Going to be in the 80's the next few days. Heading back to the Turtle Mountains on Saturday. Should be a good season here. Happy hunting Ed
Ohio
4.17
Found around 50 blacks in Cambridge area. Desperately need rain.
4.19
Very dry for April around here(west central Ohio). Anybody in southern Ohio finding any yet?
4.20
I found 1 black and 28 of the 2 inch grey/whites in central Ohio in Fairfild County on 20 April 2005. The woods is very dry and these had been up for a few days. Todd Nye
Found 40 black morels on 4-20, 10 more on 4-21 and then 35 more on 4-23 in 2-3 in. of snow. All in the same woods, Northern OH ( norhten seneca co.) Steve Yates
4.21
ohio 4/21 have not heard of any reports to dry had 3 small showers yesterday maybe now. libby
4.22
I found my first gray morels for this year April 22, 2005. My first batch was 45. Located in Morrow County Ohio. I have hunted for years and my biggest find was 13 pounds in one day. Good Luck to everyone out their. Hope this year is a good one for everybody!
4.24
found 163 yellow and gray on 4 24 05 dureing a snow storm in northern fairfeild county in ohio what a day cant wait to eat them yuuuuummmmmmmmmmmm
The state of Ohio, Mercer County to be exact about 7 miles from the Indiana line.
4.29
Found 270 between 4/29 and 5/1 in northwest Ohio. They ranged from small 1" grays to 4" white and yellow ones. Perfect time right now here. A.J.
5.10
I finally found some morels! While out turkey hunting in Clermont county, I found dozens of yellows. Some were as big as 12oz water bottles. I only pick the lil' ones tho'...
5.16
first it was hot but to dry, then it snowed, then two weeks of cold and rain followed by two days of warm temperatures then back to cold and dry. found a few but the potential was there to have a super year but those are the travails of NW Ohio in the spring. Ed in Hancock County Ohio
Oklahoma
3.17
Hi, LeRoy & Rodney came through Oklahoma Thursday March 17th 2005 & picked 3 little whites & left 3 raisin size ones to grow. They will go back in one week & really start the season, hopefully! Let It Rain. Judy Paden NMMHA morel.org
i find 195 big beefs today smaless what about the size of a baseball bigges about the size of a volley ball and thats no joke there on my video put dont now how to get it on the putter can you pls help they waighed 34 lbs 4 hours of hunting and still twich that many i`ll e-mail you tommro and let you know how many then [ oklahoma cental]

3.21
i find my frist sighting on 3/21/05. 195 of them weighed 36 lbs. Found in Cental Okla. nice day going to get the rest tomorrow. good luck all you mainacs lol ( jm murray)
Monday evening, March 21st, found 10 small gray and brown morels in Central Oklahoma County, Oklahoma. They're not very big, but their appearance must mean that the larger yellow morels won't be long in coming. (picture on right)
3.25
hello, my name is cara and i live in stroud, oklahoma. on march 25th and three in the afternoon i found 2 very small little greys in my faovrite hunting grounds. we are all very excited. looks like the hunt is on. lol.
Found 14 (mostly small greys) Friday, Mar. 25th (in Tulsa County). Went out again Monday, but did not find any. Looks like it may be a little too early (based on forest flora absence). The warm weather this week oughta help. Larry (picture on right)
Tom,thought i would let you know my wife and i got 8 blondes in ok. payne co. 3-25-05 and today 4-7-05 found one of the biggest blondes i ever seen,10'' around 5 1/8 tall the other was average size we live in union co. ms. I was in paducha ky. 2 weeks ago did not score,been hunting for 20 yaers now.
4.1
Found Nine of the most beautiful Yellow Morels I've ever seen. I have several photographs for proof, being April Fools and all. Found them along the North Canadian River, in a Cotton Wood stand where the water spills its banks. Dead trees all around. Also found some in an unexpected location -among a sandy loam area on the edge of the cotton wood stand, thick with tall pole grass. Central Oklahoma got its Good first Spring Rain. I'll go out again tomorrow and check the other side of the river. After Filling my Belly With These Wonderful SHROOOOOOMS!!!!! HAHAHH AAHAHAAAAA!!!!! WHOOO HOOOOO OOOOOO!!!!!!!!!! David (picture on right)
4.3
Hi, Scott. E. Me and my buddy Leon. W found 42 blacks on 4/3/05 north west of Chickasha, Oklahoma, going again this weekend, hope we get some rain though, just starting to come up there Need that rain. Good hunting everyone.
Hi , this is Scott Evans me and my buddy Leon Willams found about 42 blacks north west of Chickasha , Oklahoma 4/3/05 just coming up there, going again this weekend hope to find more, good hunting everyone.
April 3, 2005 Central Oklahoma, My son Gary Jr. and myself went on our annual Mushroom hunt. He comes down to Oklahoma from Ohio for 4 days to hunt morels. It's dry here in central Oklahoma, but we did manage to find approximately 400 in the 4 days we hunted. There are new grays and yellows in the woods that have some moisture. If we don't get a good rain soon, this year will be somewhat scarce from our usual finds. They are up though, just have to hunt and walk harder and longer this year. Good luck to all. Gary Sr. & Gary Jr.
4.4
Scott Evans and Leon Willams, found about 42 blacks north west of ckickasha, Oklahoma just coming up there, need a good rain, going again this weekend, hope to find more next time.
4.8
Went out on my first hunt today. Found about 50 nice morels in Canadian County, near Mustang. Will go to my favorite place near Watonga tomorrow. Eric Vincent
My partner in crime, my husband and I found 86 shrooms. They where all wonderful find. We are west of Tulsa, OK.
4.9
found about 4 dozen nice m. esculenta in Jenks/ Glenpool area ( s. of Tulsa) yesterday, 4/9/05. left some others that were already too old. some were slightly immature, but most just right and quite large. also found 4 in Tulsa proper on 4/9. these were all slightly immature. dean m., Tulsa, Ok.
4.12
found 300 around twin bridges state park all pretty fresh David in tulsa 4-12
Hi Fellow Hunters, went to my usual spot for the last 5 days, and was disappointed in my 30 or so small find. I usually find around 100 or more in one hunt. The nights here are still cold in Tecumseh, and the wind has been furious, so I suspect that is the problem. I found greys and yellows, but were smaller than usual. They taste great all fried up though, no matter what the size. Happy hunting to all! Leah
Oregon
3.3
My first morel of 2005 from The Rogue valley in Southern Oregon. Just got back, the season is here finally. actually two weeks sooner than normal. (picture on right)
4.11
We just built a new house in Grants Pass ORegon and my husband was out planting some annuals and he found these mushrooms in our bark in the front and back yard. I did some research and they are morels. Is it normal to have them in town? Cheryl

Morels can grow just about anywhere (morels are where you find them). And most morel hunters wish they were growing in their own yards.Tom Nauman
5.4
Here in the Oregon Cascades for the last two weeks anyway I have pulled out about 30 lbs or so. That is 4 days of hunting in the last two weeks. Some people are doing much better but as for myself I am a happy hunter.
5.7
They're poppin'…. 4,500-5,000 ft in the damp duff beneath the Douglas firs east of Ashland. 2 lbs of easy picking this afternoon.
Pennsylvania
3.28
Hi fellows, First thanks for putting together this site. I really enjoy reading everthing on your site. I'm Rodney L. and I wanted to let you know me and my buddy Roger S. were hunting in southcentral pa, very close to the Maryland line and I found the first mushroom of the season on Monday, March 28, 2005 at 1:38 p.m. In a week or two we will start filling up our sacks and I'll take pictures and send you. Thanks, Rodney
4.15
Ten small black morels found in the usual first spot of the year here in Norhteast Pennsylvania -bottom of sunny slope, tulip trees and white ash. Also, one mature Gyromitra Korfii (maybe G. Fastigiata?). Dave in NEPA
4.21
found 57 black morels southcentral pa.It's been dry here for 2 weeks but some places must have enough moisture in the ground yet.Yyyeeeaahhh!bruce
4.28
I found some of just about every variety. Southwestern Pennsylvania. Warfordsburg, Pa. 1 ½ mile walk, 3 ½ hours. I've been going for 20 years + and really enjoy it. I have about 15 miles of area (patches) I cover each year. Wish there were more around here that enjoy it as much as I do (or spend the time I do) I just started taking pictures this year. It really helps when you have the experience and can 'read the land' to find them. I think I know just about all the standards of each variety.
4.29
found 8 greys all 4'' tall in fayette co pa
4.30
landenberg, southeast chester county , pa ......south facing slope heavily wooded...found a few...wasn't even looking that hard. jl
5.4
Westmoreland County. New Stanton area. Today went with a friend. he has never hunted roons.We walked into what looked like a good area. Ash, birch, old crab apple trees, some May apples, grassy, the ground was moist..just about for roons to grow..saw an area full of deer tracks...hmmm .....found one four inch half hidden under a leaf...called my new hunting buddy with the news, asked him to come over and find it....after about 5-7 min he found his first one. Had him smell it ( i'll never forget my grandfather doing that to me about 50 years ago ) Now he is hooked for sure....i made it back up the hill side..while he went after a new trophy...had to stop for a breather, and could hear him off in the distance.felt good to sit down.. About 30 min later he yelled " I found 3 more "...made it over to check the roons ...Nice find...they were small yellows..he found them in the same ground conditions.....felt good inside...he now has the eye for the area's they grow in ..and the ability to SEE them, when your looking straight at em. ..now we just need about 5 big poke sacks filled..
South Dakota
4.24
Hey Happy Shroomers....My daughter and I picked 11 pounds of morels along the Missouri River yesterday, 4-24-05, near Elk Point, SD. I hauled 8 pounds out of this same spot by myself last week and my boyfriend and I went on the 23rd and picked 10 pounds. You can tell by the color and the moistness they had just popped. With this fantastic weather we're having here in South Dakota I expect we'll have an extended season. Good Luck everyone!.... Laura, David & Kristin
Tennessee
4.1
Hi Tom, I found 20 mushrooms today. Looks like they were up a day or two. 4/1/05 Jeff Gilbert Covington TN. Found several 2" and 3" Yellow morels in Nashville, Tennessee Jeff Linkinhoker
4.6
On April 6th 2005, I found six morel mushrooms in upper East Tennessee. I was so excited! I have only found 3 prior to this discovery during my whole life-all on different occasions.
Hey Tom & Vicky: I know you were to be in Knoxville this weekend, but west TN may have been better. 3 Lbs. Thursday, 10 lbs. Friday, and 6 lbs. today-and would have been more if my old bones had been able to keep up with my son! All right inside the city limits from an area about the size of a Super Walmart store and parking lot. Hope you have a great season. Jim
4.8
78 Yellow Morels picked in Nashville, TN on 8 April. Jeff (picture on right)
4.9
Hey Tom & Vicky: I know you were to be in Knoxville this weekend, but west TN may have been better. 3 Lbs. Thursday, 10 lbs. Friday, and 6 lbs. today- and would have been more if my o ld bones had been able to keep up with my son! All right inside the city limits from an area about the size of a Super Walmart store and parking lot. Hope you have a great season. Jim
You had a much better weekend than I did. 15 of us found a total of 130 morels - 3 small grays and the rest were blacks. Next year I'll head west. We still had a great time, and this early in the season I'm happy to find even one! Vicky said to say "Hi". Tom Nauman
4.11
New update: Rained all day yesterday, but my son Scott made up for it today-2 1/2 hours in the morning and 2 1/2 hours in the afternoon. 17 pounds! This is not even "hunting" mushrooms, instead it is simply picking nonstop from the time you enter the woods.
4.14
Wow am I happy 4/14/2005 7 total 3-4 inch tall 6 blacks 1 yellow at 2300 ft. elevation Greene County Tennessee. They were delicious. Allen
4.23
I live in Middle Tennessee, and I usually find the first black morels around the last part of March, and about two weeks into April. This year and last year have not produced very many shrooms. Two years ago I found 328 black morels in one afternoon, some very nice ones around old poplar trees. This year I went back several times to the same location and found nothing! I don't know what is going on. I did manage to find some good sized yellow morels in another location, but things have been dry here for about 2 weeks now and can't find any right now, maybe after next rain comes around I will start hunting. I hope all mushroom hunters good luck! TP.
4.27
Since end of March,I have found approx. a couple dozen of what I call the whites around the Kingsport area in east Tennessee and Gate City Virgina. Hope this recent cold spell hasen't set them back. We had up to 3" of snow in some areas on Sun. the 25th April. I plan on looking again today since it rained yesterday and had some warmer temps since Sunday.

Utah
5.16
It has been a long time since you have heard from us. You might not remember us anymore! We moved to Utah in July and didn't think we would ever be able to find morels in this arid part of the state...but here is proof that anything can grow when it is a wet Spring. Charlie took this picture when we went up in a canyon close to our house in Monroe (Cental Utah) and found this nice one close to a chokecherry bush with cottonwood trees in the area. If you look closely, you can see the other two. They never grew and dried up the next day. My son called me from Provo today to brag about the whites he found in Provo Canyon. We are proud to be the first ones to report morels being found in Utah on your "sightings". We know they grow in Utah, because we have been in contact with fellow mushroomers, but we were surprised to find them on our own. Hope to be reporting more finds in the future. Charlie & Linda (picture on right)
Vermont
5.15
We found 7-8 fresh beauties circling an ash in an ash-laden woods in Guilford Vermont. It was pouring rain and the temperatures have not been quite warm enough. We hope the season is just getting a late start here.
Virginia
4.22
Found 2 small blacks in yard under ash leaf litter. None on the mountain yet. With rain later today and over weekend, here we go! We're in the Southwest Virginia mountains near Wytheville, at 2350 foot elevation. Smith Boys
4.23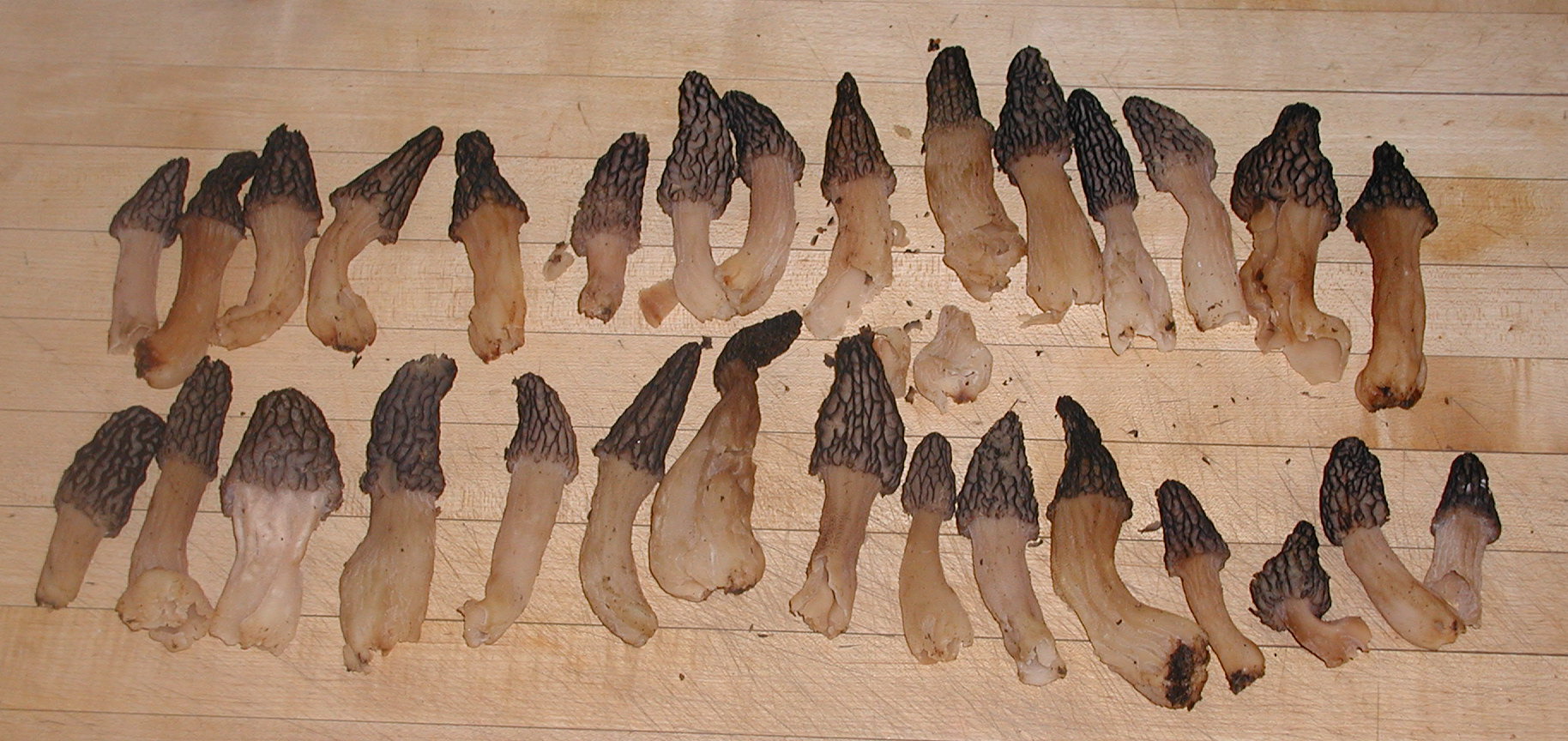 My friend Rebecca showed me an area to look around here. We found 31 black morels today, only 3 last week and 5 the week before. We are in central Virginia Blue Ridge Mountains, elevation approximately 1,500 feet. Most were found on a North-West side of the slope close to the ridgeline. Here's a photo of our find. Very dry weather here for two weeks, very warm (80 degree days, 45 - 50 degree nights) last week but still no rain, had a good soaking rain yesterday and last night. It might be almost too late, but we will have very wet weather this weekend and I will try again Monday. Here is a photo of the mushrooms. There are only 30 as I lost one out of my basket – hope it drops spores in a new area! (picture on right)
4.24
found 22 greys in northern virginia (picture inclosed) and friend that was with me aslo found 30 growing in the same area mostly greys couple of yellows and 1 white, still cold at night.
Washington
3.25
Tom, Would you please send me the characteristics of edible Morels and any other info you may have on them. We finely got some rain up here. We found a few morels over the weekend, so this should be the beginning of many more to come. Lewis County, Washington. Thank You, Shari
4.7
hi,we found 5 pounds of true morels in bellingham washington in thick beauty bark .this is on campus WWU .the gardener got all upset that we picked them.she likes to look at them.we told that we like to eat them.so we left some for her to look at.
4.8
I was cleaning up my backyard and spotted 15 of these tasty little morsels right next to a burn pile that I first established last year. I found some about 10 years ago in a different part of my yard but they never returned. I am so happy to see that the little gems have finally returned. I wonder if the fire has something to do with it because they all seem to be in a ring around the burn pile. Happy Hunting, Brian Cunningham
4.29
We picked about 10 pounds of Black Morels in a 2004 clearcut in the Columbia River Gorge. Nice sized shrooms, great flavor!
5.1
Hi there, yesterday I found my first morels. Not too many this year though, they are few in between and scatered. Found about eight pounds. Hopefully it rains in the next two weeks! Alfredo Medina. Seattle, WA
West Virginia
4.12
We finally found 13 blacks on Thurs, the 14th. Our friends over the ridge from us found 4 small black ones on Tues, the 12th. We are going to look for more now. Tyler Co. Best of luck to one and all!
4.14
Hi, Found about a pound of mostly black morels (maybe 2 or 3 yellows) on 4-22-05 in Hampshire County, WV. I also found 7 or 8 black morels on 4-14-05. Great web site -- thanks for the info!
4.17
Border of Taylor and Marion County, West Virginia. Near Valley Falls State Park. April 17. 10 White Morels and 2 Black Morels
Near Valley Falls State Park, Marion/Taylor county line West Virginia. 10 White, Two yellow
4.22
North Eastern, West Virginia: 22nd & 23rd of April, Finally found our first Morels. Very sparse, but never the less we found about 10 grays and blacks. Another pass thought the woods yielded about 15 more morels than yesterday. I&R
4.24
Near Fredrick, MD: 24th of April, We finally found our first Morels. Very sparse, but never the less we found about 5 grays. I&R
4.25
On 04-25-05, my father-in-law found 11 dried-up black, and 1 small yellow in the Jackson/Mason County area of West Virginia. Uncooperative weather has made this a poor year around here. We usually start finding them around April 15th or a little earlier. This was on his 3rd trip out. We are going out again on Monday if the rain allows, otherwise we can't get the truck out to our spot for all the mud! We find them in thick stands of tulip poplars and some sassafras and ash. --Amanda W.
4.26
North Eastern, West Virginia: 26th of April, Today was a bit better, and things are picking up, hopefully things will continue to improve. We managed to find about 20 morels, grays and cappies. I&R
Near Fredrick, MD: 26th of April, Things are looking up; I think another week and timing will be about right for more. We found about 15 morels, grays and cappies. I&R
4.27
Near South West of Baltimore: 27 of April, Best few hours yet, picked close to 60 small grays, and blacks in 2 hours. I&R
5.2
THESE MUSHROOMS WERE FOUND BY DENZEL MACE IN ROANE COUNTY WV. (picture on right)
5.4
West Virginia--Jackson/Mason County area: We found 19 gray and 1 black. Most were thumb-sized, except for 8 nice fat grays we found behind a dead elm tree, approx. 4" x 3" caps. Kinda disappointing though, after hiking 4 miles up and down ridges and through heavy underbrush. At least we weren't totally skunked! --Amanda W.
Jackson/Mason County area, West Virginia--My husband and I found 62 very nice yellow morels on 05/07/05, all averaging 3" caps. --Amanda W.
Wisconsin
4.11
Hello everyone, It's hard to believe I found my first morel of the season! The second earliest I have ever found one in the past ten years. Looks like the season will be a week earlier than normal. Southwest Wisconsin hunters expect to be picking by the 23rd of April! Season will peak around May 1st. That is if the weather pattern stays fairly normal. The morel I found was small (still white in color) found on a south facing slope here in south west Wisconsin. With the last few weeks of warmer than normal temperatures followed by a warm rain I knew they would be sprouting in the areas first warmed by the sun. The morel is the size of the tip of a pen. Good Luck to everyone! Master J (picture on right)
4.15
Found our first greys yesterday. 43 little greys from about 1/2 in to 3 inches tall! The hunt is on in Wisconsin!
4.17
We found two small morels on a south facing limestone bluff in Rock County Wisconsin on April 17. They are about one half inch tall. Good Luck! Tim K.
4.20
Found two dozen Blacks on south facing hillside around dead and dying elms, right outside Blanchardville Wisconsin. Looks like I'll be in the woods next week. BruceB
4.21
On April 21st, my husband and I found 10 - 15 in an area that gets lots of sunshine growing in two places of which there used to be (many years ago) two Elm trees. The trees were cut down and the stumps removed long ago. The morels were 2-3" in height.
4.22
We found about 15 right in our yard yesterday. They were approximately 3 inches tall. They were growing in a spot that is wide open to sunlight throughout the day, in two areas of which there used to be Elm trees. The trees were cut down many years ago and only a bare spot remains where each of them used to be. Venemans Beloit, Wisconsin
4.23
Checked a couple trees on the way home from work, ended up finding about an ice cream bucket full cleaned like these I am holding. All south facing hillsides. Some around apple trees. will be posting more pix later.
4.25
Pleasantly surprised to find about half a sporeboy sack full of nice grays and a few small yellows. Only bad thing is now I have one leg longer than the other as I found them on the side of a river bluff
5.3
Hi Tom - Shrooms are finally up! Found over 200 greys on my lunch hour today under two separate dead elms. We need rain in Southern Wisconsin! Can't wait to see you, Vicky and the Nauman clan on Saturday. Hopefully you'll be able to get out and hunt with me, Rat, the Pease clan and Licavoli up in Boyne next weekend!
5.13
Finally found some around Whitewater--10 medium sized greys yesterday in dense woods. They had no frostbite or dryness, and were in very good shape. I think the darker colder spots are filling up as we speak. Also 30 tiny to large yellows among grass on a south-facing bank over my lunch hour. They weren't as pristine--a little moldy, a little chewed up. It's been very dry until recently, so I think the season is prime now and will go for a couple more weeks. I'm spending the whole weekend in the woods!
Wyoming
5.22
from Cody, WY found 15 morrells in back yard today: 5 22 05. Have lived in this area for 25 yrs and this is the first time I've seen morrells since leaving Missouri years ago.
Canada
4.13
I found four Morels in the Colwood area of Victoria B.C. (Canada) today while I was out in local woods. Aprox co-ords (not close enough to give away my spot ;-) N48º26. W123º29 Alt 150' They are early poppers, probably from that little warm spell we had a couple weeks ago. Found around rotting stumps & needle droppings from Douglas Fir, some cedar around also. Weather trends are behind seasonal norms here this year. Going out to several "potential" sites over the next three days to see where else they're popping. Also going to try the Okanagan Mountain fire site in May for a 2nd year fruiting. Here's a Link to my online mushroom album with photos of todays finds: http://www.hpphoto.com/servlet/com.hp.HPGuestLogin?username=lcars&password=39537773 Happy shrooming! MycoMat
4.21
Hello Ontario Morellers cheer-up the goodies are coming. Today Apr 21, after intensive search spotted 3 Morchella elata(Conica variety), toller 3" , all very fresh just out of the ground in mossy area with poplars mixed with white pine and lots of underbrush. Southern Ontario in outskirt of Toronto. Good luck to all. Umberto and L. P.
4.24
Hello Tom, today Apr 24 went out in the rain and picked 9 Elata(angustipes) close to lake Simcoe, 50 Km north of Toronto, all pale looking, here is sample picture, Umberto
Hello Tom, from Canada Ontario. Today Apr 24 while raining went to check our second spot close to lake Simcoe 50 Km north of Toronto and picked 9 Elata (Angustipes) left some tiny ones. Sample picture here, Umberto
5.6
on May 6 finally found the first few Morchella esculentas on the shores of lake Ontario east of Toronto, we are almost a week late comparing to 2004, but with some more rain coming the season will be in full swing. Good luck to all, Umberto
5.8
found about 20 blacks and about 15 more yesterday (Kitchener area). Hope to hear about more sightings in Ontario soon.
5.10
I was working in the Windsor area this week and found my first of the season. 48 under one dead elm, and another 100 or so around cottonwood. Essex County, Ontario.
5.14
On Sat.May 14 and Sun.May 15 in three locations I found dozens of little morels coming up .I think one week from now they will be full grown and ready for harvest and the bonus is that these were on new found locations.Two were amongst dead elms and the third spot was in a grove of poplars all in the London,Ontario vicinity. Jim
5.17
Hello Fellow Morelers! Was up about thirty or so kilometeres north of Toronto, and in mixed forest on the 17th of May, spotted my first morel for the 2005 season! It was a black one on one of my "Elf Hills" in my regular hunting grounds. Went back a few days later and on a sunny hilltop, found about fourteen yellows poppping out. Found about thirty yesterday, including two large yellows! There hasn't been a whole lot of rain in these parts recently, and I suspect that the full season has yet to hit us! Needless to say,I'm doing the "Rain Dance" !! Good luck to all fellow Afficianados! Paul Medley
5.19
Hi Tom: Just found a woods full of morels and was looking for recipes.....and how long can you leave in ground before eating them....really new to this.....but think if I lived in Illinois I'd be the Illinois State Morel Mushroom Hunting Championship of Alberta Barb
Tom's response: Hi Barb, I had a Canadian Newspaper reporter call me yesterday for an interview. She said she didn't think there were any morel hunters in Canada. Don't worry, I set her straight. I told her that we are a very secretive bunch. Anyway, you can tell when a morel is mature when the pits open up and the ridges are not close together. If the pits are closed, you can leave it to grow. They may not always grow, it depends on temperature and rainfall. Enjoy! Tom
5.21
Went Morel picking for the first time. About 1.5 hours north east of Edmonton, Alberta, Canada. Our friends have been picking there for years. Only blacks yesterday, we looked for about an hour and only came up with about 30 of the black gems. My friend says that it was just about too late already but in about 2 weeks they become visible a bit farther north.
Hi Morel Lovers, Our season up here in Canada starts a lot later than yours. We went out for a few minutes in the forest behind our house and came up with 10. Not bad for an initial investigation. We will be dedicating a day to search tomorrow. Take care! Rob Barrhead County Alberta, Canada (picture on right)
Tom's Response: Hi Rob, You would have a lot cleaner mushrooms if you would either cut them or pinch them off above the ground. It might also mean more mushrooms in the same spot in a couple of days. <http://www.morelmania.com/510502.html> Just a suggestion. Thanks for the report Tom Nauman
5.24
They said we were crazy for going out so early but we got about 30 decent sized black morels from 2 to 3 inches in height.Three or four yellow morels as well. Habitat: Bottom third of Manitoba on either side of a cow pasture that was partially flooded,swarming with frogs and cow plops,growing under and around groups of SPRUCE pine trees that grew on the outskirts of a poplar grove. Just in open areas that could get sunshine,slightly elevated and not flooded.We didn't have to go far into bush...all morels were close to the open field near the Spruce trees. Plant hints: The dandie lions have been up and in bloom for just over a week,The bleeding hearts are just in bloom,the Lilacs are in partial bloom,My ornamental crab apple trees are in full bloom,the Crocus are already up a week,Mosquitoes are around but not overwhelming just yet,The grass is low and still easy to see thru and the ferns are getting about a foot tall but not spread wide yet.The grouse were making thier mating sounds (thumping thier wings) Not all these plants are where the Morels were but watching them near where I live is a good indicator of when to start looking. Many thanks to everyone who has helped me find my first wild Morels,many thanks to my Mom for finding people who knew where to look and were willing to share thier knowledge. "It's who you know and where you go..." P.L.