2006 Sightings
Arizona
4.5
A gift from God on my 50th birthday.I spotted in my girlfriends yard,in the middle of town, next to a tree,8 morels of different sizes ,3 were bigger than my fist..I was amazed!! I use to hunt them when young in Indiana,with my father.I haven't really searched for any in Ar.,but that changed this morning. thanks, T.D.
Arkansas
3.19
Found small black mushrooms today in Arkansas.
3.29
Found 4 small yellows in Boone County, Arkansas on March 28th. Jim H.
4.3
We have been finding morels on the southwest facing slopes with no leaves in NW Arkansas since 4-3-06 and everyday since, found some of the largest I have ever pick . Thank You Richard
California
1.5
We re-landscaped our 20 unit apartment complex this past November and December here in Escondido which is in North San Diego County. On January 5th I found my first large clusters (20 plus) of grey / yellow morels growing in the fir bark. Today Feb. 28 I'm finding morels around the walk ways and planters all around the complex. I'm assuming the spores came in the shredded bark we purchased. The question I have is, Is there a way I can transplant them to my home or help them return next year? Thanks for any info, Steve Renfeldt.
4.7
They have been popping up in one of my favorite patches since April 7, and I've been letting them grow until they are a good size (thimble to golf ball in 4-5 days). This is in Nevada County, around 2600' elevation, and receives a good deal of sunlight. None of my other patches have yielded yet. Sam L.
4.27
From Nevada County, CA, around 2500' elevation. So far, it has been the best year here out of the past six, following a long, wet winter with record rainfall in March. The kids helped with scale for the photo. Sam L (picture on right)
5.10
Today was one of those fantasy days. I took the afternoon off and in under 2 hours I harvested 267. The other half of them were too small. The location is a burned area in the northern Sierra Nevadas, at about 3800' elev., with the ground still moist from snowmelt. Locals call these "fire morels" or "burn-site morels." I think they're slightly different from the "black morels" in the midwest, but equally delicious. An enormous bear wandered into my patch while I was lying down taking a photo of some morels. I heard her when she was only 60' away and I stood up, stuck my arms out to look big, and said, authoritatively, "Hi, Bear!" I don't know if she was there for my fungi, but I was happy that she ran away nonetheless.
Colorado
5.5
We have had the best moisture we've had in years, but so far the little devils are being very stubborn about making an appearance. My buddy, William, found five on Friday, May 5 and I found one loner on May 8th. Since we are still getting rain showers and the temperature has remained cool, I am optimistic that they are just biding their time. If we get none at all, I will blame the very hot, dry and windy weather we had in the middle of April which may have fired the mycelium. Boletus
5.12
Okay, I have lined in Colorado for 7 years now ad have come to the realization that there is no such thing as a 'normal' morel season in the Denver/Boulder area. This year, the entire month of March was warm and dry, as wasmost ofApril. I forayed for morels every 3 to 4 days during April and had no luck at all finding Yellow Morels. Environmental indicators were mixed. I generally find the majority of yellow morels (per a given season) under narrow-leaf cottonwood growing along creeks and streams in the 'low-lands' (about 6,000ft). Cottonwood leaves are usually about an inch to 1 1/2 inch long. This year the leaves were opening'on-time' in mid-April, but mint was not yet growing, Iris was blooming and poison ivy had not leafed out. All of the above usually occurs in Colorado by the 3rd week of April and all are indicators of when to foray for Morels. Finely, on May 05th, 2006I found 5 yellow morels growing under Russian Olive near a narrow leaf cottonwood. As of today May 12th, I have not found any more. We have been getting some rain and the ground cover is now growing and poison ivey is just now starting to leaf-out. Perhaps there is some hope yet for finding additional yellow morels, however, I usually start hunting for Black Morels in the foothills (7,000 to 8,000ft) by this time of year. William
Connecticut
4.8
It is cold and damp here in Connecticut, but the optimist in me made me look anyway. There it was, one tiny, chilly morel, the earliest ever in my backyard. I'm looking forward to spotting at least a couple dozen more, right here in my city yard, not to mention "other spots". Connie
Georgia
3.14
Hey, Tom. First Morels of the season found here in Georgia! 22 found in Jasper County. This is the spot that I am holding my foray this year. Chris Matherly
3.23
What a day! Found 171 very fresh, very grey Morchella esculenta today in Bladwin County, Georgia. Rich lowlands under Ash. These are some of the prettiest ones I have seen in a few years. Several were "triples" many "doubles". Largest was bright yellow, and 7 inches!
4.14
The 2006 Georgia Motherlode Foray went was a huge success! We had a group of about 25 from many different States, and one from Canada, one from even London, England! We endured heavy rain and found 215 giant yellow Morels, 5-11 inches tall! It was a great time! I will see you on May 5th!- Chris
Idaho
5.14
Went out yesterday to look for the lovely little shrooms and came home empty handed. Went to Sage Hen Reservoir near Ola/Sweet and seemed like the areas were either too dry or too snowy and wet. Found some false morels and a few toad stool types, but not many. Corral mushrooms aren't up yet either in this area north of Emmett. We were around 5000 feet elevation and tromping around in snow part of the time--but it's melting! Still hope to find some this season, perhaps near Idaho City next time. Relatives in Iowa report many are being found in Iowa and Story Counties.
Illinois
3.14
Tom, You asked me the other day if morels were up yet in southern Illinois, to which I replied something to the effect of, "Nah...next week." Well, it's next week. I've attached a photo of the first black morels I've found this year in Jackson County. This is the earliest I've ever found morels this size, 2-3 inches tall (opposed to the microscopic specks I've reported before on March 14). A south-facing, sunny slope, naturally, is where these black morels appeared. So, where does that put us in relationship to the entire morel season? These are the early risers of the bunch, so to speak. Realize that the first morels of the year, unpicked, eventually become those old, decrepit morels people notice during the heart of morel season and wonder when THOSE morels appeared. This is when they appeared, fresh on March 14. And so it begins. But slowly. I probably mention every year that there's really no need for everybody to rush into the woods with baskets just yet; these several morels today represent a fraction of the morels that will appear throughout the next few weeks.Of course, nobody can resist temptation, especially with the knowledge some stranger in southern Illinois will be eating fresh morels tonight. So go to the woods, if you must. But be safe. Obey the designated hours for collecting in state parks and don't enter private land without permission. Finally--although this often seems an intolerable social request--actually be polite to other people you encounter in the woods. Morel hunters are good people, just like you. Totally insane, but they're good people anyway. Joe McFarland, Illinois Department of Natural Resources.
3.18
Tom, just a quick note. My son found 140 black morels on Saturday the 18th, average size 2.5 - 3". Found 4 frozen blacks on the 21st. This is in Williamson and Union Counties, Illinois. Bob B.
3.25
HI Folks, I made my annual pilgrimage to southern Illinois last weekend and found over two dozen black morels on a southern-facing slope south of Carbondale. Most were 1-2 inches tall and very fresh. With this warm weather and a little bit of rain there should be another flush by the weekend. We've still got about 3 weeks or so left before we're picking yellow morels here in northern Illinois. In almost 20 years of picking I have yet to find a black morel in Cook County.. Jay D.
3.27
I went to Carbondale, Illinois, Monday. I found 10 blacks there yesterday, in the 2 to 3 inch size, but there was still nothing in a lot of my early spots. One was a bit limp from the freeze. I plan to go back April 1, if I can wait that long. Darrell
3.30
hey Tom, this is nancy from christian county illinois. march 30, found 14 mushrooms black. most were small but 2 were about 3 inches... now friday will bring more. this is 3 days earlier than last year. good luck to everyone this year. last was a good one.
Nancy here, march 30 found 12 black morels in christian county illinois. Have found every day since. Not very many about 20 each day. Weather needs to warm up for a few days in a row to get them going strong. But otherwise, think it might be a good year again. good luck to all
4.1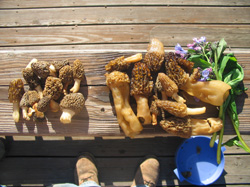 found these blondes and blacks in separate areas blacks in the old spoil hills "strip mines" close to saline county IL. And the blondes right out my back door on a old abandoned rail road bed all around poplar trees and elms blondes were found on an easterly slope earliest I have ever found blondes blacks well they were just spotty a lot of walking for so few but was worth it when I ate them that night happy hunting yall the shroomster (picture on right)
4.3
hey tom, nancy from christian county illinois. found about a 20 each day for the last 4 days. temps up and down. had a nice day yesterday, sunday, plan to go out after the winds die down. good rain last night hope it produces a major amount of shrooms. they have been pretty small 2" or so got a couple that were bigger. they also have lighter in color but with the cooler weather they will be getting darker. hope it's as good a year as last. good luck everyone.
4.5
Just got 19 grays, under 2 different trees, on a South facing slope, in Fairview Heights, Il.. They were up the hill and not in the cooler valley. They ranged in size from 1/2 inch to 2 1/4 inches. It's supposed to rain tonight and stay warm. We'll see; Larry
4.7
Mason county, IL -Found 1 small grey in yard. It seems early, but we had 2.5 inches of rain a day ago, and it's 75 degrees today.
Found these in Fairview Heights Il. 7 April '06. Southwest facing hills. Larry (picture on right)
I found 17 morels today on 4/7/06 I only went out hunting for about an hour maybe an hour and a half right before sundown after work thus I was kind of in a hurry. Some where kind of small some were pretty nice. The biggest one(s) were around 5 to 6 inches. They were all found in Madison County. Nicholas
Found 106 blacks in saline co. an 40 week befor in CAVE HILL AREA spoty at times with a few patchs of 20- 25 size were averge 3inch to 4 in. tall an 2 1/2 to 3 inch base realy nice. Not uncommon to find at least 300 or more this size in a day of picking. But posted signs in shawnee forest say no picking till after 1 pm this to me isnt fear sence area is open to anyone but morel hunters at this time!! JEFF FROM SALINE CO.
I found 17 morels today on 4/7/06 I only went out hunting for about an hour maybe an hour and a half right before sundown after work thus I was kind of in a hurry. Some where kind of small some were pretty nice. The biggest one(s) were around 5 to 6 inches. They were all found in Madison County, Illinois. Nicholas
4.8
Terry from Pope county Ill. good day hunting in pines for blacks one hole gave up 134 good ones .Alot ofone's and two mushrooms, next week should be prime if wheather is good .
4.9
This is Bob Buffington from Southern Illinis. We went out last night and found another 158 nice yellows. My two sons had gone out this Saturday and foud 200 yellows and are still finding some very nice Blacks, although the Blacks appear to be peaking. Godd Luck with your Annual Hunt. Bob
Found 96 nice greys and yellows on 4/9/06 in western perry county, IL. Looks like another great year.
larry from greene county, started finding a few very small greys, south facing slopes.
4.10
i found these little ones on top of mapleton hill! they said come back for mamma and papa tomorrow! i found them about 2 :00 today in mapleton at the park. james, south pekin (picture on right)
Found first grey in Peoria County. It was ľ of an inch tall. Happy Hunting.
4.11
I have found close to one hundred blacks in the Mclean Co area happy shrooming Bruce.
4.12
found about 100 wed night, half grey half yellow, we need rain, it is dry in the timber, plenty wet in the bottoms still, not allot of size to them. larry
4.13
Starting to find a few blacks and a few grays in southern Menard County. Good day for hunting found 28 total blacks and grays. Roger from Menard county
4.14
found 18 gray in Butler haynes park! hollis park distric in mapleton ill. i think thats peiria county1 thax!
4.15
Just found my first morels of the year here in northern Madison Co. Picked these two and left three small ones at the base of a tree to check tomorrow since they are between my house and the road. A little rain overnight would be nice. Marilyn

Found a total of three on Saturday just north of Springfield, IL. Found them within 5 minutes. Nothing the rest of the day. Josh N.
Found 24 small grays today the 15th of April in central Marshall County. Jargo
found 17 grays and 12 elephant ears on the 15th in warren co.IL close to the henderson co border
Found 13 grays in Havana, IL. Fulton county I think.
Hey, its Bill I found 5 greys yesterday in the Kickapoo area.
My friend troy Todd and I, Jeff, found 38 grays on 4/15 and 361 grays and yellows on 4/18 in Peoria County in Peoria Illinois. E-mail me back if you need more info.
4.16
my son jc and i got up and went back to mapleton easter morning! found these yellows at butler-hanes park! however the storms came so we left! happy hunting jim and jc (picture on right)
Found 20 grays 1" to 2" in size on Easter Sunday in Mclean county, Illinois. My kind of Easter egg hunt. Happy hunting!!!! Brady
4.17
Dave P. of Elburn, IL phoned a report of finding nine gray morels in a walnut grove. Largest was 2" with the remainder being half that size.

Vicky went out this morning to one of our early spots and came home with only a deer tick crawling on her arm. I went out mid- day to check a couple of other areas where we've found them early in the season. I'm pleased to report that I found one lone "scout", a grey esculenta about 3/4" tall. It was the only one I found. Of course, there are probably others nearby, but not easily seen when they're that small. Mother Nature is being very cooperative as she has blessed us with about 2 " of rain since Thursday night. Also had a hail storm with stones just slightly smaller than golf balls. They pounded the area for about 12 minutes straight! I've never witnessed a hail storm that lasted that long. Our front deck was covered with them about an inch deep. It looked like it had snowed. The season for Marshall and Putnam counties has begun! Tom Nauman, Morel Mania, Inc.
Found 15 grays 1" to 2" in size today in southern LaSalle county, Illinois. Rick
My friend and I went out today just to take a look around and to our surprise we found 31 nice ones. It is a little early for Kendall county, but we'll take them!
I FOUND 50 GREY MORELS TODAY OF MEDIUM SIZE NEAR ROBINSON, IL. I WAS STARTING TO WONDER IF I WAS EVER GOING TO FIND ANY. GOING AGAIN TOMORROW. 04/17/06 SANDI
Hey, its Bill again found 32 yesterday 2 half frees and some nice size greys and the day before that we found 25.All in the Kickapoo area
found April 17th, in Fairview Heights, Il. There's one fresh gray but the rest are yellows. I'm trying to keep the faith but, if we don't get some rain soon, that's all she wrote. Right now, I've found 1/3 of my worst year ever!! Larry K.
Tammy & Mike found 70 morels today in Shelby County. Most were gray, about 4 of them were black. Sizes ranged from 2" to really small. The blacks that we found were about 4". One patch was in a gulley and another patch was on a hilltop. Good Luck to you all!
Hi! I just wanted to let you know that I found 23 "tiny" grey morels in Fulton County yesterday, 4/17/06. And, I am sure there are SOON more to come! Lisa
Found a total of 48 grays 1'' to 2'' tall in nothern shelby county today. A friend of mine found 23 blacks this morning with the biggest one measuring 7'' tall. Its my favorite time of the year again. Good Luck all.
Here's the picture of the first mushroom from yesterday. It hasn't grown any yet. I have three reporters that want a picture of morels in the wild, so I guess I can't pick it until I find some more. If it grows any, I'll send more pictures. Caution! I mentioned that Vicky had a deer tick on her yesterday. Well, I found one on me today when I returned from taking this picture. Neither of us had ever seen a deer tick before yesterday and now we've both had one on us. A deer tick is about 1/4 the size of a regular tick (less than a BB) but the real problem is that they carry and transmit Lyme disease. Since we've encountered them in two out of three brief outings that were about a mile apart, I wonder if they are going to be a real problem for us mushroom hunters this year. Anyone else seen any? (picture on right)
4.18
Found 10 greys this morning in Kankakee County, ranging from 7/8 to 1 1/2 inches in height. My first sighting, a little clump of two, I covered with leaves to let them grow. Later on there was a small patch, with a clump of four. Wheeeeee! Left one of my "catch" for the proprietor of the area. Will dream all day about what to do with the other seven. The season is on, fellow hunters!
Southern Illinois, Williamson Co., on 04/18/06. I found over 100 yellows, ranging from the size of a dime, to one monster bigger than my hand. Easily the biggest I have ever found. I found all of them in two clumps. Actually surprised, as we have had no rain in over a week, and it has been unseasonably warm. I went out expecting to come home empty handed. Jim
WE LOVE HUNTING THESE THINGS!!! THEY ARE FUN TO FIND AND SOOO GOOD TO EAT. FOUND THEM SOUTH OF ROBINSON, IL ON TUESDAY, APRIL 18. GOING AGAIN TODAY. HAD A GOOD RAIN LAST NIGHT. HAPPY HUNTING. SANDI
I went out on April 18th and found a two inch yellow and 11 greys that were one to one and a half inches tall. They are just starting. The rain we have gotten this week should help a lot. Happy Hunting. TW
I found some yesterday 4/18 in Carroll Co IL. They were all in one spot.
Henry/Magnolia, IL report. Hello All, Another trip into the woods when Vicky got home. Harvested 85 grey "deliciosas", 3 half-frees and another exculenta. Probably left another 35 of the deliciosas. They are so clean and fresh that we probably won't even wash them! Tom Nauman (picture on upper right)
4.19
We found these beauties south of Robinson, Il. April 19,2006. HOPE for bigger ones later on. Sandi and Jeff (picture on right)
Found 15 small greys on 4-19 near Marseilles. Broady, Marseilles,Il.
found 3 yellows on 4/19 and 4 grays on 4/20 in vermillion county. my son found 15 nice yellows on 4/23 in champaign county
4.20
Hi , I found my first gray morel today in Kankakee IL. 04/20/06. I found a bunch of small one's, and one good one, I found two new spots, its going to be a good season!!!!
Mitch and Sue found this mess all in one spot in Fulton County on 4/20/06.
I found Morels in Elburn, Illinois today. Elburn is in Kane county. I have never hunted these in my life, but a friend told me they were real tasty so I thought I would satisfy my tastebuds. They were very good sauteed in butter and then sprinkled with fresh grated parmesan attached to a morsel of a porkchop. Mmmmmm. Bye for now. Ray N.
found some 4/20/06 in Rock Island County, Illinios. Charley
Me (Steve) and my son (Matthew) found 71 around Princeville Illinois, these go with the 30 found last Thursday.
4.21
Found some yellows in Putnam County Illinois (Granville)...going out to actually hunt some this Sunday!
Found some 4" greys and yellows. 30 total. Been on hands and knees for small greys, but this place had trilliums and mayapples 1' tall. Must of been a hot spot. LaSalle Co. Broady.
4.22
I found 2 in an hour about 15-20 miles SouthEast of Bloomington after a short stroll in the woods on Saturday 4/22. Then went on a serious hunt about 35 miles South of Bloomington on Sunday 4/23, and found the most this newbie has ever got... 27. Bringing my yearly total to 29. I think that I have 1 or 2 half-frees and I think the rest are all yellows, but since I'm a noob, maybe you call tell me from the photos I'm attaching: JG
found 16 in ottawao4-22,hope for more in the days to come!!!!!!!
Found in Kane county Illinois west of chicago. Sat the 22nd we found around 25 mushrooms. I went back to the same spot and found another 9 or 10 on the 24th. On the 25th my girlfriend went with me and we found another dozen or so. We also found two small ones growing right in our back yard. We found mostly yellow morels with a few half free morels. The two found in the back yard were black morels. We have been experimenting with washing the morels and saving the wash water and sprinkling it around the house to spread the spores. Its worth a try. Jamie, Tami, Rachel, Amber and katelyn.
4.23
Found 12 greys and pecker heads mixed. Greys were only about 2 inches.
What a great day! We found 81 morels in Marshall County in wet land near the river. Haven't found any in any other locations. Hope to go back out tomorrow. Don and Jana S.
Found 63 whites, and 17 small greys. I mean small. The small ones were 1/4 inch or smaller. Kept walking and found the bigger ones on the bluff, facing the east. Broady, Mars. Il.
Naperville, Illinois 55 Grays and 99 Half Free
Found good size yellows sunday.Spot I had never looked before. Going out again tomorrow hopefully I will have some luck .I found these mushrooms in Mclean county.Good luck to all.
I found these lovely and tasty morels on 4/23 in Northern Mclean county in central IL. The cold front that has hit us today may slow down the mushrooms from appearing for awhile. Hope all you other SHOOMERS are having success. KEEP ON SHROOMING
went out Sunday in Marshall County and found about 30 yellows. Going again this Sunday. They were some of the best I have ever eaten. Ken
I have found 3 mushrooms next to a ash tree in my yard I live in E. hazel crest, ill & never had them grow in my yard. should I stop cutting the grass? ha! ha! . they are 2 to 5"" tall. the date was 4/23/06 and do you think i will find more??? thanks jay.
4.24
Found 260 Morels Today in Marshall County. Hope the cold weather doesn't hurt them. Don and Jana
This has been a banner year! Our tally thus far is 1,766 shrooms since 4/24. And there are fresh ones even today! We'll be flash freezing most of these for future dining joy. How fun is it to park the car and step out onto patches of beautiful shrooms. Shhhh, don't tell anyone!!! :)
4.25
Hey! This has been my best year ever hunting mushrooms. My husband and I found 5 pounds April 25th, and on the 26th we found another 3 pounds. They were all grays but I'm sure the yellow ones are coming soon. We haven't been back out since but we will be going back out today. We found all of these mushrooms in Henry County, IL.
4.26
I found 235 greys today in two different short expeditions. One was a recently burned area, one was just plain old woods. Found 120 of them around one big dead elm, the most I've found in one spot at one time. I'm hoping some yellows will follow. Janet in Ogle County, IL.
Found 40-50 yellows in Central Illinois on Wednesday, looked like leftovers from the weekend/Monday. I'll bet more will pop today with the returning warmth. Snake
Naperville, IL (DuPage County) 14 Half Frees, 4 Grays (Large ones), and 2 Yellows. The Jerzy Hunters
4.27
John W.'s giant morel (picture on right)
Naperville, IL (DuPage County) 6 Grays (3 large and 3 tiny) plus 3 Yellows. Yellows where in the same location as 4/26's but weren't there the day before. The Jerzy Hunters
4.28
Naperville, IL (DuPage County) - This is a great early season. Rain the next two days will make em pop. Found 26 Half Frees (Tall ones 4-5 inches) and 4 Yellows. The Jerzy Hunters
4.29
Naperville, IL (DuPage County) found 28 Half Frees, and in Aurora, IL (Kane County) found 33 Big Grays around one tree, Wife and her Girlfriend found 8 nice Yellows but wouldn't tell me where – The Jerzy Hunters (picture on right)
LOTS of 'shrooms here in Jo Daviess County in NW Illinois this past week. Hoping that the rain helps even more, but it needs to warm up a tad bit. A friend has already picked close to 9# and is going out daily to hunt for more! YUMMMMY they are!! Mostly grey and blacks from what I saw in his 'stash'
We have been finding hundreds of morels for the past couple days. Most on south facing slopes, but some right in the middle of the woods. They have been everywhere we look!! What a great season this has turned out to be!! We live by Browntown, on the border of the Great State of Wisconsin and Illinois!! Happy Hunting to All... The Gobelis
My Dad and I found just fewer than 800 morels in Rock Island Co. IL over the weekend 4/29-4/30 we spent about hours each day in the same location both days. Here are some pics. The First pic is from Saturday 425 they filled 4 1 gal Ziploc baggies (they are cut in half didn't have enough room in the fridge for eight or more bags. (picture on right)
Got 81 large yellows and greys, 5" to 8". Never seen greys this big. 4-29. Its been a hot spot this year. My pal got about 30, but he tripped and got the wind knocked out of him and had to leave. Went out today to another spot and found 53 yellows. Most were spored and dry. Broady, Mars.
We found these morels on April 29th. Found a few nice big yellows. Went out to our "good hunting spot" and someone burned about an acre of our land....so we didn't find as many as we usually do..AHH!!!! But we did find some nice ones. Came out and we each had a tick on us. Not bad for crawlin' around the woods.This is in Putnam County, IL
Dennis from Pekin,IL me and my 2yr old daughter found these in Pekin on4/29 at about 3-3:30 right after it rained I had about a lb all together (pic on right)
4.30
DuPage and Kane County - 103 Half Frees, 19 Yellows (3-6 inches freshly popped), and 16 Grays. The rain helped. The Jerzy Hunters
5.1
DuPage and Kane County – 15 nice Yellows and 26 Half Frees, the BIG ones are coming out. The Jerzy Hunters
After three late April trips to the woods with no results, we had a weekend of rain here in northern DeKalb County. Found 16 blacks and 4 half-frees on May 1 in two hours of hunting, then 155 half-frees and 1 solitary black in 45 minutes last night (May 3). Got home and hubby hit a 6" yellow mowing the yard! He promptly cooked and what was left of it--plus another yellow he found nearby. R. Collins, Sycamore
I found this group of 12 in one cluster in Henry county, Illinois on Monday, May 1.
5.2
DuPage County – 8 Yellows at a new park. The Jerzy Hunters We are very excited about the Championship on Saturday.
5.3
My first ever successful hunt! Found 40 gray morels Wednesday 05/03/06 in assorted sizes from 1 to 5 inches. The excitement between my 3 1/2 year son and me was priceless when we discovered the treasure trove. Consider me hooked, I have fungi fever!! Matt K. - Lake County, Illinois.
DuPage County – I got 76 BIG Grays (52 off one tree) and 29 Yellows; while my son and wife, at a different location, found 27 Grays and 79 Yellows. That's 211 today. The Jerzy Hunters
found two small yellows ,looked on the east bluff and saw BIG YELLOWS. A greenhorn could have spotted these. Straight up hillside, but worthwhile. Got 63 Giant yellows, 7-9 inches. About 9 pounds .2 greys 6and 1 half inches. 12 more yellows that were fresh, all stem tho. Left 4 yellows that were to far gone. Bad sign for these woods. Seems like these giants are a cross between the half-free and morels. More stem than fruit. Broady, Mars.
5.4
FOUND 1 POUND TODAY OF GREYS IN SCHAUMBURG AND 5 POUNDS IN MINOOKA ON SUNDAY. FOUND FIRST EVER FOR ME A SET OF 3 GIANTS DOWN SOUTH. CANT WAIT FOR MORE!!!!!!
Found 918 yellows and greys in a total of 7hrs from 5-1-06 to 5-4-06 best year ever.The rain came at the best possible time.Had the time of my life.Will send pictures.
Me again (Steve) and my son (Matthew) found these 5/4/06, plus a lot more to go with them. A good year so far, lost count on how many we have found. Princeville, Ill.
5.5
The greys are popping in N. IL!!! Good Hunting this year!!!
5.7
Found 4 dozen yellow's averaging 4 – 6 inches. The day prior, my friend hit the same area for over 80 yellows. Awesome!! Matt K. - Lake County
5.9
170 (~7 lbs) morels found in Cook county, Illinois. Hit the motherlode. 95 Percent of those shown in the picture were found in a 45'x100' patch. It was simply one after another for as far as I could see. And most of them were 6+ inches. Unbelievable.
5.10
I went on my first mushroom hunt yesterday. We went as a group to Castle Rock Park. My 9 yo grandson found 5 yellow morels about 3 1/2 inches. I found 1 several others found 0-20. We looked for about 2 hours. I will be going back. Mckgranny
5.16
Got about 40 nice whites in N. Will Co. on May 14. Obviously very rainsoaked. Ash and Maple trees. Hope for some more next weekend. Ron in Homewood
5.26
after the morel championship in henry we went to a nearby area and found 358 shrooms in about 3 hours . Total weight was 15 pounds. We had mostly big yellows but did find about 50 greys. heres some pics of myself-Justin Norton...my brother Mason and his son Kail. We had a blast at the championship we definately will be coming back
Indiana
4.1
It is starting here in Southern Indiana around Evansville, my brother and I went to a local woods Sunday morning and fount 18 medium morels the first black ones to come up here are small to medium sized along with one false morel, We did not have much time to hunt them Sunday, so in the days ahead it will get much better the weather here this spring has been better than the past 4 years, plenty of moisture, nice warm sunny days with cool nights make a great season. Steve and Don
4.6
early in northern indiana (picture on right)
4.10
found about 2 dozen black morels. Then today the 11th found patch of blacks and 15 tiny gray. Need rain ground is windblown dry. Possible showers tonight and warm temps (70's and 80) for week so we see.
4.13
Found 1 small mushroom today in DeKalb County, Indiana.
4.14
Found my first ones of the season, 2 little grays on 4/14/06............Had about 2 inches rain last nite so we ought to be able to hear them pop this wekend with the perfect weather! Mark
found 65 morels 1-3 in later the same day my wife & I found 75 morels from 2-8 in tall some heads as big as coke cans. Wayne G.
80 gray morels 4/14-17 found in Huntington County, Indiana - they're back, but only in early spots for now….
Found 80 morels (grays) in early spots near apples and elms in northern Indiana Friday through Sunday…..Huntington County area……they are out!
4.15
found 8 GRAYS in the hammond area J.J. & R.J.
hellooooo shroomies! Northern Montgomery Co., Indiana. Found 2 dozen yellows in a small patch. They were about 2-3 inches tall. They were mostly nestled under rain packed leaves...had to work for this batch. Then found around 100 small greys, had to work even harder for this batch. These were 1-2 inches tall. All were found within about a 20 foot circle UNDER leaves and Mayapples. Going back next weekend to get bigger ones, YUMMY! I found them first...lol joshm
4.16
I saw a bag of mushrooms at a friend's house on 4-14 it had about 20 to 25 fresh blacks about 1 to 3 inches in height maybe a couple pounds in weight. That was in noble co In. And thats enough motivation for me happy hunting the trespasser craigy t allen co In.
JUST WANTED TO LET EVERYONE KNOW WE FOUND SEVERAL NICE MORALS IN FORT HARRISON STATE PARK IN INDIANAPOLIS ON 4/16/06 6 TAN SPONGES 2 BLACKS AND 7 HALF FREE MORELS OR SPIKES AS WE CALL THEM THE TANS AND BLACKS WERE 4-5 INCHES TALL KEVIN DECATUR IN
found 3 blacks, left to grow. Had a nice rain Easter Evening. Found more 3/17, and the other 3 had a measurable grown. All still growning. Looking forward to a great season in Noble Co. IN.
4.17
Mushroom season has reached the Northern Indiana/Southwest Lower Michigan area. We picked 110 nice morels last night in about an hour and a half. We desperately need some rain but look out once we get it. Lori and Bill (picture on right)
Huntington County Indiana – 120 small grays found in past three days near dying elms. Some appear to be nearly white in color and are extremely hard to spot. Spotted growth of more new morels in various areas, too small for picking. Next week should be prime if it rains this weekend. Good hunting to you!
4.18
found about 80 grey morels in Central Indiana....... It's SHROOOOOOOOM -time! M Szakel
HERE WE GO! FOUND 45 IN NORTH CENTRAL IN. MICHAEL JAG.
We are near Princeton, IN. over the past week we have only found a few dozen. We have usually found a couple hundred by now.
4.21
Miami County (peru) Hi all ! Found 86 yesterday, a nice mix of greys and yellows ranging from 3'' to 10''. Today found 72, again a nice mix but more yellows. Most very fresh, a few dry yellows. Dehydrating to send up the east coast. Hubby is stuck on a job and missing the hoosier mushrooms :-)
4.22
Over the weekend (22 & 23 April) found about 35 mostly greys and a few yellow, a little dry. Could use some rain. Starting out better than the last few years! N.Central Ind. FDR
4.23
Found about 80 assorted morels here in SW Indiana 4/23. Two patches, one with about 20 the rest were on a very steep coal/shale bank in a forest that's a reclaimed strip mine in Pike Co. Had the time of my life, finding mushrooms out in the forest with my son. Dave M.
4.24
Found about 75 yellow sponges in a few hours near Rockville, along with turkeys, deer and a BIG snake slithering by the first morel I spotted. The biggest yellow measured in at 8 inches and 4.5 ounces. Most were in the 3-4 inch range. (picture on the right)
4.26
Found two greys in the back yard 4-26.06 one about 2 inchs the other about 1 1/2 .northwest In.
4.27
Finally found some today after looking all week. Found about 30 small greys in NW Indiana.
4.30
Found about 150 greys and yellows in the last week. about 50 of them were 5 - 7 inches! waiting for the sun to come out after all this rain. Justin W.
5.7
Here is a pic of a few morels that my husband and I found in Owen County, Indiana. It was the largest ones we have ever seen personally. We were almost too late, they were a little dry but we soaked them and they were delicious. Delmer & Debbie (pic on right)
Found huge late season morels in Carroll County, Indiana (5/7/06) Found approximately 5lb morels in Dane County Wisconsin (5/7/06) Jenice Con
5.25
we found close to a pound of morels two weeks ago in noble county (NE IN), including one that was bigger than my fist and probably close to 1/2 pound all by itself. TASTY! but i'm still trying to get rid of the poison ivy.
Iowa
4.10
I FOUND 4 GREY MUSHROOMS IN SOUTHERN WAPELLO COUNTY IOWA, JUST SOUTH OF OTTUMWA. SNOOK
4.12
My husband and I found these four morels today April 12th in Hamburg Iowa. The season has STARTED!!!!!!!!!!!!!
Found 3 mushrooms in Wapello county, better yet, in Ottumwa Iowa...the size of a dime...weathers great...hope that it's a good year...happy hunting, Cheryl (picture on right)
found 3 mushrooms that were big enough to take pictures of...hopefully there will be more...found these in Ottumwa, Iowa, Wapello County...always check this patch first to know that the rest are up...Happy hunting, Cheryl
4.13
found 138 small to medium grays with some yellows ,the southside midway up a hill that has an old orchard on the top,thinking this is gonna be a great season here in northeast Iowa
They finally arrived here in central Iowa. I went out on the 13th to one of my early spots and what do you know there they were almost in the exact same spot by the exact same tree as the first ones last year. I found three total. All on the same spot. The largest measured 3/4" and the smallest was 1/4". The smallest one is so small it is almost primordial. We need some rain to get it going good. Good Luck Iowa Shroomers!!! Morel Maven (picture on right)
4.14
Found 12 little grey's in the Amana timber this am after a big thunderstorm last night. May Apples just starting to pop up an inch or so. More rain forcast for the weekend...should be going strong by the end of next week. Looks like another long season. Terry, Cedar Rapids, Iowa
4.15
We're in Southern Iowa. We found 42 small greys Saturday on the West side of a small elm patch. We found 186 tonight. 177 of the 186 were Yellows and they were all under one big elm tree. Happy Hunting, Rich
Finding several patches of small greys south of Iowa City. Rain this week will only help! As long as the tornados don't blow them away. Looking forward to finding yellows.
4.16
I went out to some of my favorite hot spots today. Came back with 53 big yellows and a smile from ear to ear. Looks like a wonderful year again!
4.17
I found a couple yesterday on south slope but when I went over to two newly dead elms on a west slope, I found around a hundred very small grays…none that I picked and one tree over found that some grays that had been out longer and picked a nice batch for supper…around 80. These were all just newly popped….with rain forecasted for most of the week, it could be a banner year.
while hunting above caves in eastern iowa we found over 150 small to medium greys and even some yellows two weeks ago(approx.) started finding mauve colored elephant ears
4.18
Found 10 VERY LITTLE grays in Johnson County Iowa-picked one just for show....should be good picking in 7-10 days. Brad.
Found 4 greys,very small on Easter Sunday in LaSalle Co. Found 2 small greys Tues., 4-18. Its here!!!! Broady, Marseilles.
Found 16 morels yesterday afternoon south of Fort Dodge. South facing slope about half way up (with some dead elms) in about a 10' wide strip roughly spread out about 30 feet or so. These were tan to white, not gray, about 1-2". Very isolated spot. Same slope higher and lower yeilded nothing, same for several other spots. South of FD had a good rain over there Tuesday night. Coalville only had ˝" - could use some more. Get ready north central Iowa, the season has begun! Hoop
Hi you all! Went hunting in Southwestern Iowa by Missouri Valley and found about 2lbs of small to medium size morels! What a good time! Sheryl
4.21
found 2 dozen yellows and 1 dozen grays sioux city iowa
Hey there mushroom hunters, Just a report that mushrooms are hoppin' in southern Iowa. 4-21-06 found 5 pounds(509) little greys and yellows on south facing slope in southern corner of Iowa. Great time picking and eating. We need some more rain and sun. The Brayton's
Went out three days in a row in south central Iowa found a total of 700 mushrooms mostly grey with a few tan and yellows. It is getting awfullly dry, but a rain this week and look out it could be a banner year. Dave and Jane
4.22
Ottumwa, Iowa April 22 Found a Hy-Vee sack of mushrooms today. Kim come to Iowa and help us hunt. Toby and Cheryl
WE GOT 173 BLACKS AND GREYS IN JOHNSON COUNTY ON SAT, APRIL 22ND AND ATE A NICE MESS OF THEM LAST NIGHT!!
4.23
Wife and I found 131 small yellows and greys yesterday (23 Apr 06) in Iowa. Mr. Bill
This weekend some friends and I found around 100 yellows in a valley near a dried up stream just west of Griswold, IA. Thanks, Suze
4.24
on April 24 found 306 1/2 to 2 1/2 inch greys under one dying elm just north of North Liberty IA...
4.26
Found 358 yellows and greys on 4/26-4/27 in cedar county iowa.
4.27
We went into the woods by my friends house an hour ago and found a plastic grocery bag Full of yellow morels, this is the second time i've been mushroom hunting this season first time i didnt find any. never before have i found this many mushrooms! I wish everyone to have a Great season! ~Randi and Kathy
Cathy Sylvain found this giant Yellow shroom on 4-28-06 Miami County Indiana at base of very large elm tree stump. no other shrooms around it. More than 480 Yellows and Grays this year and climbing daily.
4.29
We are finding grey, white and half attached morels past several days on our farm south of Indianola, Iowa. Today was our best day so far. Ladia and Julie (picture on right)
went to northern lower penninsula michigan this weekend. found 327 on saturday. found another 44 on sunday. all morels were blacks. we need rain!!!!!!!!!!!!!
Found 30 pounds of grays and whites southwest Iowa, Saturday 4-29 Rained continuously very few old, all fresh and beautiful. East and South facing slopes Out in the woods for six hours Rick, Roger, JR
Jimmy from Muscatine, IA reports "wheelbarrow loads of mushrooms in the Mississippi bottoms between the river and the bluffs. Yellows on the Iowa side and grays on the Illinois side.
We found 1 lbs of yellows and a few greys today in the rain just south of Swisher looks like its a great year happy hunting
5.1
found about 30 pounds of grays and yellows, the 1st of may, was south of Chariton, Iowa Griff. going to be another great year!
5.3
Ok just wanted to fyi you that I found 21 half free morels. Right outside of Cedar Rapids IA. Not quite full on season but its getting there.
Morels are being found in Benton Country Iowa. We went out this weekend and found a nice platter of morels..We are hoping this weekend we will find even more. (pic on right)
We filled 2 and half paper grocery sacks,some getting a little old some fresh grays and yellows in South Central Iowa. All reports are that after the rain people are finding them all over. I think if it stays cool and damp we have another good week. Dave & Jane
5.4
Found lots of fresh mushrooms in NE Iowa May 4,5,6. Should be a good week along Iowa/Wisconsin border.
5.5
Finding lots of greys and yellows in Tama and Black hawk counties. Going to be great year!
5.7
My grandparents found about 15 to 20 yellows in Brandon, IA this past week and I found two that were about 2-2 1/2" at Katoski Greenbelt here in waterloo. And today we found two at Backbone Sate Park today. I think we need a night of rain and a really humid day and they will be all over the place. -Brette
Kansas
4.3
Southeastern Kansas reporting: Monday, April 3rd... Next day, after Bob our Northeastern Oklahoma shroom friend found grays we found 22 gray Morels after work.... Kent
4.4
Ground temps still to cold in middle Kansas! Checked the temp 2 inches down today in the shade 35 degrees….. Couple weeks away J
4.5
found 22 Morels, most of them grays with a few yellows mix in. We need rain here ... Kent
4.6
I found 18 grey morels today on the river in Northeastern Kansas.
We found 4 morels on April 6th. I went back the next day to take picture. As you can see they are very small--we find these about a week before the larger ones! NE Kansas near Stranger Creek. (picture on right)
4.8
Reportin: Saturday April 8, 2006... 152 Morels. It is a bad year in this part of Kansas..... NO rain. Attached is our biggest Morel so far. Kent (picture on right)
4.9
21 Morels. Hunting is difficult here because of no RAIN! However we are still having fun. Couple "WalkBy" Awards went out. Plus a "SteppedOn" Award was called back because it could have been a cow. There were no witnesses.... Kent
4.11
Today we found about 48 morels in the Geary County Kansas area. Good luck to all and Happy hunting Tyler and Crystal
Tuesday, April 11, 2006 --- 52 Morels after work.... still no RAIN and dry here. One "RoadSpotter" Award went out tonight. We found 8 of the 52 there and a "WalkBy" Award went out too.... Kent
4.12
We found 48 Morels after work today, 04-12-2006. Some real nice ones. A "WalkBy" award went out too. No rain and dry temp around 86° today.
4.14
175 Mushrooms total in dry SE Kansas this morning, little ones. We issued two "PatchFinders" awards and two "RoadSpotters" awards. We declard it a draw, hunting buddy 87 shrooms.. Myself 88 shrooms most picked in 30 minutes, all most six Morels a minute. Nice patch it was fun! Plus one snake... yep a snake. When cleaning a small snake was hidden in the shrooms. I think it is still in the two gallon bag on the left in the picture attached and hope it is not in the house. We are heading out tomorrow morning.... Kent
4.15
Hey all you shroomers! We needed rain really bad, got it, now it's turned chilly again. On 5/15/06 my 2 sons and I found about 9 yellows on a southern facing bank along a creek. They were nice sized. But that was it. Hopefully it warms back up soon! We are in northeastern Kansas, near the Missouri River.
4.16
Found 53 grey morels on Easter (04/16/06) in South East Kansas. Although very dry and hot (89 degrees), most of the greys found were fresh. Had a few very small rain showers Saturday, so that may have kicked them off. - Wolfie
4.20
Went out for two hours and found six nice yellows on 04/20 on the banks of the Kaw River in NE Kansas. It hasn't rained here in the last couple of weeks and that is hurting our chances. If it rains in the next week morels could be poppin'. No rain and it will be a poor year. That's what makes em' so special.
Kentucky
4.1
I found this single black/smokey morel this weekend (April 1st.) Time to hunt was limited though, & I'm sure they'll be popping up this next week. Mike A (picture on right)
4.2
I've found 3 small black ones today(april 2) near Barbourville.
4.6
Found 30 good sized black morels in Grayson County Kentucky on April 6
4.10
Just lettin ya'll know that the yellows and greys are up in western ky. (daviess co.) found about 20.....can't give to many details....don't want anyone else to know my spot! dave
4.14
Hi I live in Benton, Ky and last Friday we found about 15 morels when we went mushroom hunting. They were great fried up with our Easter breakfast. A couple of them were about 5-6" tall. Mary
Maine
4.27
I found this tiny black morel under an aspen tree in Oxford County today. It is the first of the season and about two weeks early this year! It's a start anyway! B
5.15
Found about 2 dozen esculentas in an old apple orchard. Left about half in the ground to grow some more. They are just emerging after some good rains and with more rain expected, they ought to grow some more. I will look again at the weekend. Friend of mine reported finding some about "thimble size" last week in rich woods. Greg
5.17
Look closely at the bark behind the mushroom ... a decaying yellow birch root. The wood within birch trees / roots rots before the bark does. The morel is sprouting directly from the detritus within the birch bark. THis specimen was found at 1,2oo feet on 5-17 in Ocford County Maine in an area of talus and mature white ash. B
Today was the best picking I've experienced. I looked in an area of mature > old White Ash at 1,200 feet elevation in Oxford County and scored. The mushrooms were mostly in an area of talus ... large boulders below some cliffs with old white ash trees around. Mountain Maple shrubs were interspersed with the occasional Yellow Birch. One mushroom grew directly from a decaying yellow birch root! Another was found growing from a thin layer of moss atop a boulder while another sprouted from the base of three red trillium plants. Some were found randomly in mixed woods with white ash nearby but not dominant. There were few clusters of more than 2 or 3 shrooms and it really took some looking. The other indicator was the clouds of black flies which made focusing on anything very difficult. B
Maryland
4.9
On April 9th, I found 7 yellows and one grey, in north east area of Maryland. Same spot as the past four years! Happy Hunting everyone! Alena
Hi fellows, Great site! I love it! I'm Rodney and I've been hunting for 31 years and this year has been my best year ever. I found a total of 1043 so far. Here are my dates and findings. On April 14, I found 334 black mushrooms in Allegany County, MD, On April 16, I found 302 black mushrooms in Allegany County, MD, On April 20, I found 342 black mushrooms in Allegany County, MD. I found a total of 1043 as of 4-23-06 and I have a few more picks left this year. This was my best day ever. Thank you, Rodney (picture on right)
4.17
I live in the Garret Co. region of maryland.....have found a few blacks over the past few days. Seem to be more plentiful in my area this year, at least so far. Happy Hunting everyone !!
5.10
1/2 pound of large yellow morels in a mulched area under azaleas. looking forward to the result of the 3-5" of rain we're getting this week.
Massachusetts
4.24
3rd year in a row, morels found in my yard here in Worcester County MA (eastern Mass, 26 miles from Boston) Found a variety of sizes from very small to 2 inches. I don't think they are common for this area, and I'm wondering if the original spores were in the bark mulch spread around my flower beds. But, regardless, they keep coming back in the same area.
5.2
I have been looking for a morel on Cape Cod for five years. Your morel sightings page geve me the hope to keep looking. I just found a three inch black morel at the edge of some mulch along a public walk in South Yarmouth. What a great day.
5.17
Just found a dozen morels growing in my yard just outside Boston. Never seen them in real life before, had to check the Web to be sure. Still trying to figure out how to cook them.
Michigan
3.27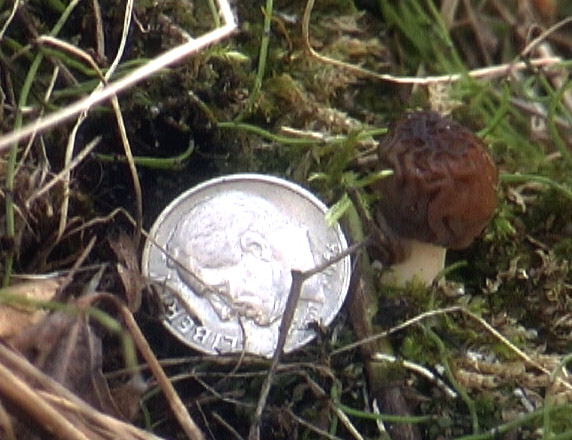 These were shot March 27 06 with snow still on the ground. They were on a sun-superheated streambank. You can tell from the desicated one that it had been up for some time before succumbing to cold temps and lake effect snowfall. In the past,I have found them as early as March 10. Dime shot - George M., Traverse City, Michigan Other morel found by Jim L. at same time ( at my spot ! GM )
4.13
Alden,. MI (NE of Traverse City) April 13th Found 7 morels in a 10 minute search. Not large, look like they just popped but had rain yesterday and conditions are right. Bruce M.
4.16
hello, i wanted to file a report from barry county michigan, i picked my first april 9th found 3 that day, then i found 61 on april 14th, and 31 this morning 16apr06 easter. i have attched some small pictures of them. allen
4.19
found some in Niles, and Buchanan Michigan on 4/19/06
4.26
everyone told me that I was hunting too early......HA! Found 35 grays in metro detroit, one inch to 4 inch on wednesday, 4/26 heather
4.28
Found 22 black morels today in St. Joseph County, Michigan. Many of these were very dry, so I think the season is well under way. If we see rain tonight I think tomorrow may be a great day! Pam
4.30
found about 3 pounds in eau Clair Michigan, on Sunday 4/30/06......light rain and 60 degrees, mostly blacks and some greys....yummmmmmmmm....
5.2
Found 1 black in Alger County Michigan on May 2 following 2 day period of very light rain. Need more rain in Upper Michigan
5.3
In Otsego, Mi (Allegan County) they are popping up all over the place! Found lots of yellow sponges and a couple little black ones! We had good rain this week and it is supposed to get warmer, should be good 'shrooming! Rich A.
5.7
10 miles West of Mount Pleasant, MI...It's a little early to be finding them in my "Secret Spot", but it has been unusually warm. My buddy/daughter Kassie and I found over 40 in the short hour we were out before dark May 7, 2006. We just love the "Hunt"! Enjoy Kevin
Minnesota
5.1
Found first mushrooms in southerm MN, May 1 all grays and just a few. But it is the start to may be a good year.
Thought I would try my luck here in southern Minnesota and low and behold there they were I found 95 light greys about 2- 2 1/2" and my son found 72 not too shabby for a 10 year old and first time out this year. Thanks AO
5.2
found another 112 mushrooms this time they were blondes, southern mn we had just had a good soaking over the weekend so they are out if full force now. Happy Hunting! A.O.
5.4
Year two here near Minneapolis…May 4 found 50+ black and gray…yellows coming…should be plentiful Kevin K

5.6
found some in Wright County MN, May 6, 2006. Just beginning up here!
5.10
Found just 2 of the black variety this past weekend, looks good thou for the season ahead. Becker Co., MN Sharon K.
5.15
Found four medium size and two really large blonde on May 15th, in Clay County. Lance A.
5.22
I have found many pounds of morels in southern MN for the last two weeks.The ones I am finding now are big and a lot of old ones now.I dont think the season will last much longer here,but it is a good season this year.
5.24
I'm not a mushroom hunter, but do have a morel growing in my yard in northern Crow Wing County.
Mississippi
Missouri
3.27
Southwest Missouri! It is about 61 here today and windy. I just my first morels of the season, in one of my little spots. They are the tiniest I have ever seen, and there were some pretty small ones there last year. I found 13, the largest maybe 1/2 inch high, the smallest about 1/8 inch. I would have left them, but the tips were already dry. I am ecstatically happy!!
4.1
Tom, we found our first morels here in Central Missouri on Saturday, April 1st. We found 18 tiny, tiny morels, most not even 1/2" tall. These were near the river in sandy soil. Let the games begin! Happy Hunting, Mushroom Annie
It looks to be a good year here in SE Missouri. On April 1st, we found about 125 blacks, with most fresh and a few dried up already. Found about another 35-40 blacks each day on Tuesday(4th), Thursday(6th), and Friday(7th). So far, most have been on flat hilltops or East/Southeast slopes. With all the rain, they should keep coming up. Got to go, my wife has fresh fried mushrooms with biscuits and gravy waiting for me at the table. Happing Hunting! (Cape Girardeau County)
4.4
Hello everyone this is Tom in Creighton Missouri my son chad and myself just found 2 two x 5/8 inch tall greys ,its on now we've had moisture and more on the way and just the right temps I think we're looking at a potential BUMPER CROP!!! GOOD LUCK EVERY ONE , and oh yeah, WOOOOHOOOOO !!!!!!!
My father, Bill Hale, found 8 medium sized white morels in St. Louis County on Tuesday. Conditions seem better this year, but the ground temperature is still too low, with no 60 degree night temps in the ten day forecast. It appears we may have a late season in east central MO, but possibly a better one than the past several seasons, which have not been good. Larry
4.7
KC Amicus – Kansas City Missouri Metro, on Friday, April 7th found 18 small greys (biggest only 2"). On Saturday, April 8th found an additional 32 (10 grey and the rest yellow).
150 Black and Grays south west missouri, Darin
4.8
Let the games begin! Found 30 blondes and 20 greys today in Taney County, MO (SW, about 15 miles north of the AR border). I was out a couple of days ago and didn't see any, but the last couple days of warm weather must've popped them through the leaves. All were very fresh. I only found two that were perhaps a week old. I'd say we're right on the beginning of the season. Good luck! Derek
4.9
CW found a patch of 33 black morels in St. Charles, Mo.
4.11
I regularly hunt an area in North Saint Louis County. I have been visiting same spot for 15 years now. I found a place that the mushrooms seem to grow ahead of the rest of the season elsewhere. I went to that place on Tuesday April 11th, and found two fresh tiny Greys. In every prior year, this signaled 4-8 days till mass blooming of the fruiting body. With one more decent rain, I believe that Saturday will mark the season in earnest.
Went out yesterday 4/11 after work for 2 hours and found 22, mixture of blondes and grays. Please see pics. We need RAIN. Happy Hunting! Sue and Rhonda
4.12
Found 4 blond morels here in New Madrid County Missouri on April 12. Pattie
4.19
We have been out the last two evenings. Found 74 blonde morels,anywhere from 3-5". Beautiful day again today!! I will make it a short day at work and hit the timber!! Grannyg- Caldwell county.
4.23
Found about 5 gallon in Northern Central Missouri. Some of the usual spots had nothing or very little. Like everyone else is saying, it has probably been too dry. We found both tiny fresh grays and fairly dry medium-sized yellows.
4.25
We found a few very dry and very large yellows around Smithville, Missouri. I'd say the season around here is about over.
5.19
2dozen little grey morels Beth
Nebraska
4.11
too dry here 4/11/06...scouted along the misouri river north of Omaha,...no early growth good rain on the weekend will have them out along the river..Rick, 4/17/06
4.14
Found about 20 small grays in south eastern Nebraska. Need rain badly.

4.16
Cadillac from Nebraska. Went to the Platte River on Easter Sunday with my 8 yr. old son and Father-in-law. Found 16 total. Mainly grays but a few yellows. Biggest were 3 inches. If they'd have both found 16 also we could have had 48. Had a lot of fun rubbing it in. Caddy
4.17
I found about 40 yellow morels around Decatuer, Nebraska on 4/17/06. They were in thick timber along the Missouri. Please add this to the list of sightings.
4.18
We went out today and found about a pound of smaller morels 1 1/2 to 2 inches tall. A lot of them were dried out from all of the wind here (and lack of rain). If we get a good rain we should really be in business !
went out on 4/ 18, 4/19 , 4/21, 4/22...it was AWESOME , found about 2lbs. first afternoon, and it just went up from there...great day on Saturday afternoon 4/22, about 300 to 400 yards back from the river (along the Misouri north of Omaha, hit a patch of fresh yellows about thumb length and meaty...picked in one area for about 45 minutes before they got scarce .grass was a little high and we were literally stepping on them,!!!!!! best patch i have hit in years. ended up with about 11lbs. between the two of us just from that area !!! supposed to rain here tonight.. (4/24) if so, I expect bigger yellows begining to go to the hills by the end of the week. Great year so far, all we needed was a little rain here. good luck to all the brotherhood of shroomers!!!! RICK J.
4.26
My son and I went out this afternoon and picked about 3 pounds in an hour and a half. It took us a while before we found any. They were a little dry even though we got some moisture the other day. The last two days it got down into the low 30s so I didn't know if we would have much luck. These are all yellows. The smaller ones we picked last week were mostly grays and small yellows. Nathan
DouglasCo-NE My son and I found about ten lbs around alot of em on a hill with little purple flowers. HAPPY HUNTING macywaldecker, Valley NE
Nevada
4.26
5 inch tall; 2 1/2 inch wide black morel near Truckee River under Populus sp in moist disturbed soil at elevation 4400+MSL on April 26, 2006; day temp 70 degrees F by J Conners.
New Hampshire
5.9
Found 20 small yellows 5/9 in southwest New Hampshire around an ash tree.
New Jersey
New York
4.24
Hudson Valley, New York. Found seven morels on a southwest facing slope of old apple trees, approx. 900 feet elevation, six grey, one yellow. They looked to have popped about two days ago. It is somewhat early to find morels, let alone yellows, round these parts. Picked the three largest ones, about three inches tall, left four greys under a huge and perennially dying tree I call old faithful. We could use more rain to really pop them, but the ground is moist and warm, and I expect a bunch will pop even with no more rain. Gonna give it a few more days before I go out to check other spots. Managed to find a few new spots I am really looking forward to investigating in good conditions. Can't wait to taste fresh morels again, esp. as my entire supply of dried is gone. Happy hunting to all. Shroomer Dave
4.26
Parish, NY 13131 5/ 26/06: I found my 1st Morels while chasing an escaped Chucker Partridge from our game bird coupe. Three blacks 2-3" range, I feel an addiction coming on.
4.30
Got about three pounds so far, scattered, no mother lodes, half greys, half yellows, no blondes yet, no pattern to their appearance except the obvious that they are mostly in the moister areas. Season could be in jeopardy, as today things seemed very dry, and I saw no just-popped ones this morning, and there is no rain in forecast for six days here. Maybe a late pop of esculentas? Mmmm morel pilaf. Happy hunting all! Shroomer Dave.
5.4
The greys are popping in N. IL!!! Good Hunting this year!!!
5.7
Saratoga County, New York. On May 7, I came across one in my own back yard. On May 18, I saw two others on a property about 15 miles to the north. In both cases, the trees in the vicinity were mostly black oaks and white pines. Attached is a photo of one of the latter morels.
North Carolina
3.19
Found three small greys in the Ashes in low fertile soil just south of Raleigh, NC. A little early yet and a bit dry, maybe next week. William R. Pinkstaff (picture on right)
North Dakota
5.11
MY NAME IS PEGGY L. AND I PICK IN THE TURTLE MOUNTAINS OF NORTH DAKOTA.. MUSROOMS ARE GREAT THIS YEAR WE HAVE OVER 6 GALLONS IN THREE NIGHTS. BUT ALL IN ALL NEIGHBORS AND FRIENDS THERE HAVE BEEN OVER 25 GALLONS PICKED .
Ohio
4.4
Just returned from Florida yesterday - was too late to go out last night - hit my patch right after work - small blacks from 1" to 2 1/2 " - my south patch is the only one producing at this time. Rob H.
4.10
190 Black morels found in northern seneca county, ohio last week 4-10 thru 4-16, from 1"-6". Looks to be another good year.
4.11
This Jim in Waverly OH, I found 41 blacks yest from 1" to 6" Tall also Found 2 Pecker heads & 2 Very small Grays. Found along TR 104 Bewteen Waverly and Pikton OH. TY
4.13
Found several 4-13-06 waverly Ohio.
I am not sure if this is a morel but I am pretty sure from checking your web page. I found it April 13, 2006 in Swan Creek Park in Toledo, Ohio(picture on right)
4.14
found 29 small grerys 1/4" to 1/2". Kids put mason jars over them, returned on 4/16 to pick 3 1/2". On 4/18 hunted a overgrown railroad track found 42 blacks and blonds 2 1/2". Had to cheat alittle to many leaves.(leaf blower) North of Dayton , Ohio. Good luck Hunting!!
4.18
My husband found 20 plus small in size in northwest Ohio on 4/18 - Great to see them, but sure could use some rain. Sandy
4.16
I found these grays and blacks on Good Friday Apr 14 in Lancaster area of Ohio. Todd (picture on right)
4.23
found 10 small greys and on 04/23/06 found 4 more small greys in Portage County, Ohio. They sure were small, but hopefully this is the start of a good season.
4.24
My grandma and I found these last night. -Adam in Ohio
4.27
I just found about 100 grey morels growing along one of my favorite biking trails outside of Cleveland. They are drying as we speak. I left all the little ones (another hundred or so) to pick later ;-) . Strange for me to find so many in one spot, as I always find just one here or there.....
4.28
auglaize co. ohio, have had the chance to shop the woods & have only found 4, others I know have found Many! Good Luck to All!!
4.29
I found these "somewhere in Clermont County, Ohio". I only pick the small ones... (picture on right)
found 28 grays on the nth of April found 67 more on the 1st of may and 74 on the 2nd My belly and taste buds are singing for joy. Found them all in Mahoning county Ohio will tell you about more when I find them just writhing about them now I half to go looking see you later Larry W
4.30
Sandy's Scouts are hard at it in N.E. Ohio. Today we found 40+ small to medium yellows in one spot in Kent - Portage Co. Elm trees rule and if they're dying all the better. Now, what morel recipe to cook tonight? Good night and good luck. Sandy's Scouts
5.1
Northwest Ohio is starting to bust lose. Conditions appear near perfect with a few showers predicted this week. Found a few blacks yesterday morning in an old growth woods then hit many greys, half morels and yellows in the afternoon in thicket areas.
Oklahoma
3.30
found 1 sm. grey about 1 in. yesterday. j. king osage co. ok.

4.2
Northeastern Oklahoma, Sunday, April 2nd... 38 gray Morels were found by shroomer friend Bob. He usual beats us by one day .... Kent
found 4 sm.greys on apr. 2 . then found 16 sm. greys & 16 sm / med yellows on apr. 4. j. king osage co. ok.
4.3
Found 43 mostly small yellows in Tulsa county 4/3/2006. they were FRESH! larry
4.4
Bob our Morel hunting buddy in Northeastern Oklahoma found 12 gray morels on April 4, 2006..... Kent
4.8
my dad & i found 5 sm. grey/yellows & 1 med. yellow..j king osage co. ok.
4.10
Very dry conditions in Tulsa area; found 1 on 4/10 and 3 on 4/11 in places I usually find dozens. They were in perfect condition however, as if mother nature sacrifices quantity over quality. dean m., tulsa, ok.
Oregon
3.19
I found 3 early morel's last Sunday. I didn't look very long but the season has begun. Cheryl, Hood River, Oregon
4.2
For the past three days i have found some very beautiful morels I think all together i have found 60 and its my first year hunting and im very excited happy hunting! Jacksonville, Oregon
Pennsylvania
3.29
We decided to take a look around Wednesday and found our first of the the year, it was the only one today, but I'm certain he'll have lots of relatives popping up before too long. If there's any huge amounts, I'll be sure to let you know.

4.11
We get your newsletter in the mail every year and really enjoy it. My husband and myself plan on making it to you hunt some time. We found our first morels this year on 11 April (we live in PA) and are very addicted to mushroom hunting. We found over 100 morels so far this year. Normally we find over 500 every year. Just thought I'd share with you, Kelly
4.12
After two hours of searching I finally found this year's first, ten nice black morels on the very top of a wooded ridge. They were surrounding a dead tree, just like the textbook says. I still haven't eaten any though. I think I'm the only one around here who hunts morels, no one is ever in the woods looking except me, and when I tell people I'm going to look for morels they look at me differently. Geoff, Harleysville Pa.
4.15
my daughther and i found 6 nice blacks , own the winter side in the morning , went out own the summer side of the hill later in the day, and got 40 nice blacks, up to 5 inchs long, very low own the flats in a ash grove of trees. to find that many this early, to me might make it a great year, have fun
4.17
Found white about 50 white morels today in south western pa. Good times with buds. Anticipating more real soon. Most found under dead elms.
we have been hunting them for a week now in south central PA. wefound 48 today.will let you know how the season goes. thanks tom
I wanted to report finding about 55 yellow morels in Beaver County PA. I have reported finds in this spot before... a solitary apple tree on a south facing slope. This is quite a bit earlier than normal for this spot and many more mushrooms than in past years. Happy Hunting! Adam
4.21
We had a good day today. We found 113 black and gray.
4.23
My husband and I found 89 morels on Sunday 4/23 around the Raystown Lake in Huntingdon County
4.24
We found about 3 dozen last night in Washington, PA (South) of Pittsburgh. 3 to 4" in size. Can't wait to eat them up. I think we'll have even more luck in a few days!
5.2
found these in south central pa under apple tree in back yard!!!!!!!!!!!!!!!!!
5.15
found 18 yellows (5/15)under a dead elm on a north facing slope. no morels under any other elms in the area. was pretty cold today, some sun may help a few more pop.
Rhode Island
5.2
Went out for three hours in the morning after some nice evening rain. I found 6 half free's , 4 greys, and two blondes. Some of them definitely could have been given a couple more days of growth but the fact that the area I was in is now heavily searched and possible high temps in the seventies led me to take no chances. I made one of my favorites for lunch; pan fried morel, lettuce, and tomato sandwiches. It wasn't the mother lode but I was pretty happy. Jeff from Rhode Island ( at my Mom's for Morel vacation ).
South Dakota
4.24
Found 20 fresh ones Just west of Rapid City about 15 miles, in a draw under dead Aspen. The snow melted 1-2 days ago. Almost hidden under yellow Oak and Aspen leaves. Very little green foliage, herbaceous or grass yet. still learning the habitat. -jerv
5.3
Hauled home 10 lbs of nice large yellows from Vermillion, SD. One mushroom I found weighed in at 1/2 pound! Went right after a good rain.
5.9
Only brought home 1/2 pound from the same place in Vermillion, SD. Need one more good rain there and they should be popping some more! Sheryl
Tennessee
3.29
FROM JEFF IN TENNESSEE I FOUND 12 BLACKS ON 3-29-06 IN COUNTY PARK IN GRAINGER COUNTY THESE WERE FOUND IN ASH AND POPLAR STANDS
4.2
My first time ever hunting with some friends who have been hunting for about 6 years. Yesterday was the first find of the year..16 morels. April 2, 2006 in Jonesborough,TN Elevation about 2000 ft. Thanks
4.3
i have been finding black morels for about week and half now close to center hill lake. monday found 65 blacks, also found 12 small greys under a ash tree, need to rain alittle more. this weekend should start the foray. i live in smithville tn, i've found yellows in my backyard in the past, next to a the creek, hope they pop up this year.
4.4
We have only found a handful of morels in the Cookeville area. A few blacks and a few grays. In the past we would have found allot of blacks by now, but maybe it was to dry. It has rained several times in the past few days, may go out and check again tomorrow or Sunday. Anyone else having any luck in TN? Larry in Cookeville
4.9
New to this corner of Tennesse from Indiana. Was afraid I had to do without a nice mess of muchrooms. Just found my first yella, only 3", fresh up after the storms from two nites ago. Searched for about an hour after that and found nadda. Go figure. You bet I'll be back over there the next few days. Oh, Polk Co. in the corner of McMinn and Bradley Co. at the Hiwasee River. David
4.12
These were found on Weds., April 12, just north of Nashville, TN, in a low area around 50 feet from the road, right across from where I've been looking (unsuccessfully) for two years. I immediately called my mushroom buddy who ran over and found as many if not more than I did. The rain from this weekend must have brought them out. A few were already a bit dry but plumped up nicely in salt water. We should get more rain this weekend so I'm planning on looking again. ( I'd prefer the rain WITHOUT tornadoes this time...) Here are the ones I "caught". And Yeah, these are the biggest ones I've ever found . (picture on right)
5.9
We found 877 this yr. Sneedville TN. Larry
Texas
Utah
Vermont
5.21
Waterbury, Vermont - While mowing the edge of the lawn adjacent to some decaying brush piles and apple trees, I stumbled across a 4" morel. First I've seen in the "wild." Will need to start keeping my eyes peeled for more. I had witnessed some foragers in a wooded section of our land the prior week. I assumed they were going after fiddleheads, but perhaps not. Several old apple trees are interspersed in that area.
Found 18, mostly yellows (or were some of the "greys" just immature yellows?) in various locations. I'm in North Central Vermont, most found in Orange County. These were found mostly on banks near or on old/current pastures, near/under apple trees. Often see yellow violets nearby. Two found in a ditch, near wild lilies of the valley and bloodroot. Looked again on 5/24, not much luck, as it hadn't rained too much. Since have had a few downpours and hope to find more today.
5.27
Recent wet weather and some heat and we finally have some shrooms. Found May 27, Rutland County.
Virginia
Washington
4.9
monica from bremerton washington. found morels in my neighbors yard last sunday while walking the corgis.
West Virginia
3.29
Hello-Happy Spring! We just want to report a finding of 2 - 1"-2" morels very much like the ones others on the site have found. We are in Tyler Co. and excited to go hunt them this weekend after some predicted thunderstorms on Friday. March 29th is when we made our first find. Love the website, Pam and Buddy
4.13
Picked 50 yesterday and 25 more today in Preston County WV, blacks, all 2 inches or bigger, some 4 ... heavy rain came in tonight and tomorrow promises to be a big day. Joshua
West Virginia, Jackson/Mason county area -- Found about 85 nice black morels, 2-3" caps. Found some on a North-West facing slope and most of the others on a sunny flat, all around tulip poplars and ash. Also found several tiny grays, just popping, on an old logging road/barn site in tulip poplars/sassafras/dead elms, but too small to pick. Going to check on them next Saturday. Had a major gully-washer on Friday night, and the grays were submerged in a couple inches of standing water! Going back out Monday morning. --Amanda W.
4.17
Jackson/Mason County area--My father-in-law and I went back out this morning and hunted most of the day. First few places were not very productive, just a couple here and there. On a whim we went back to a spot we picked two days prior and found a bunch more! Had a little more rain last night and this morning, so they must have popped up overnight, as most of them were in plain view. I didn't think they grew that fast. Altogether we came back with 65 black and 2 half-free morels. Made some mushroom soup out them, which I'd never done before...turned out awesome. :) BTW, I just wanted to let you know how much a I appreciate your website. It's very informative and laid out really well. I love to get on here in the days prior to hunting and stare at mushroom pictures until I dream about 'em!! --Amanda W.
4.18
West Virginia [Kanawha County] : Found 2 yellows "Morchella esculenta" approximately 3" tall at the base of a large sycamore Did not pick them though. I'll wait for more and not take the only specimens. - Jax
4.20
Found 11 yellows from 1-2 inches tall in Licoln county on a dry mountainside covered with hickory trees hopefully will find more next time.
4.22
Found a half dozen honey morels in Marion County. This is the first time I have looked in my local area. Previous hunts were done in the more mountainous counties. My son and I enjoyed a delightful afternoon of morel hunting. Royce
Wisconsin
4.11
Aunt Net here, nothing yet to report but if the weather keeps up like this we will hopefully be pickin by the end of the month for sure! Looking forward to seeing you at Henry in a few weeks. Heard you got us a good campsite. after all, you wouldnd't want to subject the rest of the shroomers with our antics. Take care, see you soon Aunt Net
4.12
I found my first morel on April 12th. Just a little white dot poking out of the soil. Picking should be underway here in southwest Wisconsin on the 23rd of April. Another early season. During the week of May 1st season will peak if the temperatures stay normal or above average. Sufficient rain fall here should give way to a good season. As long as it don't frost 4 times during the 1st week of season like it did last year we will be in good shape. Good luck to everyone and thanks to Tom for Sightings Page! Jason
4.14
Rock County Wisconsin found three small button size morels on a south facing limestone ridge April 14 at 9:00A.M. Sorry we were unable to attach to your sightings link so we are sending this to you directly. Thanks Lizzy and Tim!
4.17
Hi Tom, Vicky and all of the Nauman kids! The shrooms are up in Rock County, Wisconsin! Found 4 baby greys last night, Monday, April 17th - perfect size for my hat pins and magnets! Can't wait to see all of you - hopefully we'll get to spend some time together this season! You know where to reach me if you need help within the next few weeks - Beth M.
4.29
Hi fellow morel hunters, We found about 30 small morels on April 29th on a train track embankment near Lodi, WI (Columbia County). The weather was cool and rainy, making the hunting not ideal. But finding the first morels made it well worth it. Regards, David
4.30
I found about five pounds of Morels this afternoon a few miles from Richland Center. About half of the mushrooms were small grays, but I found many yellows including about two dozen that were about three inches long. We had about a twenty four hour light rain that commenced around 1:30 Saturday - a Morel lover's delight.
5.1
Had to go look today, couldnt wait another day. 63 and a lite rain but I found 38 tiny grays in the usual spots. I left some just to see if they get bigger in a few days. I found these in St. Croix Co. Wi. Love it when the sunnies are biteing AND the morels are frying in the same pan!!!
Found 32 grays in Walworth County Wisconsin on May 1. All were pretty good size.
5.3
Chris and Krissy in Winnebago County report they found 108 morels last night near the Wisconsin border. Love those dead elms!
My wife and I are what you would call Wisconsin Transplants. I was raised around the loess hills in western Iowa. My wife in N.Y. Morels were always apart of my history, but I had no idea they grew right here in SW Wisconsin!!!! Anyway, I took my wife on her first hunt (my first in 3 years) and we found a good spot. We had a great time enjoying a beautiful spring day while collecting about 50 morels. We will Feast tomorrow!! By the way, its because of this site I decided to try hunting morels in Wisconsin. Thanks for all you hard work. Brian and Laurie
My name is Bob; I found 15 morels at the end of my driveway May 3rd 2006 ( Just taking out the garbage. They where growing along the edge of the west side almost on the drive at some spots. Is this normal. We live in southern Wisconsin in Burlington Wisc. right outside of Lake Geneva.
5.6
today is the sixth of may and my brother hit the jackpot in wisconsin, southern polk county. one hundred sixty six beauties! right now he's frying some up with butter, of course! good luck to all morel hunters!
John V. from Green Bay here with an update for Vernon County in SW WI. Found 20 good sized yellows on May 6 on warmer southern exposed hillsides. They're just getting rolling here & will benefit from the rain that's forecast for today & the rest of the week. The next warm spell should really get them popping. Good hunting!
5.7
WE LIVE IN SW WISCONSIN IN THE CROSS PLAINS AREA AND TODAY ON MAY 7TH WE FOUND 154 NICE GREYS.....THEY WERE IN A 10 x 20 SQUARE FOOT AREA AND THEY WERE EVERYWHERE! WE'VE BEEN HIKING THE TRAILS EVERY DAY FOR THE PAST TWO WEEKS AND FOUND ONE OR TWO HERE AND THERE AND WERE BEGINNING TO WONDER IF THEY WERE OUT AT ALL, AND THEN WE STUMBLED ON THIS NEAT PATCH. HAPPY HUNTING! DAVE AND MARY BETH
5.13
they are popping up on the river bottoms, and the nearby hills. i love this time of year. John, Wyoming
5.15
Found 20+ (sorry I didn't count) on a east facing slope above a calcareous fen. 2nd best find ever!
Canada
4.15
This year I had the feeling that the season would be earlier and today April 15 my second visit to same spot as last year, just in the outskirt of Toronto collected 38 Elata (black), ranging in size one to 3 inches picture included. Good hunting to everyone, Linda and Umberto (picture on right)
4.24
Hello Tom, we are at least one week earlier this year in Ontario, on the 24 of Apr. spotted 17 yellow (Esculenta) under poplars in the sandy shores of lake Ontario east of Toronto. they werw at most one inch tall, so they are coming and appears a good start. Good luck to all, Umberto
5.2
We found 22 yellows east of Toronto, Canada under poplars. Little more than 1 inch tall. Will make pictures next time. Sandra.
5.3
I just found my first morels of the season, on May 3rd. There were three little yellows (greys) in leaf litter underneath ash trees. Woodstock is in south-central Ontario. I've never found any this early, but they are really small... Happy shrooming. Jason
5.7
Nice to see some Canadian shroomers on line. Yes, us Canucks have the fever too. Found 53 blacks on May 7, and they are almost done in our area, Perth, Ontario, but may be a chance for more with rain called for this week. Everything is about 1-2 weeks early. BJ
5.17
found 7 blacks today. Prince George, British Columbia, Canada.
5.21
My son called last night, he had found a bonanza of the mushrooms. I haven't seen them since I left Marinette county more than 50 years ago. I didn't even know they grew in Manitowoc, Wis. Today we had to research the web and library about how to preserver them. Back in the old days we just ate them as soon as we found them, usually Mom would put them in the beef roast gravey. I can hardly wait to try some of the recipies I found. Birdie
It was a joyful weekend of mushroom hunting near Plymouth Wisconsin. My friend Al experienced his first eye-popping hunt in a patch that produced a couple of pounds in constant picking ... glorious. Cheers to all.