Mushrooms of the Upper Midwest
By Teresa Marrone and Kathy Yerich
It's small enough to fit in a pocket (roughly 4.5 x 6 inches). And deals with mushrooms ommonly encountered in the upper Midwest (the Dakotas, Illinois, Indiana, Iowa, Michigan, Minnesota, and Wisconsin). Start on page 22 with a basic description, ie: Cap & Stem with gills, Shelf with pores, etc. (10 categories) to discover which pages those mushrooms would be found on. There are also sections on top edibles and top toxics. Photos and descriptions of nearly 400 species.
Paperback: 288 pages
(MB428) $16.95
100 Edible Mushrooms
By Michael Kuo
With a dash of humor and a dollop of science, Michael Kuo selects the top 100 mushrooms best suited for cooking. Like Kuo's very popular book Morels, 100 Edible Mushrooms is written in the author's inimitable, engaging, and appealing style, taking the reader on the hunt through forest and kitchen in search of mycological pleasures and culinary delights.

Kuo describes in detail how to identify each species, where and when to find them, and how to cook them in creative and delicious recipes. The mushrooms presented in the book are the most often eaten varieties, and a description of the button mushrooms found in the grocery store is included. All of the mushrooms have at least one full-color illustration and some several more to aid in identifying and distinguishing look-alike and nonedible species.

An indispensable book for mushroom hunters, naturalists, and cooks.7 x 10. 344 pgs. 269 color photographs.
(MB424) $27.95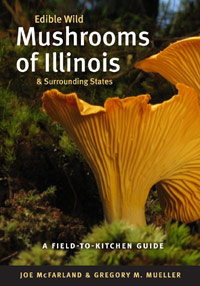 Edible Wild Mushrooms of Illinois and Surrounding States
By Joe McFarland and Gregory M. Mueller.
Lavishly illustrated with nearly three hundred gorgeous full-color photos, this engaging guidebook carefully describes forty different edible species of wild mushrooms found around Illinois and surrounding states, including Iowa, Wisconsin, Missouri, Indiana, and Kentucky. With conversational and witty prose, the book provides extensive detail on each edible species, including photographs of potential look-alikes to help you safely identify and avoid poisonous species. Mushroom lovers from Chicago to Cairo will find their favorite local varieties, including morels, chanterelles, boletes, puffballs, and many others. Veteran mushroom hunters Joe McFarland and Gregory M. Mueller also impart their wisdom about the best times and places to find these hidden gems.
Edible Wild Mushrooms of Illinois and Surrounding States also offers practical advice on preparing, storing, drying, and cooking with wild mushrooms, presenting more than two dozen tantalizing mushroom recipes from some of the best restaurants and chefs in Illinois, including one of Food & Wine magazine's top 10 new chefs of 2007. Recipes include classics like Beer Battered Morels, Parasol Mushroom Frittatas, and even the highly improbable (yet delectable) Morel Tiramisu for dessert.
As the first new book about Illinois mushrooms in more than eighty years, this is the guide that mushroom hunters and cooks have been craving.
(MB422) $24.95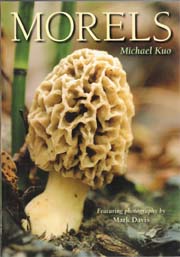 Morels
by Michael Kuo.
Filled to the Brim with information about the science and sport of finding, identifying, and savoring these world-renowned fungi. 216p, 7" x 10". 200+ color pics. Undoubtedly the most complete and up to date book ever on morels.Includes recipes.
(MB420) $27.95
Start Mushrooming,
by Stan Tekiela and Karen Shanberg
The perfect book for beginners or even the seasoned morel hunter who want to learn about edible mushroom species. It focuses on six mushrooms: Morel, Oyster, Shaggy Mane, Sulfer Shelf, Giant Puffball, and Hen-of-the-Woods. These are the "safe-six," the six easiest identified, edible mushrooms. Each section has a unique checklist to build your confidence.
If you don't need to identify every mushroom you find, but would like to bring somethings home for the frying pan, then "Start Mushrooming" is for you.
Recipes are included. Color photos. 126p, 6" x 8."
(MB402) $14.95