Alabama
3.8
it is the 8th of march in north alabama and i have already found my first morel. i found one black morel about four inches tall. i hope this is just the beginning of a very good year. P.Gott
Arkansas
3.20
I found 9 small black morels in Arkansas this afternoon. We had a 1/4 " rain today. and sunny. Happy Hunting
Hi. Found my first morel EVER in central AR today (3/24/07). Lots of spots in Illinois but this is my first one here. We are very happy. It's yellow, appx 3 inches tall and a little dried out. No bugs tho. At least we know they are here now, so that's encouraging. Happy shroomin to all. Mark and Sheila
3.26
Sheila and Mark Found 6 good size yellows, a couple were starting to dry up but the others are nice and fresh. In Little Rock/North Little Rock area. (picture on right)
3.28
found 25 med. today need to get some rain westfork ar.
I found my first morel in North Central Arkansas actually quite a few (12)…I took some photos. I think that they are below an ash tree. The bad news is the ticks are out. (picture on right)
California
2.23
Well, I've got one for you. On February 23, my sister, from Ohio, was visiting friends in West Hollywood, CA. They were viewing a cemetary downtown, Westwood Cemetary, were Marilyn Monroe is buried. She got a little bored and was walking around, and she saw what she thought was a stone shaped like a mushroom. But, to her surprise, it was a real live little gray morel mushroom! She had to call me from the cemetary. I asked her if there were any trees around, and she said, "No, just some mulch like material. This is a cemetary, you know, not a park." She was excited, but couldn't get her freinds to go looking for more. I wanted to hop a plain to Hollywood. Happy Hunting Mushroom Annie from central Missouri
3.12
found and harvested 20 + large blacks north of Vallejo March 12 Barb and David
4.1
From an elevation of approximately 2500 feet in the Sierra Nevadas -- an interesting mix of colors. These were found on April 1st (no fooling). I think that in the west, morels are more apt to be stimulated by mechanical disturbance and fire than in the eastern states. These were in an area where there was a timber harvest last year. Sam (picture below, plate of morels)
4.6
Picked 9 fairly huge in Trinity County outside of Junction City.
4.11
Got off work early today and harvested 248 in the Sierra foothills with my mom. Do the morels in this photo constitute a cluster, a meeting, a gang or an orgy? Sam (picture on right)
4.28
I found about 25 today in among the pine needles at 5000ft in the Sierra Nevada mountains of central California. It has been a dry year and it is still early for 'srooms at this elevation so I really wasn't expecting to find any. They were mostly small but there were a few the size of large plums. Leni
5.1
California Morel Report Found 35 yellow morels yesterday 5/10/07, 13 in one small patch. They are around the 4000' elevation in Amador County, California. On north facing slopes of logging areas. I have found 150 since May 1st.
5.12
We found 5 pounds of blacks (that's 445) between 5500 and 6500 feet in a burn site in the Sierras this past weekend (May 12th). ~400 came from a single acre (at 6000 feet). We passed up at least 75 that were all dried up at that elevation. Found only one at higher elevations where there were still occasional patches of snow, but I'm hoping morels will fruit there in the next few weeks. Best of luck to everyone! -Brad
Connecticut
5.12
Hello Good People, May 12,2007 I found morels in my back yard this morning, I live in Bristol, Connecticut. Didn't even know what they were until I started looking on the net. I'll surely be on the lookout from now on. Attached is a snapshot of my harvest. Best Regards, Rob
Colorado
4.28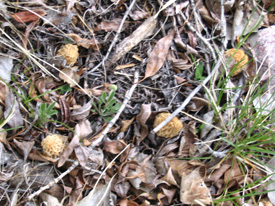 Found 138 yellow and gray morels ranging in size from nearly 4 fat inches to little fingertip size over 28, 29, 30 April in Fremont County. Most were found in clumps of two to five morels growing almost on top of each other. Soil is drying-out very quickly, but morels are popping-up thru the leaves in the damp spots. ~Crispy (picture on right)
4.29
We have just found 10 yellow morels today. growing under cottonwoods northeast of Denver in Adams County. This was a nice surprise after having no luck finding any on our trip to Kentucky 2 weeks ago!
5.1
Found another good, but smaller batch of fresh yellows on May 1st. Like the others found April 28th-30th, these were gathered under the big old cottonwoods (big leaf!) along the Arkansas River between Florence and Canon City. Come on rain and warm weather!
5.5
Additional moisture has helped produce the biggest, heaviest morels I've ever seen in southern Colorado, with much thicker wall structure than I've seen here before. These most recent morels remind me of those I used to harvest in southern Wisconsin. Found 87 yesterday (May 5th) along the Arkansas that weighed-in at 3.5 lbs total. The yellows range in color from fairly dark brown thru light orange to some that are very light cream-white in color. Regardless of coloration, these are all quite thick-walled and very tasty!
Georgia
3.31
My family & I were thrilled to find 41 yellows today, 3/4 of which were fresh & very nice sized along with 6 greys here in Northeast Georgia on March 31,07. Allen
Idaho
5.1
I did not see Idaho on your map...I live in Idaho and just discovered morels growing on a birm I put in my yard. I believe these are grey's but some of them look like yellow's. I am a novice so I am seeking more info. -bill
Illinois
3.12
i found one in the mulch at my home on march 12th in northern illinois. it was right near where my daughter and i sat in the yard last spring, and sorted out our find for the day. we had two 70 degree days in a row, and that is when we saw it. do you think the season will be early this year? i hope so - after that one popped out, i cna't hardly wait!!!!! becky
3.13
we found a morel growing in our yard in Winnebago Illinois. Winnebago is about 10 miles west of Rockford. It is barely out of the ground. We had a couple of very warm days this past week. It got up to about 70 on the day we found the morel. Seems awfully early, so it is probably just a fluke. I am so excited for morel season to begin!
3.20
M. Kimes,I found 4 black/brown morels in the Iron Furnace area in Hardin County.Elizabethtown IL.03/20/07,About 2"long.
3.22
Found 11 grays on 3-22 and 14 on 3-26 in Harrison, AR. Need some rain here! Jim H.
3.23
i found two blacks on 3/23.the temps have been upper 70's with 60's at night. murphysboro, il
3.26
We picked 24 little grey Morels, March 27 after work, in SouthEastern Kansas. Around 6 or 7 were left because they were to small. Kent
Well went out after work for an hour just to see if these 82 and 83 degree days and the march 22 rain done any good here in southern IL and low and behold in about 30 min I found these two black morels I did not look that hard I was running out of time but I was glad to see that I was not skunked I have been out the last week after work looking at the conditions of the woods and checking the floor of the forest for the moisture level which is starting to dry a little soil temps are good some thunderstorms are supposed to move in Tuesday the 27 at night and wed so conditions are looking good here in Marion IL southeast Williamson county happy shroomin the shroomster John boy (picture on right)
I found four morels; three black and one yellow in Union on March 26th!!!
3.27
Sangamon Co. Lake Spfld area. Found! 1very small M. Esculenta growing out of moss.....it was the size of a large mouse dropping(2-3 cm). Now comes the hardest part, waiting the 2+ weeks for it to grow. Jay (last name & exact location withheld!)
3.28
I found 4 little grays 3/28 and 15 3/30 sure were tasty....they are finally back Rick
3.29
Found these 6, in Fairview Heights, Il. on 29/March/'07 on South-facing hills. Larry K. (picture on right)
we found 4 greys and 2 big, rotten blacks. Jackson County, Illinois.
3.30
Found 125 greys about 1.5" each in southern Jersey county Illinois 3/30/07 in the bluffs south facing, very fresh Morel King
Craig from Eureka here, On 3-30 I found about 15 coffee cup sized maroon colored morels and about the same number of small white ones in western Woodson co. Should be Great in a few days after it warms back up some!
3.31
We've had monstrous amounts of rain up here in central Illinois, and two weeks of high 70's days, low 50's nights. I haven't seen so much as a micro-mushroom yet. I'll bet I have logged 60 hours or more in the woods, and nothing yet. I have some spots that are guaranteed winners every year, but it just hasn't happened yet. I hope this coming cold spell doesn't ruin what looks to be a great year. Mark, East Galesburg, Illinois
found 140 3/31/07 jersey county,il mostly greys and blacks smallesy 1/8 inch ,largest 2.6inches what fun it was!!!!! on march 31 found 140 greys and blacks, in the jersey county area. on april 4 the temperature outside was 28 found 84 greys, small but fresh, and fragrant.all in jersey county what fun it was.pk, 1999 women div. il champ still hunting see you in the woods!!!!!!!!!!!!!!!!!!!!!!!!
4.1
Found 6 blacks, 2-6" in pope county all in 1 spot. Checked out where usually some early grays come up. Nothing.
Found total of 267 lil Greys and some nice Yellows, in Macoupin County. This is my earley spot for years, more to come.
Found some in Godfrey, IL on 4/1/07. Seems like it's going to be a great season. Alex
Started out to be the best year in a long time. I Found about 200 big yellows on April 1 in Perry County, 147 under one tree, then today, April 4 found another 200 but they were smaller grays. Hope the freezing temps don't shut them off for the rest of the season. Just think how many are up that weren't found and are being frozen. D & K (picture on right)
4.2
We found 5 greys in crawford co,Il on April 2nd.Roger in Athens
Mike H. found 8 morels on April 2nd; all smaller than a 1/2 inch.
4.3
Found 7 Greys/Blacks in southern Tazewell Co., all 1/8" to 1/2", at April 3rd. this is the earlist I have ever found one by 7 days! The cold front will stop pops for a while but the point is THE HUNT IS ON!! Bill.
I found 3 lbs of yellows today. I started by finding only a few little greys but after a few yards I ran into the big guys and it seemed like I just couldnt stop finding them. Edwardsville, Illinois
Hi found 62 yellows about three inches tall in mClean county IL. Cant wait for more. Bruce
4.5
near Carlinville illinois found about 300 little greys. Nice and fresh...4-5-07 Jim B.
Picked these on 4/5/07 after work. 285 total mushrooms. Sizes from very small to 2". Needs to get warm. We have plenty of moisture, even though the wind is hurting that. Should be a good year though.
4.8
Mike H. found 30 morels on April 8th; only 1 larger than an 1 inch
4.13
Found my first morels today. 4-13. Friday the 13th started the season for me. Digging in the leaves I found 5 very small ones. Five days earlier than last year. Should be eating some in about 3 days, if my wife allows me to. I shouldn't have pulled them, but I was excited. Heres the pics. Broady, Lasalle county, Marseilles, Il.
From Perry, Jackson, Union and Alexander counties, deliciosas and common esculentas dominated but we found few large morels. We found less than 10 blacks and 20 half frees in total. Total harvest was about 15 pounds – one of our best Shawnee hauls. The cold spring really has held back larger ones (We'll find the larger ones up north, I am sure) but deliciosas were found in profusion around almost every mature tulip poplar tree in a poplar stand. Found nothing up high on ridges but almost all finds were down low. Hard to believe given the amount of rain that the area has gotten, but the ridges were quite dry and if you looked closely at familiar streams, they were not very high. It is dryer than one would think but folks, the morels are out there in the Shawnee. Happy Trails to all. Mama Doe and Unkle Korpse
4.15
It's Les S. I found 19 grey and yellow shrooms Sunday the 15th in Madison county Illinois . Most 3 - 4 inches .
146 mushrooms 4/15 Grafton, Il.
Hanley famly found 147 morels on April 15th and they fit in the cup of your hands (wouldn't fill a hat) (P.S. We added them to the meat loaf and it was great!)
4.16
46 around Grafton IL. April 17 found 50 small yellows, first yellows for us, Grafton IL
4.18
Les S. I found 70 more in Madison county Illinois
We took a jaunt in the woods near our home in Sangamon County, Illinois.....found one nice sized light gray. It was about 4 inches tall. Just a little too early yet. We had rain last week, but it was very cold. Has warmed up this week.
4.19
We found about two dozen of these in Giant City park just south of carbondale, IL....rumor has it they dont grow there but we have found one spot where there is quite the abundance.
Found a dozen or so small yellows yesterday in Madison County - they looked pretty fresh, so maybe the warm weather coming this weekend will pop more up!
4.20
I have been out 3 times in the last week and a half. Visited 2 sites that always produce. Peoria area. Glasford to be exact. Walked for miles and haven't seen a darn thing. I know I haven't gone blind over the winter so what am I doing wrong. Is it too early here in the heart of Illinois. Some friends and neighbors have found some but not many. I will resist my urges to go again until sunday. If I get skunked again, I may enter the psych ward. My cravings for a skillet full are just too much. We are expecting 70 degree days between now and sunday. Me and my mesh bag need a good workout. Happy huntin' Erich
One week since I found the first tiny morels. Found 13 this a.m. Had to cover and leave them. Just barely poking out of the leaves. About an inch tall. Rain and sunshine would really help. Broady, Lasalle Co., Marseilles, IL.
Hi! I wanted to let you know that they are FINALLY here! Even with all of the cold weather we have had lately. It has wamed up the last couple of days, and I found 20 grey morels today in Fulton County, Illinois. They ranged from approximately 1"-3". I can't hardly wait to go back tomorrow! Lisa
My son and I found 50 little grays last night in Quincy IL., Adams Co. It's Going to be a GREAT SEASON!!!!!
4.21
Went out around today and found 4 little greys. My wife scored a double and and one each for the four year old and five year. Pretty small about an inch and a half but nice and fresh. Hopefully with these temps and a little rain the next couple of weeks should get the suckers popping.
This is Tom. Vicky and I went in the woods around 5 p.m. today near Henry, IL. We found two small gray morels. Rain is predicted for Monday. A little moisture and not too hot of temperatures will mean the Roons will be up in quantities for the next three weekends.
My wife and I found around 4-5 pounds in Pekin, IL on Saturday. Mostly small greys, bud did find some decent sized yellows. It needs to rain again. -Joe (picture on right)
hey,scott w. here from depue il. bureau county.found 12 black morels on 4-21. all about 3 inches tall. same spot on the river bottoms every year! the greys will be next.
Becky and Andy from Peoria County here. Found 55 mushrooms in Brimfield Sunday. We only had 1 1/2 hours to look. Small, but we've already found more than we found all year last year. Mix of a couple blacks, mostly grey and a few yellows. They were on the the land that we found them last year, but in different spots, none in our usual places.
Found about 20 grey morels on Sat. 4/21/07. We haven't had any rain thus far during the mushroom season so if we do get a little the week of 4/23/07, we should have a great year! Charlie M.
Found about 300 in logan county on Saturday 4-21-07. about 200 of them were all in one patch. Mixture of both greys & smaller yellows.(big ones will be up this weekend.) went back out Sunday & found approx 40 more. Get some rain tue & wed. gonna be a good shrooming weekend coming up. jon
hi tom brandon from marseilles have found 30 or so morels small greys after looking in all my best spots on sunday 21. its really dry already and been too cold at night . anyone from around here that calims to have found them any sooner is full of bs. it has been freezing at night here for the lsat week or more. with this rain coming wed and thurs u can bet ill have my bag full this weekend.
4.22
Spent about 2 hours hunting in Knox County, IL this morning. Found about two dozen grays, all very small (some much smaller than a fingernail). Need some warm night temperatures.
I found these in the picture on the 22nd of April in Madison County, Illinois (2007). Nick
From St. Louis. I have just made my fourth trip into the woods in Illinois. I have found a total of about 27, a few more yellows than blacks. The yellows were stunted and dried out. This has turned out to be another terrible year. There hasn't been a good season here since about 1990. I won't be going again this year.
A friend and I found a few grays on Sunday, April 22. The following day, April 23, I was biking the Constitutional Trail in Bloomington/Normal and found another patch of grays. Guess people in town don't know what to look for. As soon as we get some more rain, it looks like a promising year for us in Central IL. DT & SW
Found about 325 to 350 shrooms Sunday 4/22 and were a couple days old, the woods are very dry with all the wind we have had, if we get rain today or tomorrow it should extend our season, if we get no rain in greene county our shrooming is done for the year
4.23
Found these under one tree in Fairview Heights, Il. on April 23rd, '07. Looking for rain and need it bad!! Larry (picture on right)
Scott W. of DePUe Il. found 12 black morels. They were about 2 1/2 inches tall. They were found by the river bottoms. They grow there every year. They will all be out soon.
Found 2 Yellows (3") and 40 Grays (1-2")… plus about a dozen more that were too mushy/moldy… in about an hour and a half. Location was 10 miles West of Peoria. They were DELICIOUS! I think the season is here!!! Used a mesh onion bag, but need to get one of those 'Shroom Sacks'! Hawkeye
The tide has turned for LaSalle County! Mr. Gray has been located.
4.25
44 Tiny greys found in Morrison, (NW) Illinois. Let the fun begin! Trevor Popkin
Found in Moultrie County, IL. Went to a reliable producing spot yesterday 4/25/07 and found only 3 (medium sized about 4-5 inches). Usually find around 15-20 in this area, so it's still a little slow. Matt
found 70 greys on 4/25/07 in south,west warren county in about 3hours.today same timber only found about 20 in an hour. should be great this coming week. good luck, tracy
I'ts been days since my last report and I've walked days, hours and miles since then. In all my hikes in past "hot spots", I've still only come up with 14. Only 4 of these were grays but none of the yellows were bigger than my pinkie finger. None of them were within yards of each other. NO clusters yet. Today I found 4 and I didn't need my MINI MOREL PICKING KIT that includes a magnifying glass and a pair of tweezers. I was actually able to see one of them sticking up out of the leaves and there wasn't any squinting involved. Even though I am frustrated, I guess I ain't headed to the psych ward anytime soon. I have enough that my wife and I can fight over every last shroom morsel.....or I could mix all 14 little guys up with a 3 dozen eggs and freeze em so I can have some for the winter. I am optomistic with the rain we recieved here in Glasford last night, that with some warm temps this weekend, it might still shape up to be a good season. Happy Huntin' all..... Erich
4.26
I just came back from the mushroom patch and have found around 50 nice size yellow and greys 4-26,We finally have had some rain and the temp has been warmer so now it is looking like a good year.Roger Menard Co.Il
Got 16 fat greys about 2-1/2" tall. Rain helped a lot. Warm weekend coming. Yellows will be up next week in some of the early spots. Broady, Marseilles, IL.
I found about 40+ large grays on 4/26. All this rain has the timbers primed now. The weekend of 4/28-4/29 should be peak here in Mclean County. DT
Found these in my gravel driveway today !!!! (picture on right)
4.27
I found 4 grey mushrooms around Mahomet, IL. Finally!
found 137 fresh 2''-3'' yellows in intermittent streambed. Grafton, Il.
They're up! They're up! They're really up!! Finally! We found well over 200 in Fulton County on 4/27 and we didn't even have time to hit all of our hotspots!! 1 small grey, and a handful of large grays, but almost all yellows. Sarah
We went out last evening in Knox County near Williamsfield, and in 2 hours picked up about 100 nice Yellows all between 2 and 4 inch tall,and a few large Greys about 1- 2 inch, mixed in. The Greys were found isolated by them selves but the Yellows were in bunches of 3-4 and al on Southwest facing hillside. Going back out Sat ans Sun . With some warm Temps in the forecast, they should be poppin this weekend ! Good Luck out there!
4.28
Here they come!!! I found 15 - 3 to 4 inch grey morels in Central Illinois today 4/28. I still think we need a few more hot days. Good luck and best regards, The Jippster
Ogle County has shrooms! 100 found on a southern slope. All grays, various sizes. Let the picking begin!! Couldn't resist piling them up and taking a picture!
Mike and I went "strolling" in the woods this evening and found 17 morels -- gray & yellow -- and three peckerheads. Half pound total. Smallest morel was 2.25 inches; quite a few were right at four inches. All but two were fresh; other two still edible. Found our haul in about 1 1/2 - 2 hours -- had to quit looking when it got too dark! (plus the fact that I HATE the shrieks of the coyotes!) Can't wait until tomorrow! Amy
found about 200 more nice Yellows Sat and Sun 4/28 and 4/29 on Southwest facing hillsides in partial shaded areas. All were between 2 and 4 inches tall.
4.29
Becky and Andy again, Found another 53 mushrooms in Peoria County (Brimfield)today (Sunday). They were much bigger this week. Lots of yellows this time and greys. Growing in weird spots again. Can't wait for the competition next week!
We found 276 today near Rockford Illinois. We found a combination of yellow and grey morels. They were all sizes too. The largest was about 6 inches. We found the majority of them under two trees with lots of briars. It started to thunderstorm as we left the woods, so we are hoping more will be popping!
Found some nice-sized greys and yellows the past three days. Some of the yellows are already starting to dry out. Could that be because of the heat (82 degrees here today)? Also, has anyone else noticed a lot of ticks lately. My first encounters--and I came home with FOUR of them, fortunately unattached. Looking forward to this weekend. Happy Hunting! Martina
Found Half A Dozen Yellows Ten Miles East Of Peoria Today.
My husband and found about 30 NICE morels this morning in Macon Mo. They will be nice this evening.
Fund 50 morels Sunday mixture of Grays and yellow in Mercer Co. IL. Next weekend should be good.
Finally found 12 Saturday=black,grey,white and yellow.Mom and I bagged 22 this morning (4-30)same mix of colors.We're afraid this is gonna be another poor year as last season we also found a mixed bag and then the season was abrubtly over before it started.MOHEGAN
Now the yellows are coming out. With all the rain we had last week and the temps increasing, I had another good picking. There are only 24 morels on the plater, but they were big ones. DT
4.30
Hey Tom! Hope you are keeping yourself sane with all the preparation for the big hunt coming this weekend. Looking forward to seeing you and Vicky and all the rest. Beth & I met up with Rat & Sis on thier picking grounds and came home with some really nice grays and small yellows. I'd love to tell you all where we found them but everyone one already knows. Ont ehgrounds near some dead elms! See you Friday! Aunt Net
I found about 2 dozen grays in northwestern Illinois.I looked for a couple of hours and finally looked on the north side of a canal.The hill was about 20 feet deep and a very steep angle.They were just hanging there.4 of them were the size of a fist and the rest were the size of a mans thumb,just a little thicker. I am paying the price for the steep angle.My ankles are killing me. They are coming,lots of humidity tonight,Ron
5.1
Howdy. I found a total of 18 lbs. on my last two trips to the woods. On Saturday, just little greys, but my second trip produced mostly large yellows. I think this season will be very short and coming to a close by next week. Joe-Tiskilwa, Illinois
Well fellow shroomers, if your not out hunting them by now you too late. Went out day before yesterday and walked out with about 15 pounds. Nice and fresh and some of the biggest yellows I have ever found. Two of them would make a meal for a normal person. I perfer about a dozen just to get me started. Good luck and you better get out there the grond cover is starting to get thick and all this wind blowing is going to make it end quick. Richard from Peoria (picture on right)
5.2
Out in Cook County Illinois yesterday and found 14 (mix of white and grays). Ground is moist and it should be excellent by Friday.Ken aka 'Hillbilly'
Found a dozen greys in the back yard. Weather seems to be perfect for many more to come. Tuna in Dekalb county.
Due to lame leg, can't get out and hunt...if anyone near Peoria, Illinois will sell me a few pounds I would appreciate it! GRoe
found 5 today, we had better luck in central ILL found a pound and a half there. Hope to have better luck this weekend.
Was out yesterday (5-2) for 2 hours, found over 200 blacks, let them go and picked 102 grays and yellows. Went out again tonight(5-3), found another 90..mostly yellows in the same spot. All between 2-4 inches…the yellows are popping! All were found on a south slope amongst dead and rotting trees, and a lot of thorns. –Youch! Cook County ,Illinois-Go Get Em'!!
5.5
We were out shrooming today 5/5 and found several good sized yellows in Vermillion CO.IL but one monster of a mushroom.I picked it anyway,but most of it is bad.It's the biggest mushroom I have ever found.It wasn't growing straight up,something covering it.And even on that note it was 6 1/2 inches and weighed 5.5 oz.--one mushroom!!! I do believe our season is about over around here though.Lorie
5.6
Found 3 today but this big boy was over 9 in long and should count for more than one. Little dry sunday, need some rain. central il.
5.12
Found one on 5-12-07. Near Washington Illinois.
Finally! Eleven small yellows. Side hill, southern exposure, full sun. Under Poplar. Saw first Dyrads today. Elevation 500'. Near Utica.

Indiana
3.27
I found the first mushroom of the year on March 27th a small brown. March 29th found 18 and March 30th about 20 weather has been really warm almost to hot at 80degrees. For the last week the temps have been about 67 to 85 with some rain. Drastic weather change on Wednesday April 4th verry cold and windy, highs in the 30s heavy frost fell on Thurs April 5th lows about 25. April 8th happy Easter everyone, high today about 40 went out this afternoon found about 40 browns still really early in my area of Indiana. My mushroom buddy went to ILLINOIS on Friday April 6th (I went to work stupid) he and his brother found over 4lbs really nice fresh yellows. Stick stated the weather was about 55 or 60 and fair on Fri, just starting to come up good there. Going to try to go to ILLINOIS this week if I can miss work. I beleive that ILLINOIS is ahead or early this year compered to all of my records for the past few years this could be a great year. The past two years have been ok found about 50 to 60 pounds all year, 2001 found about 100pounds, found 24lbs from April 12-15 and 27lbs on April 24 2001. Not had a year like that for a while I am due! I won't bore you all any more Please send any information my way that you have. Thanks Andrea Tanksley Bedford INDIANA
3.28
we found 13 greys and 5 yellows after work today. A RoadSpotter's award went out to David, plus he was hit with the SteppedOn award yesterday. Fried up 39 shrooms tonight cut in half and shared with neighbors .. kent
4.1
So far I have found 50 blacks. I hear the grays are starting. The weather has been very warm in Indiana for this time of the year. We had some days last week in the 80's. Hope it's a good year! JohnBoy
4.16
found about 30 blacks lat. N 39.35 around cottonwood trees.
4.23
Alice's good friend Paula found 3 blacks 1"-2" tall near Kimmell, IN on April 23.
4.27
Found about 15 greys in Charles Dean Wilderness Area at Monroe Lake near Houston, IN. Skip
4.29
Found 12 nice Grey Morel near Daleville, Indiana April 29, no other kind found, surface soil dry from wind and sun, water table in near by pond as high as I have seen it in 14 years. Good luck hunting, David
Paula had roons for supper, 4 blacks and 6 yellows on 4-29-07. Found, with no trespassing, near Kimmell, IN.
4.30
This is Liell Grant Co. Indiana. I found about 200 morels, a combination of blacks and yellows.
5.1
Found one yellow, Maybe a little early. Then a cluster of 5, another group of 7. Pea size hail fell on me during a brief thunderstorm. Yeah it was worth it. Kosciusko county 5/1/07
5.2
Found 2 yellows on May 2nd 2007 in the Fort Wayne area. This weekend should be pretty good hunting.
5.6
We found only 21 morels. Usually in these woods we find a lot more. Is the season past or are we too early?? Grant Co., Indiana
5.13
HUNTING IS TOUGH THIS YEAR BUT WITH SOME WORK YOU CAN FIND SOME NICE MORELS THIS SEASON FROM DECATUR IN KEVIN & CINDY
Iowa
4.3
My husband found some today April 3rd in Council Bluffs, Iowa. Looks like a good year!!!!!
4.19
found in Wapello County Iowa on April 19,2007...walked 2 miles for this one...hopefully there will be more. Cheryl S.
4.22
WE FOUND 10 GREYS AFTER SEARCHING SOME PRIME SPOTS IN SOUTHERN IOWA. LOOKS LIKE THE COLD WEATHER IN IOWA TWO WEEKS AGO SET THINGS BACK A LITTLE. RAIN IS PREDICTED FOR THIS WEEK WITH WARMER TEMPS. I THINK WE WILL HAVE GRAYS,TANS AND YELLOWS ALL AT THE SAME TIME.GOOD LUCK SCROOMING DAVE AND JANE ROLAND IOWA
4.23
Found 12 grey's 4-23 in northern Linn county. Rick
Just wanted to report finding a small patch of greys--about 1" tall near Council Bluffs, IA last night. Only about a dozen worth picking--will get the rest this weekend. <GRIN> Thanks, Suze
4.24
Jeff from Des Moines here. Found a dozen mixed greys and tans south of Des Moines Tuesday morning.
4.26
My son and I found about 20 greys on a southwest slope in extreme northeast Iowa. Should get good once it warms up this weekend.
4.27
Hi from southeast Iowa, (Muscatine County). Just got in from the timber. We have had two days of cold rain. The sun has come out and it is supposed to be in the 80's all weekend. We found small grey ones, and a few small beefsteak. But the ground is wet and I bet it will be a great season. Unfortunately, I have to work all weekend!
Found 10 small grey's in Benton County, Iowa. It will about another week before they really start popping through. Should be a good year, we have had a lot of moisture and will be warm this week. Happy Mushrooming to all!
4.29
SPENT TWO DAYS IN SOUTH CENTRAL IOWA. WE FOUND EVERYTHING FROM FRESH GRAYS, TO TANS, TO YELLOWS. NUMBERS ARE REAL GOOD.WE TALKED TO SEVERAL SHROOMERS AND EVERYONE WAS HAVING EXCELLENT LUCK.NEXT WEEK LOOKS TO BE THE PRIME TIME IN SOUTHERN IOWA,WITH THE SCHROOMS MOVING TO NORTH IOWA. DAVE & JANE ROLAND IOWA.
4.30
This afternoon, we found lots of little greys and yellows outside of Iowa City,IA. We should see big yellows starting this week.
5.2
found some today, may 2. looks to be a good year. had plenty of rain
5.4
May 4th My daughter and I found about 200 yellows from 3 to 8 inches tall. Found in Clinton County, Iowa in the rain but well worth it. (picture on right)
5.5
WENT OUT 5/5 AND FOUND FRESH GRAYS,FRESH TANS. AND FRESH YELLOWS THE 10 INCH VARIETY. WE ALSO FOUND SOME WHICH WERE TO OLD TO KEEP.WE FILLED THREE PAPER GROCERY SACKS FULL..THEY WERE ON THE NORTH SLOPES AND DOWN TOWARDS THE BOTTOM BY CREEK. WENT OUT 5/2 AND FOUND THEM UNDER MAPLES, ASH,COTTONWOOD. AND ELM. THESE WERE LOCATED IN SOUTH CENTRAL IOWA. IT IS A BANNER YEAR. JANE & DAVE ROLAND IOWA
5.7
Been finding large yellows the past 3 days here south of Fort Dodge (Otho area). We had 1.5" of rain this past weekend. With the combination of the widespread dutch elm disease (dead elms), moisture and heat, everyone I have talked to are finding a bunch. Folks are even selling them for anywhere from $10 - $20 or more. Some people even have them listed on ebay. Last night I found 85, all yellows. Good thing I had 2 shroom sacks with me. Filled one full and the other half full. Don't know what these weighed but the sacks were heavy. If you don't have any shroom sacks from morelmania I highly recommend them!! I sling mine over my shoulder and across my body so it hangs by my side, the green bag holds two cans of beverages nicely (horizontally) on those warm days!! Tom you should include this in the advertising. They also make a great christmas gift. Don't know if the season will last much past this weekend here in central Iowa but will enjoy it while it lasts. Ticks are bad this year, don't forget to spray your clothes. Good luck to everyone this season!! Hoop
5.10
Hi from Iowa I hit the Magic Mother load of 'rooms Thursday, May 10, 2007. None of my best places were showing any hits around Ft. Dodge, Iowa. I went to a new area that was quite hidden and before I got over a new hill, I was sure I could smell 'rooms. On top of the hill, I looked down the slope and I could see a whole bunch of 'rooms that were about 50 yards away. I just sat dowm and smiled. A lot... I found 245 of them and the smallest was 3 inches. The largest was 11 inches. Most were 5 to 7 inches. I got the pictures to show it. Most were starting to fall apart. I wish I could have found them a day earlier. I ended up 34 pounds. Three Walmart bags and a 5 gallon pail. All full. JJ
Kansas
3.25
A buddy and I found 76 small and medium size grays, and 4 nice yellows in one patch, about an hour of looking on 3/25/07. Some had been up for a few days, most only a day or 2. I saw where somone had picked a dozen or so about a week previous. This has the making to be the best year I have ever seen. I just hope we don't get tooooo much rain. Spark and Digger
3.26
I went out looking for a new patch and found 84 more on 3/26/07 most grays 15 yellows and 2 beefsteaks. All were good size. Spark
I found 40 greys and 1 yellow on Monday the 26th. All were fairly small and had not been up very long, maybe a day at most. I left about 20 still in the ground they were so small. SK.
3.27
We found 21 little grey Morels tonight. Heard reports of yellows being pick North of us yesterday. .. Kent
Found around 50 1/2 inch to 1 inch tall greys today along the Kansas River. They were under the leaves, not tall enough to push through them yet. They are finally starting to pop. D.S. in Topeka
We picked 24 little grey Morels, March 27 after work, in SouthEastern Kansas. Around 6 or 7 were left because they were to small. Kent
3.28
This is Roger "The Scotsman" from Pleasanton Kansas. Found 7 whites today East of Pleasanton, Kansas in Linn County. Size ranged from 1/2 - 1 1/2 inches tall. With a little rain it'll be a banner year!!!
we found 13 greys and 5 yellows after work today. A RoadSpotter's award went out to David, plus he was hit with the SteppedOn award yesterday. Fried up 39 shrooms tonight cut in half and shared with neighbors .. kent
3.30
All, we found 145 Morels after work, mixed grays and yellows. Most came out of one site and rest were spotted from the road. We issued a few "WalkBy" and "SteppedOn" awards, plus two "RoadSpotters" awards. It could be a banner year. Good luck all ... k
Tom mark here from kansas city mo went out fri march 30 found 140 little grays in one of my spots 1/2 inch to 1-1/2 inch found 3 in another spot about 2 inches tall looks about a week early here. good luck to all looks like we could have a very good year.
We found about 150 morels near Augusta, Kansas March 30th and 31st. Most of which were grays and some yellows. I would say maybe half were peeking up through the leaves. The biggest was probably about 4 inches. Definetly the best year for us! What you see in the photo is about half of what we found, we made morel mushroom soup! Thanks, Wilena (picture on right)
3.31
Found 7 small "grays" in the Kansas City Metro Area this morning March 31, 2007. Only spent about 45 minutes looking, as they were very young / small, and needed a few more days to grow.
Southeast Kansas. Found 150 small grays in Southeast Kansas. Everything was perfect - moisture, temp, etc. Going back again Sunday to look in another spot. If the rains keep up, and it doesn't freeze, this could be a banner year. Wolfie.
4.1
Lucked into a new location in the KC metro today (4/1). I found 41 within about an hour on slopes going down towards the SE. I literally stepped into the woods and began to find them. All were fresh and between 2" to 4" high, growing near dying elms. More rain in the forecast for Tuesday night. Yeah! The undergrowth has already started, but the elms hadn't leafed out yet. Going to be a banner year! CS in O.P.
Southeastern Kansas ... 222 mixed greys and yellows. Good luck all, it could be a banner year.. Banjo
Found 110 yellows and greys today April 1st in Marion County Kansas. Without fail, 10 days after the redbuds bloom. Nason J.
This is an early season this year. Found another 90 small grays in Southeast Kansas. The wind is drying out the ground quickly, and temperatures are expected to drop this week, which will slow them down a little. Another rain and the larger grays and whites will start. Here are a couple pictures. Happy Hunting !! Wolfie. (picture on right)
4.2
Ok, we went back to the same area here in Augusta, Kansas today April 2nd. and found 112 more morels!! Several were about 5 inches long. Most were yellows. That makes 262 that we have found in the last couple of days!! I could not believe we have found that many considering the last 4 years or so we have found maybe a few. The best year for us yet! Thanks, Wilena
4.3
Me and a buddy went to one spot yesterday and found 90 greys... Found about 10 within a 12 foot circle, and then started raking the leaves around in the same spot and found the other 80. Pretty crazy how they are there but just out of sight under the leaves... North Eastern Kansas KC area!!! Think its going to be a good year....
Southeastern Kansas, April 3, 76 yellows. April 4, 104 mostly yellows with a few grays. Cold weather heading this way ... Banjo
4.4
Ok, we found about 98 more morels today April 4th here in Augusta, Kansas in the same spot. A few big ones. The ground is starting to dry up here, but we have had great luck this year. Definetly early this year, I imagine the rained helped a bunch. Thanks, Wilena
4.6
Southeastern Kansas, 04/06/2007, 275 shrooms. Temperature fallin and Morels are still sproutin. .. Banjo
4.7
Mushroomer's dream, we hit pay dirt. Driving down the road we spotted Morels under some evergreens by a fence row. All said and done 543 shrooms from a 40X40ft area. No kiddin... Banjo
4.12
LeRoy & Rodney called at 6pm tonight picked 15 yellows & 42 grays & whites, oak city area. Hope everyone has a great season.
4.15
We found 18 after freezing temperatures. Banjo
4.28
Found 15 yellows in one spot. Eastern Kansas.
Kentucky
3.21
found first moral of the season south of hawesville KY
3.25
Found 1 black morel today in Hart county KY. That is the earliest I have ever found a morel in KY. This spot usually starts to produce the 1st week of April.
found 2 greys in the land between the lakes in ky close to tennennesse line
Maryland
4.22
Finally got lucky in Maryland! Found about 60 total (balcks and grays) between the 22 and 23rd of April. North East corner of Maryland, same spot every year:) Happy Hunting Everyone!
4.26
Found six nice morels in Montgomery County Maryland. Up to 4" - after about 1/2 hour of looking. Thanks Lew
Michigan
3.29
i was suprised to find any but these were found in barry county michigan in thursday 29march2007, i have never found them in march here before. by al hayes (little-shroomer) (picture on right)
Found about 2 dozen morels near Gaylord Michigan on March 29th. No kidding. They were all smaller than a thumbnail and most were smaller than a pea. Let them set and came back on April 19th. Picked 18, many of which had freeze damage on top, but they were 'pickable' size. Some had frozen completely and were all shriveled up, still no bigger than a pea. The season is starting! Tim Brock Mason, Michigan
4.27
Greetings and good morning, I made a trek out to my favorite mushroom spot in the Pickney State Recreational Area, in Michigan on Friday, April 27, and found my first morel within 10 minutes of leaving my truck. Alas, after two hours of fighting the multiflower roses at my other favorite spots, I was left with only the one mushroom. But this marks the beginning of the season for me. Mark Spahr, Ann Arbor, Michigan
5.1
Since April 30th, I have seen small grays and blondes in many areas. On May 1st, a buddy and I picked nearly 200 blondes in Oakland county, Michigan. Today, May 3rd, I was out for about an hour and found about 2 dozen 2-4" grays.
5.2
I found 2 of the large stem, small capped, brown morels today near Battle Creek Michigan. Both appeared to have been up for 2 or 3 days. I have found no others so far.
5.4
Hi, I live near L'Anse, MI in the Upper Peninsula and started seeing black morels 5/4/07. Best pick so far was 245 on 5/10!
5.8
34 small grays, in about 1/2 hour. Just before dark on May 8th. YUMmmmmmm, but need some rain.
5.12
Went to one of the shrooming spots and was horrified when I saw the forest service mowing the grass where I pick. Found a few reminents of mushrooms around the mower. Found about 30 in Alcona county over the weekend. Mostly 2-3 inch whites, and a few large yellow's about 5 inces in size. Also found a run of about 10 picture perfect blacks. I forgot to put something in the picture to compare the size of the shrooms to but, the blacks in the top row are about 3.5 inches tall. Went back home and found another 30 yellows and whites in the back yard. The attached picture shows the ones found north of home. Happy hunting everyone!
Minnesota
5.1
found a few blk pretty small mushrooms in southern minnesota. Need rain really bad!
5.2
Found 1 morel this afternoon in Blue Earth County. We need rain, and it will be on. DebB.
5.5
They finally popped today, found 150 grays in a couple hours today in Dakota County. All on west facing slopes, lots of sunlight. The rain yesterday has helped, the next couple weeks could be record breaking! Digger
Hunting buddy (20 plus years) just phoned in with news of a find of 2 dozen in Southwestern Hennepin county on exposed, south facing slope. Largest were "teacup" size; most were smaller. Still too early for any fruiting in partial shade or protected-from-sunlight wooded areas...
5.15
We have found many mushrooms within the last 2 weeks! So far, I'd give a count of 300, give or take. We live in Southern Minnesota, and go morel hunting every year, every May, absolutely LOVE the morels... Laurie
Mississippi
3.28
While Turkey Hunting in Carroll County Mississippi, my son and I found a nice patch of Yellow Morels. This was on Wednesday March 28. 41 in all weighing in just under 2 lbs.
Missouri
3.19
Saw a small group of black morels in lake st. louis today at noon but they got away. Larry H
3.26
St Louis Co.- 5 Blacks today in 90 minutes of hunting. From the size and condition, they looked like they starting coming up Friday or Saturday. willie
3.27
With the unseasonaly warm weather the end of March, and the wonderful rains, this year is proving to be an early season for central Missouri. We found our first few on on 3/27, 6 tiny grays. But the following weekend, 3/30 and 4/1, the season got started good. Still small, but we couldn't believe the number of mushrooms for March. It looks like it is going to be a good year. However, we are now experiencing unseasonly cold weather, and picked a few frozen mushroom on 4/6. Happy Hunting, Mushroom Annie from Missouri
3.31
Found 43 little grays,1 white and 2 beefsteaks seems like it might be a good year Freeman,MO Jellymaker
Tom, I live just out side of Hannibal Mo. which is in north east Mo. I found 15 black morels on 3-31. Temps have been warm with highs in the 70-80s for some time. Now the weather forcast is to have the lows reach 25-28 for a few days. What does this mean to my morels Thank You, Keith
4.1
thunderstorms on saturday, found my first of the season - a couple dozen morels on a Missouri River island in North St Louis County on 4\1\2007. MO river city rager. (picture on right)
Found 3 yellows in western Lafayette County, Missouri. No Foolin'.
This is Tom in Creighton Mo. went out on Sun. the April 1 , after church knew they had to be out but I've been busy. We found 8 in a bout 10-15 minutes, little greys, but I know their cousins will be here in a few days so I took wednesday off I'll let you all know what happened. We have had the rain it sounds like those of you , over east and south are needing , sorry to hear its dry where you are!! have fun and be careful
Found 15 yellow morels yesterday in New Madrid County, Mo. near Mississippi River.
St. Clair/Henry Cty, Mo. Bro found 16 grays early morning April 1st. Blind Pappy, Bro, and I found about 20 later in the day. I found 9 under 1 oak tree. Bro went early afternoon and "caught" another dozen and 10 more white's on our lake road at Truman Lake. Pretty good day of hunting!!
I found my first morels of the season on Sunday, April 1st. I live in the Missouri Ozarks in Douglas County. It was such a thrill to find that first one. I guess I found around 15-20 of the little treasures ( the yellow variety). I can't wait to get home today to hunt some more.
4.2
We found these little morsels on 4.2.07. This is the earliest we have ever found a morel! Found them in central Missouri. Freezing temps are expected the next few nights, sure hope that doesn't have a negative impact on our mushroom season.
found a couple dozen more on 4/2 on MO River island in North St Louis County. steady wind since the t-storm on 3/31 is drying out the sandy soil, but deeper in the woods, the better ones are popping. MO River City Rager
Found 100+ yellows and grays 1/2" to 3", Jackson Co, MO in low-lying damp areas.
4.3
found 78 gray morels in Independence missouri on 4-3-07 still small
Hi Tom, Found 20 'fresh as a missouri morning' yellow morels today(4/3) here in Boone County!
4.4
Found 43 small grays after the storms and before the temp dropped. On the southwest side of a hill. Boy they sure tasted good last night for supper. Southern Lincoln county. withhold name
4.21
Found 15 grays this morning, North Central Missouri.CW
I went back in the p.m. and found another 14 little grays. North Cental Missouri. CW
4.22
35 little grays this morning, North Central Missouri CW
4.27
Michael here in north central missouri and I had a fairly good weekend. Hunted the 27th - 28th and although I have had finer years as far as quantity the yellows and greys were of the finest quality I have seen in some time. I dont have an official count but I would say several hundred were found by 4 four of us. Most were around dead elms in shaded and moist areas with patches of moss and may apples present. Most people have their own indicators but the one that has brought me the most success is when the may apples have a bud and or are already blooming!!!! They are out there and I will find them all. Midwest Morel King and Queen signing off.
5.1
Found 408 morels or six pounds on 4/25 and 4/26 in the Troy MO area.
Nebraska
4.1
Found about 2 dozen grays in S.E Ne on 4-1-07 on south west facing hill. SKI
4.23
found about 8 yellow ones in se nebraska on 4-23-07 looked for hours until i found those.Rain is expected the rest of the week maybe it will bring more. thanks DB
4.25
they are out!!!!...2 good days of hunting on 4/25 and 4/26 ranging in color and size along the river some growing right out of standing water in spots, seems like the season is about a week behind last year figure to start in the hills next week. good luck R.J.
New Jersey
5.6
Princeton, NJ. May 6, 200. 15 morels found. (picture on right)
New York
5.7
found 1st morel today in southern dutchess county 5-10' from dead elm, in underbrush.
North Carolina
4.1
Found about 20 in a rural, woodsy area north of Greensboro, NC (picture on right)
4.4
Found 9 very small, dry and widely disbursed morels around the watershed trail system near Lake Townsend, again, north of Greensboro. It's been dry since then so I don't expect to find more unless we get rain soon.
4.7
Raleigh, NC Even better luck this weekend found 116, 90 with a couple of local guys John and Jason just off the falling slopes in and around the tulip trees and another 26 in one of my favorite spots only had about an hr. as not enough sun to see well. Will try another woods tomorrow hoping for another bigger mess.
Ohio
3.30
Me and Hip took our 83 year old mother up to the top of a mountain in Vinton county Ohio on march 30, and we found 18 of the early black morels.What's amazing is there are 160 acres of woods we hunt on,but the first mushrooms always come up in a spot no bigger than your living room.We found this spot by an old dead tree a few years ago, and it produces the first mushrooms every year !
4.1
this is not an april fools found 2 blacks to day a full week earlier than last year. there only a couple inches but hey. whats weird is im in north central ohio crawford co. bucyrus to be exact, ive heard of no reports this far north yet,going back out to get a pic or 2 will post on morels.com gl all
4.2
I found several black morels "somewhere in Clermont county" on April 2.
4.7
After finding 18 blacks last week in Vinton county Ohio, the weather turned cold and snow fell almost every day. I talked Hip in to going on 4-7-07, even though there was snow on the ground. The wind chill was 16 when we left Pataskala that morning. He said it was the first time he had ever hunted mushrooms in the snow. By the time we got to Vinton county there was about an inch of snow on the ground.I thought " OH BOY"...but I knew some mushrooms had to of come up the 4 days after we found the 18,because the temps were around 75 before the cold front came through. I was right ! We found several blacks in the same spot as last week, but the amazing thing was Hip said " Let's follow the old fence line down the hill and see if we can find something on the way down". Half way down the hill Hip spotted a huge yellow morel. He wanted to take a picture of it with snow on it, and then spotted about 8 more.As our good huntin' buddy Larry M. put it......History was made !!! With a total of 30 shrooms , I guess it wasn't so cold after all....WOW !!!!
4.8
scioto county,ohio.(the southern tip)ive found 10 black shrooms in two early trips,2 greys,1 half-free.
4.14
Found 3 little buggers in Greene Co. OH. on 4/14/2007, 2 small gays and one half free. First finds for around here!! (picture on right)
4.17
April 17 found several black morels,one gray and some white morel 25 in all.Found them in highland county outside of greenfield ohio.
4.24
found three blacks on tuesday 4/24 in knox county ohio
4.26
southern ohio,finally a decent day.wednesday i found 77 mostly grey shrooms,with a few whiteys.shawnee state forest friendship,ohio.good luck everyone.
4.27
hello again.its on in southern ohio finally.went again today,found 81(mostly white)shrooms today.its about time.good luck to you all,and happy hunting!!!!!!
Found a dozen grays in Ottawa County. It's getting ready to take off!!
5.6
Preble County, Ohio Found this shroom' and 143 others. Been a very dry cold season, but these are in the bag.These are over a 2 week period (picture on right)
It is the 8th of may and I found a few greys in Ashland county Ohio. A friend found some yellows as well. Adam
Oklahoma
3.24
found 10 sm. greys 03/24/07 alongside railroad tracks. j king osage co. ok.
We picked 24 little grey Morels, March 27 after work, in SouthEastern Kansas. Around 6 or 7 were left because they were to small. Kent
3.25
6 small morels central okla R.W.
My husband and I went out 3/25/07 about a mile from home, we found 39 early morels. Can't wait to find more of them. The tasted wonderful!!!!!!! Jenn
3.26
Found around 50 1/2 inch to 1 inch tall greys today along the Kansas River. They were under the leaves, not tall enough to push through them yet. They are finally starting to pop. D.S. in Topeka
Went to another favorite spot of ours found 13 morels. Happy hunting everyone. Jenn
found 27 fresh morels in central tusa this evening, along abandoned railroad tracks, amongst scrubby trees, grass, wood debris, and rubbish. --d. martin; tulsa, ok.
3.27
Went out again yesterday we found a total of 31 morels. Had to leave five they where eaten up with bugs. Wonderful hunting again. Jenn
Never picked morels before, and even had to ask a morel-picking friend to be sure of what they were... But my wife found a little over 50 growing in our back yard on March 27... in Osage county, Oklahoma. Mongojoe
3.28
Morels were found in central oklahoma and left many to pick next trip. (picture on right)
South Carolina
3.26
MORELS ? I know everyone's wondering - southern morels? Yes they are here in the south too. I'm in South Carolina and have already sighted some morels. It's a little dry still yet, but rain is soon to be coming. Found some grey's and some blacks. I'll be ready come next week. I'll keep you all updated. THANKS, SOUTHERN BELLE IN SOUTH KACKALACKIE
3.30
Had a wonderful hunt yesterday (3/30/07) ,my husband and I went to one of our favorite spots found 251 nice morels.Looks like its going to be a good year for us. Jenn
3.31
Deb and I found these today North Central OK Mike (picture on right)
Oregon
4.1
Salem ,Oregon: I thought my wife Martha was playing an April Fool's joke when I heard "morels are back". We had 12 two days after one day of rain and then two days of sun. This is the earliest we have seen them by about a week. Steve at Black Dog Lodge
Pennsylvania
4.14
BEEN A VERY COLD SPRING THIS YEAR.MOST YEARS I FIND THEM ON THE 7TH 8TH OR 9TH OF APRIL. MOST I FOUND WERE TO SMALL TO PICK .BUT I DID PICK 2 TO SHOW MY WIFE.
4.17
been very cold since april 4 and this is april 17,ifound 1 small black about 2 ins. long,yeah tis the start of a beautiful season! time to get serious as a heartattack! my wife angie and I will be lying naked in the 'shroom patch!happy hunting :bruce
4.25
Friend & I decided to look after the week old cold spell & found 5 blacks in lower Northumberland County this noontime. All were fresh & about two inch cap size. Located on a south facing slope on the edge of a hollow.
5.2
Hello from Lebanon County, Pennsylvania! Today I found 53 lovely mushrooms! Most were gray...small...some nice sizers too. They're out! I'd love to hear from other Pennsylvanians. Happy Hunting to all!!! -Kathy M.
Tennessee
3.23
6 blacks mar 23,......drought conditions Earl Rothberger....Signal Mtn, TN
found a "gray" sponge in our early spot today, 3/23/07. I am 60 miles N.E. of Nashville, 5 miles from the Kentucky border. Need rain badly, We have the heat!
4.1
NEW JOHNSONVILLE TN Diana & Hal found 15 Morels Located on the west side of Tennessee River
4.2
I found 41 this morning in northern Tennessee near Kentucky state line we need rain bad !!! Good hunting
4.6
Found 63 yellow ones this morning it was 28 degrees with a frost on hope this weather doesn't hurt them next few weeks . Found them in northern Tennessee near Kentucky line
best year i think i have ever seen here in tennessee. have found hundreds in just 2 weeks, near colubbia tennessee. thanks david, happy hunting. (picture on right)
4.8
Went this morning after 2 cold nights of freezing weather found 3 that was by the least froze up what could have been a 4 to 5 inch size was around an inch tall had good stem. I say it will be a few weeks now before they come back at least I hope . Good hunting ! Found these in northern Tennessee near Kentucky line
4.26
Well what started out to be a great year turn out not to be had some cold weather this month went today after a rain and found 1 dried up . I have found close to 100 or so this year in Tennessee near KY line but they were found last of march first of April guess have to look forward to next year. Good hunting to those up north maybe you all can find a bunch.
Texas
3.25
North Central Texas – My sister and I found 54 morels in 2 hours! Mostly yellows and a few greys. Most were very fresh, but we had to leave 4 behind that were old beyond consumption. Our find exceeded our expectations considering our lack of rain! Last three years have been awful…looks like we can look forward to a good one this year!
I went for my morning walk and found 1/2 plastic grocery sack of nice morels under a single cottonwood tree. Enough for about 4 meals. Medium size to small tan colored morels. 35 miles NW of Ft. Worth, TX
3.27
Found around 50 1/2 inch to 1 inch tall greys today along the Kansas River. They were under the leaves, not tall enough to push through them yet. They are finally starting to pop. D.S. in Topeka
Virginia
3.31
My son and I found 16 blacks, all 2 inch height, in our sideyard near Wytheville in the mountains of Southwest Virginia on March 31. Weather had been unseasonably warm with good moisture and this was the earliest we had ever found any treasure at this location. Subsequent cold spell has put things on a more normal schedule, with all eyes back to the end of the month of April. Happy hunting to all. Smith Boys Wytheville, VA
4.11
I LIVE IN THE BLUE RIDGE MOUNTAINS OF VA. WE HAD GREAT WEATHER FROM MARCH 15TH TO APRIL 5TH IT SNOWED AND GOT VERY COLD AFTER THE WARM SPELL. I HAVE FOUND 35 BLACK MORELS SINCE 4-2-O7 UNTIL 4.9.07. I WOULD ALSO LIKE TO KNOW IF BLACK MORELS WILL GROW IN AREAS THAT HAVE NOT BEEN BURNED. IT SEAMS LIKE I ONLY FIND THEM IN BURNED AREAS UP UNTIL 8 YEARS AFTER THE BURN. ALSO I HAVE BETTER SUCCESS WITH AREAS THAT HAVE ALLOT OF BRIARS INSTEAD OF WIDE OPEN WOODS UNDER POPULAR---WE HAVE NO ELMS. I ALSO FOUND 6 WHITE MORELS. THIS IS VERY EARLY FOR US. IT IS DRY AND WE NEED RAIN ---I THINK THIS IS GOING TO BE A GREAT YEAR IF WE GET WARMER WEATHER AND RAIN---I COLLECT ABOUT 18 DIFFERENT MUSHROOMS THROUGHOUT THE YEAR WITH ALLOT OF SUCCESS.
4.19
hey Tom, from virginia, the black 'merkles' are here in numbers! whites to follow..Hope the order is coming along ok. Regards and happy hunting, John
Washington
4.12
Found seven morels in Vancouver Washington. They're Here!!!
4.14
I found 5 Morels in my yard here in Washington state. They were growing in some gravel that I had spread last summer.
4.26
After a eight year absence when i found six dessicated six inch black morels under my old apple tree, Crossed fingers paid off when at opposite end of property , 40+ 2" to 6" black morels where spied hiding amongst detritus of last years fallen plums, whithered bamboo leaves & alder saplings. Great luck like this demands I go buy a lottery ticket ASAP...
5.4
Found 20 or so black morels in community garden in Washington
West Virginia
4.14
Howdy. We finally found 4 black morels today Sat. 4-14. we seem to be having good morel weather now. hope it keeps up for us all. from the middle of Tyler co., Pam and Buddy
4.20
Kanawha County, West Virginia 15 yellows all about 4 inches - found around sycamores
Wisconsin
4.18
Master J from Morelmasters here. I found a morel on Wednesday April 18th. To my surprise it was an inch tall. It must have been up for a few days. The morel was found on a steep open south facing slope. We will begin harvesting on south hillsides on the 27th of April. (unless of coarse it does not rain until then) Season will peak here in southwest Wisconsin around the 4th 5th or 6th of May. Good luck to everyone and thanks to Tom of Morel Mania for a great site!
4.20
Found 1 inch morels 50 miles west of capitol city 4/20/07 James R.
4.24
I found 3 Morels 1-2" near Mount Horeb WI, on a southeast hill, with my son. Soggy kind of day, brightened by the first finds of the season, for us. Should be a another great year. Thanks you for hosting this site as a resource for all.
4.25
Found two one inch tall on a south facing bluff in Rock County WI. April 25 Tim K.
4.30
My first find of the season in Janesville, WI. 45 greys 1-3 inches. They were growing near dying elms in an apartment complex. I got to them before the mower did! We need more rain here. Found on April 30. Great site, I'm on it daily. Thanks, Jon in Wisconsin
5.2
I picked about 20 grays in Madison, WI, yesterday May 2nd.
5.4
Found one small grey morel in Milwaukee County. 1 -2 weeks for the big yellows. Mike S. (picture on right)
5.11
Found about forty blacks in my mom's back raspberry garden; the spores have grown out of rugs and earth thrown down around Mom's raspberries to keep out weeds. We're in Northwestern Wisconsin. Jim
Wyoming
4.29
I'd much rather report morel sightings, but a nature hike along a lowland creek in the Sheridan area Sunday (April 29) produced 1-1/2 hours of non-sightings. Conditions seemed perfect (several 70-degree days, moist ground, decomposing fallen trees, etc.), but no "treasure". . .perhaps the ground is a bit cool yet, or I need to range further from home.
London, UK
4.16
don't know if you guys are interested in international sightings, but I picked close to a pound of nice morels in central London (London, UK!) two days ago, i.e. Monday 16th April. Mushroom pie for dinner tonight, I think. Cheers! Ollie.
Ontario
4.23
Hello Tom, after 3 weeks of colder than normal temperatures we are having warmer weather in the twenty so today apr. 23 went to explore this location, in the outskirt of Toronto, were I have been finding the firt crop of Elata ( black morels) and we picked 32 morels one to two inches and we lest some very small. here is the picture. Good morel season to all. Umberto
4.27
Southeast Ontario, April 27, 07 (Ottawa area) Rain beginning to fall, they should be popping anyday, any other Canuck shroomers out there? MA (Morel Addict)
5.2
South Eastern Ontario, Kingston area , 23 blacks in a sumac grove, shrooms just starting , need rain bad. orel Crazy
5.7
Here in Ontari the season is a couple of weeks late in respect to 2006. On may 7 Spotted a dozen Esculenta very small on the eastern shores of lake Ontario; the tallest was 1 inch. Rain is needed to get them really coming. Ontario hunter, U.P.
5.12
Approximately 10miles north of Barry Ontario, I found 62 half-free morels. Last year weren't that good. This year is looks promising.