Arkansas
Sunday, April 19
Found 04/19/2009 Around Harrison, AR ~Dave and Sherr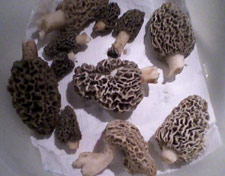 Friday, March 27
We found a total 73 morels last night (in three different spots) in southeastern Boone Co., AR last night (March 27, 2009). Mostly grays, but some yellows ~Nick and Cindy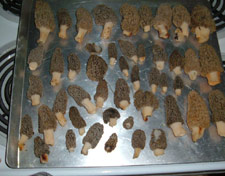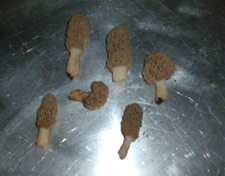 Thursday, March 26
Found 12 more grays on 3-26-09 a little larger than the first 25 in Boone County, Arkansas. ~Jim H
Saturday, March 21
Found 25 small grays in Boone Co., Arkansas on 3-21-09. Larry, Denny and Don......can't wait for the big yellows!! ~Jim H.
Tuesday, March 17
Found 14 on march 10th 2009 another 15 on march 17th 2009 fairfield bay arkansas ~Betsy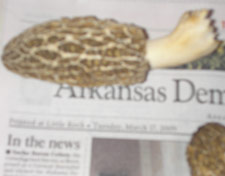 California
Thursday, November 26
We were in S. Cal for Thanksgiving with our son and found these morels growing in the landscaping outside his apartment. There were three total, the largest about 3" tall. I've heard of "landscape morels" but have never seen any until yesterday! I searched the entire complex but found no more... but it was fun -- an urban hunt in the city of Huntington Beach, CA! -Tom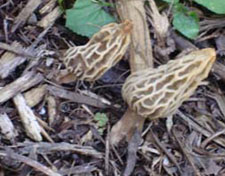 Saturday, May 16
I think this was our best year ever. After 2 hours of searching up in the Sierras, two of us had picked more than we have any idea what to do with. The wildfires last season were good to us--we'll see how long the burn magic lasts.

Friday, May 8
Portola Valley, CA To my amazement, they popped up in 6-12 in of soil piled onto a concrete support under a small cedar planked bridge. ~Matthew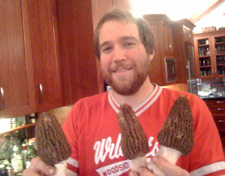 December, 31 2008
I finally got the pictures--wow! Morels in Santa Clara, CA in early December and they're big yellows! ~Ron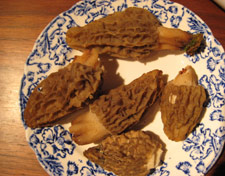 Colorado
Wednesday, May 6
Following a healthy snow and cold spell, a warm May is finally here in Colorado. Found my first of the year. Forty yellows and grays. The grays are much bigger than the yellows. Same patch as last year near the S. Platte River, south of Denver. Looks like we need more rain for any more. ~John and Laura B.
Georgia
Saturday, April 11
Dear Good People,
My wife and I live in north west GA just below the TN line, at an elevation of about 2000 feet. While walking today we saw what we thought were morel mushrooms in a wooded area near the road. Is this an area where one might see morels? ~ Thanks, Robert
Thursday, April 2
Tom, The 2009 Georgia Foray went well despite 7 inches of rain! It made the Morels grow real big! LOL ~Sincerely, Chris
Tuesday, March 24
Tom, Ate my Morels for Lunch yesterday...Yum Yum. Had a hard time convincing my hubby to try them. He thought they were great. Still alive today so now he thinks I should hunt more. ~Pat
Sunday, March 22
I think I have about 20 morels growing around a dead black walnut tree. How can I be sure. I'd like to harvest and dry them for later use. Can I do this? ~Thanks, Pat, Norcross, GA.
Response from Tom:
Hi Pat, Since you're in Georgia, it is entirely possible that you have morels at this time of year. We've already seen reports from GA. To Identify: 1. Sponge cap with true "pits and ridges" rather than wrinkles or folds. 2. Completely hollow - both cap and stem. 3. The stem and cap connect at the base of the cap rather than the stem going up into the cap and connecting. Check out some of the pictures on this Page for comparison. To harvest: Cut the morels off above the ground. To dehydrate: Do not wash them! Place in a dry area where they can get some air. A non-metallic screen elevated off the ground works best. In the sun wind a breeze blowing helps. or, if you have a dehydrator, use it. 95 degrees for about 4 to 8 hours if you can control the temperature. Let them dry until they are crisp like a potato chip. To re-hydrate: Soak in water for 2 to 4 hours. 2 cups of water for each ounce of dried morels. Pad them dry with a paper towel. They are ready to cook. You may strain the soaking water through a coffee filter or paper towel and use it as soup stock or broth - there's a lot of flavor in the soaking water. Hope this helps, ~Tom Nauman
Illinois
Friday, May 29
Hi Tom, May 5th found 15 grays. May 6th found 29 3-5" grays. Nicest morels I have ever found in Woodstock.
Enjoyed Morel University! Thanks, ~Joy
Tuesday, May 19
Vicky, Jesse, and I spent Mother's Day, May 10, in the valley and found a total of 10 pounds. They were mostly medium yellows. Then on Monday, May 18, I returned to the same spots and harvested another 2 pounds of large yellows. I left at least another 2 pounds that were spoiled. Had I checked last Thursday, they would have been okay but I was on my way to Michigan. Everything I found was on the north facing slopes. There may have been some on the flat lower areas, but the foliage is knee to waist tall which makes the mushrooms almost impossible to find. The temperature is predicted to be in the low 80's on Wednesday and Thursday, so this weekend will probably be the last hurrah. Look on the shady north facing slopes or the shady north edge of the woods. They should be easy to see because they'll be large yellows. Leave the moldy and spoiled ones behind. We received 3+ inches of rain last weekend. I did find a couple that were probably edible, but were caked in dirt (rain splash). I left them behind because I didn't want to put all that dirt in the sack with good ones. ~Tom Nauman
Monday, May 18
Lake Bloomington area on 5-17-09 Found one small yellow dried up and split open, up the hill 2- very large yellows, (pop can size) split and opened also, I was a few days late in this area. It was on a very steep north facing slope with a lot of moss covered ground, poison ivey very thick now. No big patches this year, one here one there. I am done for this year total of 35 mushrooms. Funny thing is you here of a new dead elm will produce for a few years, last year with the bark still on this tree produced 60 and 39 in two pickings, this year it produced two small yellows, and I was checking it every two days, most of the bark is off now and I don't think anyone was ever back in here because it is very thick overgrown hard to walk through, no footprints in the mud ect,( cig butts, litter). ~Jeff
Saturday, May 16
South side of chicago ~Jason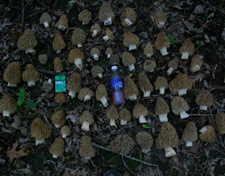 Friday, May 15
Found in Danville, IL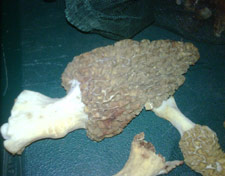 Thursday, May 14
Found these two in a cluster of four others almost as big on the 14th of May. Now is the time. Location was west of Aurora, IL

Thursday, May 14
Hit the Mother load on Mother's Day in Winnebago County, Illinois. One tree, 65 "big" yellows. A couple a little dry but for the most part perfect. Have been out a lot with only one here and there and was about to give up when stumbled onto this gold mine. Couldn't miss them. Would have tripped on them if I didn't see them. All in an area 20 x 20 feet. Recently dead elm about two feet in diameter with 95% of its bark on still. Not real accurate but stepping on the bathroom scale it went up 5 lbs when I picked the bag of morels. Expect a few good years from this tree. I have a spot! Have pictures and will submit when one of my kids show me how to do it. ~Rob
Monday, May 11
Just found these small greys this morning. Largest is about 2 inches tall. First picture is before I removed the leaves around them. ~A Clary

Monday, May 11
Found one yellow @ lake Bloomington in Mclean County on Saturday, went to another spot north of Towanda , Illinois found one yellow all dried up , still no big patches this year a few here and there. Been a different season this year my harvest of morels is way down. ~Jeff
Sunday, May 10
After mowing our yard for over 20 years this is the first time I have ever seen morels here, in my own back yard. I guess this was the perfect year since there are no trees within 100 yards of this area. Next time I'll look before I mow.~Gary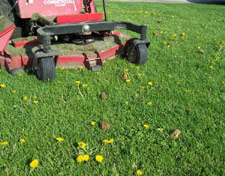 Friday, May 8
Big yellows still fresh got to dig for most of them.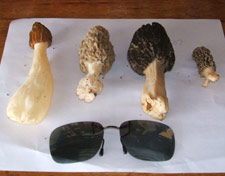 Thursday, May 7
Went out Thursday after work found 4- yellows, one was already dried out, Lake Bloomington area north of Towanda, Illinois. ~Jeff.
Thursday, May 7
Hi Tom, I just got a copy of the latest "Chicago" magazine routed to me at work and was checking out your article on morels. Not much of a mushroom fancier to tell you the truth, (I guess there a few of us oddballs) but I do love the outdoors....trees, rocks, birds -all of it! While exploring in upstate New York last May I found these and photographed them thinking that they were morels. From your webpage I see gray ones and yellow ones - is there a difference in flavor? I never knew there were false morels until I read your article. Can you tell if these are real or wanna-be's? Thanks for your time, ~Susan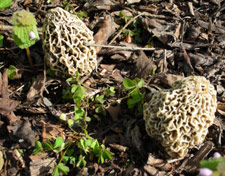 Response from Tom @ MorelMania
Hi Susan, Yes, those are the real deal.
Wednesday, May 6
Hi Tom. I enjoyed Morel University. I found 15 grays in Woodstock,McHenry County today! Must be my new, lucky mushroom stick! ~Joy
Wednesday, May 6
Monday and Tuesday I did not find one mushroom, The spots that produced over 200 last year has only produced 27 this year , strange season here in McLean county ,Illinois north of Towanda and in the Lake Bloomington area . I will keep checking old and new spots. ~Jeff
Tuesday, May 5
I know this doesn't look like much, but I watch your site daily for sightings in my area. I haven't seen any, so here is our effort. Found on a slope that gets some sun, facing southwest, under a tree. Hopefully in a couple of days we will have more. Thank-you so much for this site. It keeps us all on the hunt!! ~Norma, Rockford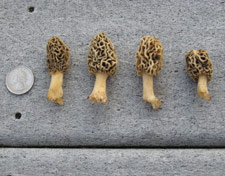 Tuesday, May 5
High grounds been my best luck with about two hundred the last three days (many more Yellows than Greys). Had to venture off the beaten path as the old honey holes haven't been producing like normal. Things are growing fast so it could be a short season. ~Joe
Tuesday, May 5
Here are a couple pictures of our 43rd annual Kinsella mushroom fry with about 70 guests attending. It was my 3rd worst season ever with a total of only 565 shrooms. We ate about 400 at the fry so that leaves us with some delicious, left over, meals. (Photos by Tim Flynn) ~Larry, in Fairview Heights, IL.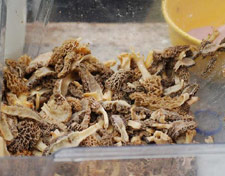 Tuesday, May 5
Morels were found in southern Dupage co. ILLINOIS ~KYLE & STEVE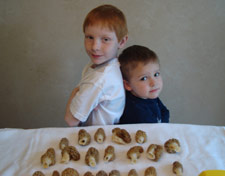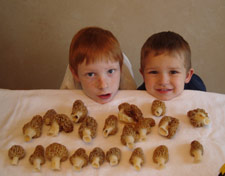 Monday, May 4
My two buddies and I found this bunch of 99 on April 24th in Coal City Il. Our spot has not let us down in 3 years!! Happy hunting! ~Kyle, Matt, and Ron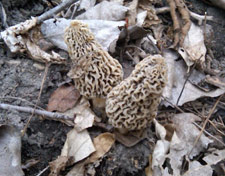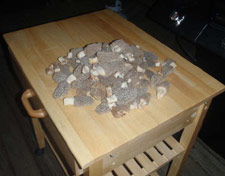 Sunday, May 3
Another great year! I found about 8 lbs this morning in the City! Another 5 out a little further west. All of mine have been right after the May Apple pops up and the Trillium has leafed up. If I can keep the Deer at bay I expect another 10-15 lbs tomorrow. Good Luck All! Thanks for the website. I check it and try to contribute each year ~James

Sunday, May 3
Photos from south central Illinois. Third week of April. Three weeks behind normal year. Had huge success. ~Eric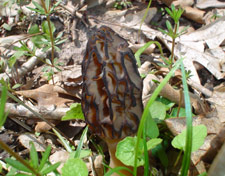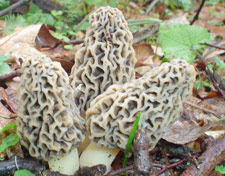 Sunday, May 3
These were found in Coles County Illinois.... right smack in town Lerna..........only finds so far this year. ~Wando and Roy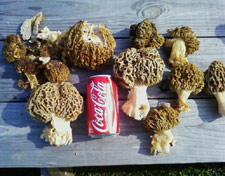 Saturday, May 2
We had a great time today. The weather was great! Wish we had got more mushrooms but I did learn a lot (I was a complete novice) and want to go out on my own soon. Hope these pictures get to you OK. ~Judy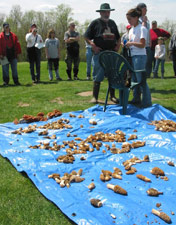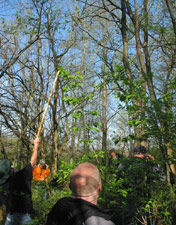 Saturday, May 2
Tom, We wanted to let you know how much we enjoyed Morel University on May 2nd. Josh Joplin did a fine job of describing and pointing the finer points of morel hunting. Steve has hunted morels for over 35 years and I have hunted for over 20, but we both learned from Josh. Again, thank you for a wonderful day and thank Josh for us. Have you considered a guided hunt for more experienced hunters? Just a thought. Sincerely, ~Steve and Sharon
Saturday, May 2
Went out Saturday 5-2-09 north of Towanda on Mclean county, found 10- yellows in two different groups no big patches this season, watched some wild turkeys strutting around, yelping, pretty cool. Cleaned up lots of trash and cans come on folks don't litter in the woods. ~Jeff
Saturday, May 2
Some of the mushrooms found at Morel University on Saturday, May 2, 2009 ~Tom @ Morel Mania

Friday, May 1
Greetings from Henry County Illinois. Found about 100 mushrooms today. range in size from 2 inches all the way to about 7" Conditions are right. Mushrooms were all very good looking. Just wish we get some more ground heat in the next few days. good luck and happy hunting. ~Amy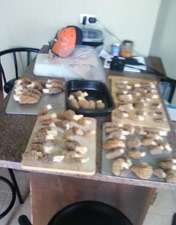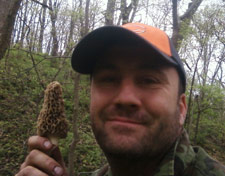 Thursday, April 30
I thought about counting all these but decided not too. Just a couple of hours April 30th with the kids after supper. Should have skipped supper and went out earlier because there are alotmore out there. ~Stan, Kris and kids

Thursday, April 30
Last weekend found a few but was still cool. Now they are popping up in McLean County, IL. Attached a couple of pics.~DT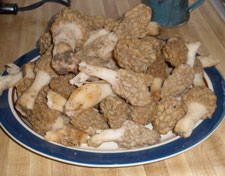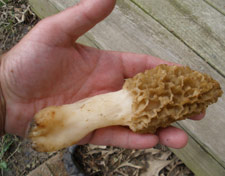 Thursday, April 30
First find for us near Rockford, IL was April 29. My find was just under a pound, about 80 shrooms. My friend found over 200 shrooms (didn't get those weighed). Hurray! Let the fun continue...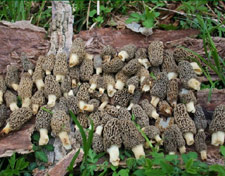 Thursday, April 30
Hey all went out last 2 days the 28th and 29th public property in mclean co ill got 20 yesterday and a wet butt found alot of stumps where others had picked went out today got another 15 in about a hour came home and wife went to bar walked out behind it and found 30 (i should have gone to the bar) happy hunting all ~Rich
Wednesday, April 29
Went out after work on Wednesday 4-29-09 found 14- grays north of Towanda in McLean county, need some sunny days, yellows should be showing up soon. ~Jeff
Wednesday, April 29
Found a handfull of small greys in Lee County last evening. A few more days and they should really start poppin around here! ~Joe
Wednesday, April 29
Yellow morels are starting to pop up in Knox County, IL. We found them in our usual spots, but some new areas too. There is plenty of ground moisture, we just need a little more ground heat to shoot up those big ones. ~Norman
Wednesday, April 29
Went out for 2 hours today in Fairview Heights, IL. and got 10 yellows. Four were somewhat fresh but the rest were getting old but still edible. Got 16 large yellows yesterday 3 were over 8 inches high and 2 of them were over 3 inches in diameter. Looks like the season's winding down here. This was my third worst year ever with a total of 565 mushrooms. We should have over 90 people here for our 42nd annual mushroom fry on Sunday and we'll have to ration a bit but everybody should get a good serving or two. Let's hope for a good season next year. ~Larry
Wednesday, April 29
Found the ones on the plate on 4-27-09 right before a downpour of rain, went back the next day and found the 35 on tray near Kankakee River. ~Jim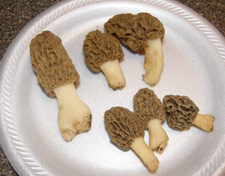 Wednesday, April 29
CODY AGAIN THIS IS 2ND FIND THIS YEAR ~Cody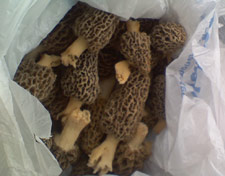 Wednesday, April 29
Tom my name is Cody and i live in moultrie county illinois and me and my boys love to hunt mushrooms here is a picture of my youngest with our 1st patch so far. I refer to this site quite often to keep track of the shrooms movin north toward are direction and they are finally here. ~Cody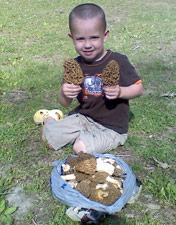 Wednesday, April 29
42 MIXED BLACK GREY AND NEW YELLOWS 1.5 HRS
Tuesday, April 28
Hey all, Monday the 27th went out today in Mclean co ill finally got some big ones got 55 in the rain public property went out the friday before only found one man they were good ~Happy hunting all Rich
Monday, April 27
Hey all!! Had to show you a snap shot of my pleasant view in McDonough County, IL Happy season! ~Mr. Kraft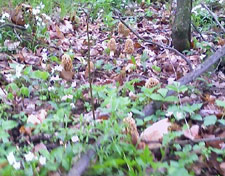 Monday, April 27
Found 3- small greys Saturday morning north of Towanda, No good on Sunday. ~Jeff
Monday, April 27
I found two small greys yesturday (size of a dime). Went out this afternoon and found about 60, mostly greys with a few larger yellows. Greys were in a heavily wooded flat area surrounded by blooming trilliums. Yellows were on East facing slope. Could use a few days of sun and a little less rain. Warren County IL ~Tim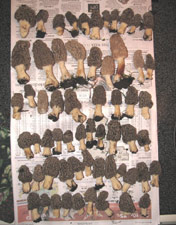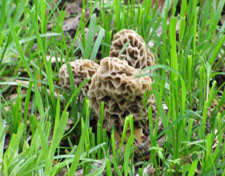 Monday, April 27
Found about 18 good sized yellows in my backyard in East Peoria, IL. This was the first half. The largest was a good 4 inches tall. They were in very deep grass areas near my walnut trees. Strange! ~Michelle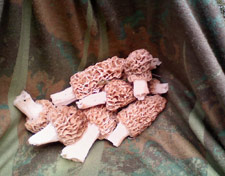 Saturday, April 25
FOUND 30 SMALL GREYS, SOUTH FACING SLOPE IN PUTNAM COUNTY. ~Linda
Saturday, April 25
Just starting to get Morels here in Cook County, found these grays Saturday the 25th. We found many that were too small to pick yet and some were still white and just beginning to poke out of the ground. Still early for us but in about a week they will be all over, should be a great crop this year! ~Adam B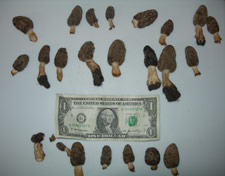 Saturday, April 25
Still no mushrooms in Oglesby, Il ~Josh
Thursday, April 23
C alhoun county illinois morel 14 1/2 inches and almost 1 pound ~Brenda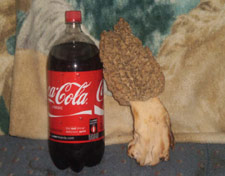 Thursday, April 23
Found in Northern Whiteside County Thursday, April 23, '09 in a little "micro climate" area, southeast cut that gets no wind. Picked 63, left better than 50 under 1". They will be much bigger in a couple of days. Did not expect to find them but quite happy we did. ~Bill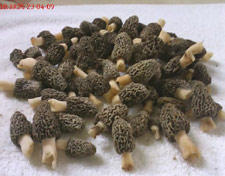 Thursday, April 23
Hey tom found 4 small greys in the quad citys area all in moss on south facing hillsides couple more days till good results. ~Shawn
Thursday, April 23
Edwards IL found a few on southern facing hills. ~Richard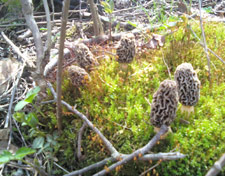 Thursday, April 23
Been looking for 3 days in the woods. I walked outside my door, and found these on the edge of my driveway....what a trip !! It's on in southern LaSalle, and northern Livingston counties in Illinois. ~John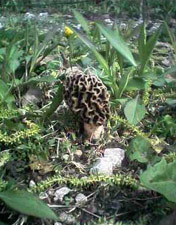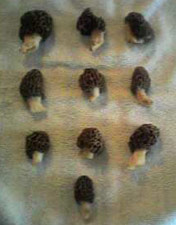 Thursday, April 23
I grew up in Illinois and hunted morels all my life, now I live in Louisiana where they just don't grow. Took my 10 year-old daughter up to visit family for Easter and she found this really awesome little morel bouquet, there were 10 in it, check it out. This is in Jersey county Illinois on April 17th, they are finding them like crazy now but we had to come back for school. ~Tammy

Thursday, April 23
Yellows up top,,,,grays down low,,,,,found 75 on 4-21 in springfield ~Carol
Wednesday, April 22
Found 34 nice sized yellow and gray ones in my yard tonight...under and near an elm that always produces some. But never this many, this early, and this big. Ate them before I found your site...no photos. ~Linda
Wednesday, April 22
Found 6 small grays in knox county on tuesday. Looks like it will be a good year. ~Cheri

Tuesday, April 21
Chillicothe illinois, found 15 small grays the 20th and 21st of april and by the end of this week its gonna be on happy hunting ~Jim T.
Tuesday, April 21
Peoria County, Illinois (Near Dunlap) These were found in a "very early" spot just today. Should be a great season this year. ~Paul

Tuesday, April 21
We have been finding larger grays and 3 small yellows in Ottawa, Illinois. The reason we find them here so early is because our spots are southern exposure and very sandy soil. In fact we find them in and around a sand mine. It is very shallow soil meaning it heats up quicker. We always find them at least a week before everyone else. ~Morgan
Monday, April 20
Hi! I found 40 grey morels in Fulton County, Il today! They ranged in size from 1"-3". This was the 3rd year in a row I found my first mushrooms on 4/20!! ~ Thanks, Lisa
Monday, April 20
Found 20 grey's in dewitt county today. Every one in clumps of moss.Cant wait to check my early spot in mclean county Thursday or friday. Fetch the peanut oil and fryin' magic-It's on! ~Darren
Monday, April 20
Sightings report - Southern Illinois <http://www.bnd.com/homepage/story/735954.html>
Monday, April 20
Went out Friday after work for about an hour and an half, did not find any, and looks like later in the week we are going to have 50 degree night and 70-75 during the day with sunshine that should get them going.~Jeff
Sunday, April 19
It's not Halloween but the Monsters are out in Randolph County.....~Rick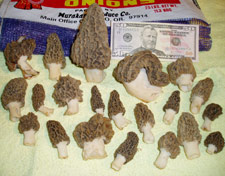 Sunday, April 19
Hey all, Sunday April 19 just got back from shrooming first time out this year i found 23 small greys in Mclean co looks like a good year warm weather end of next week should bring more happy hunting ~Rich
Sunday, April 19
Found 39 small to medium grays today, Sunday the 19th in central Marshall County. It is a shame the contest got cancelled, hope someone else doesn't decide to form one that takes its place and Henry loses the tourism dollars! ~Jargo
Response from Tom:
Hi Jargo. Thanks for the report. I found my first one yesterday. I set my rain gauge out at 9:00 this morning. By 8:00 p.m. we've received 2.25" of the wet stuff. It's definitely going to be a good year. Actually, there is a new festival (auction and craft show, but no contest) being planned in Wyoming, IL. There's a story about it in today's <Peoria Journal Star> Actually a new festival is a good thing. If it can't be in Marshall or Putnam Counties, Stark county isn't that far away. ~Tom Nauman
Sunday, April 19
I've hunted morels for quite some time now. I've always hunted Southern LaSalle County and Northern Livingston County. I find it hard to believe that my VERY RELIABLE early spots aren't producing, if they have been found in Central LaSalle County. Be wary of reports from Central LaSalle County at this time. ~John
Saturday, April 18
Found 22 a few and more are on the way. Springfield Area in Central Illinois. Very fresh and just starting here. Love your sight and hope everyone sends there results in. ~Tom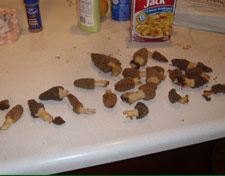 Saturday, April 18
Central Illinois report by Tom Nauman:
Vicky and I took a walk in the woods this afternoon. The season has begun in Putnam County! We found one tiny gray morel about an inch tall. If you read my report from last year, I was actually sitting on the same log. And, this morel had to be within a foot of where I found the first one last year! It was Deja Vu all over again. I'm two days ahead of my prediction. Rains are predicted through Monday locally. It's going to be a good year. ~Tom @ Morelmania
Friday, April 17
I found these three today April 17th in Madison county Illinois. ~ Nicholas W.

Friday, April 17
I found about 35 small and medium sized greys in central lasalle county today ~Morgan
Friday, April 17
Hey Tom, Love your site ! I check it every Spring. Just wanted to let you know about an experience I had with mulch morels in Piatt County, Illinois. There is a company that does tree trimming for the local power company and will give you the mulch from the chipping they do. All you have to do is ask for it. Our neighbor used to grow Christmas trees and used this mulch to keep the grass and weeds down instead of spraying around them. About 5 years after they started doing this, morels started popping up everywhere. They finally stopped growing even tho they continued to mulch, so there must have been something in those first few loads that lead to the morel growth ??? We never could figure it out, but we certainly didn't complain. Just sorry it stopped. Just thought you'd like to know. Keep up the good work ! ~Mike
Response from Tom @ Morelmania
Hi Mike, thanks for sharing. My guess is the mulch had some elm trimmings in it. ~Tom
Friday, April 17
Grafton,Il area found 10 big greys, 35 small greys, 2 small yellows, 2 blacks and 59 half free. ~Linda
Friday, April 17
Galesburg, IL. Judy and i just found our first small gray mushrooms behind our garage yesterday...may your/our hunting season be a bag filling one...more later...~Jim S.
Thursday, April 16
Found my first nice batch in Madison county Illinois.April 16th. ~L Stone

Thursday, April 16
My husband and I found around 150 morels in clay county IL (2 different spots) on April 13th. They were greys, whites, and peckerheads. All were between 2 to 5 inches. Definately a good season, happy hunting all!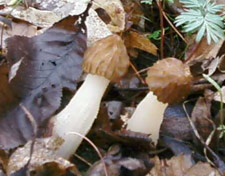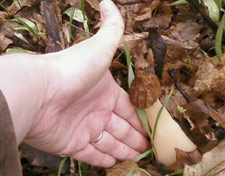 Wednesday, April 15
Found about 15 morels in Chamaign County. ~Darla
Wednesday, April 15
Picked 5 in crawlspace while working on the house. Left 1 to see if it will grow. Still early in central IL. ~Betty
Wednesday, April 15
Went out on my lunch hour today..... 4/15/2009 at 1pm in Adams Co. IL. out skirts of Quincy IL. and found a dozen little yellows. Thought I would find Grey's not yellows. Going to be a great season. Happy hunting ~Wayne!!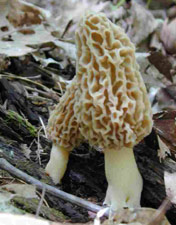 Tuesday, April 14
Found 74 blacks and 10 greys (04/14/09) in hamilton county Illinois on a 2 hour hunt. All were found in a creek bottom by old growth stumps. Species unknown. ~Greg.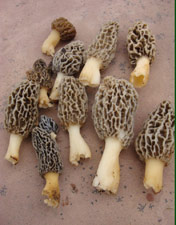 Monday, April 13
Here's a grey and a yellow I found in Fairview Heights, IL. yesterday, the 13th of April. Got 102 all together but they are on the South and Southeastern slopes only. ~Larry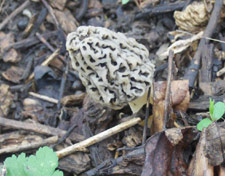 Monday, April 13
My boy Matt has been anxious all year waiting for the mushrooms to come alive. His wait has finally paid off he found 10 to 12 little grays on Thursday, April 9th. And, we are waiting for the big grays to pop. This year should be an excellent year for the mushrooms. Happy shrooming! ~Mike
Sunday, April 12
Found 163 in Hamilton County 4-12-09 on a 3 hour hunt......Thnx, ~Greg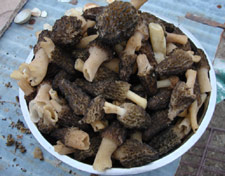 Sunday, April 12
April 12 found 12 blacks around Grafton Il ~Linda
Saturday, April 11
April 11 found 38 nice blacks around Grafton, Il ~Linda
Saturday, April 11
My family and I found 409 morels this Easter weekend near Fairview Heights, Ill. Attached are some photos! ~Nann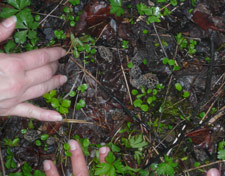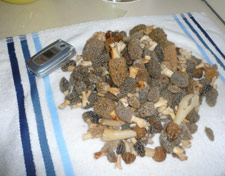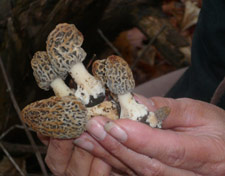 Saturday, April 11
Found 6 greys in decatur at early spot ~Chris
Wednesday, April 8
1st sighting in Northern IL in 2009??? I found these working around the school greenhouse 4/8/09, XXXXXX High School, Kendall County. They were on the southside along the concrete foundation. 6 total were found. ~Joe S., Ag Teacher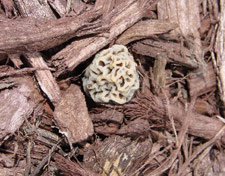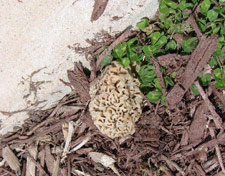 Reponse from Tom @ Morelmania.com
WOW Joe! I believe you do have the first sighting for Northern Illinois this year. You have something very rare for Illinois also. I believe these are "landscape morels" or "mulch morels", which means they grew from landscaping mulch. This phenomenon is much more common on the West Coast. I've never heard of it in Illinois. The mulch in your pictures is my clue. And, I'll bet there isn't a dead elm, ash, poplar, or cottonwood tree anywhere near the morels. Your morels are the genus m. esculenta.
The landscape morels of the West Coast are a different genus, but I'm not sure which. I've deleted your school and town name because there are those among us "Maniacs" that would show up and carry your mulch away in and transplant it to our own property! The only problem with landscape morels is that by the time they appear, the sacks the mulch was purchased in have been discarded and no one can remember the brand. Do you? Congratulations and thanks for sharing. ~Tom Nauman
Response from Amy
I haven't even had an opportunity to get out yet but was wondering if Joe S. from Kendall Co. remembered the brand of mulch used? Knowing that could really boost local economies with mulch sales! ~Amy
Monday, April 6
Enjoy the website. I found 58 greys under one tree yesterday. 4 miles southeast of Mascoutah, Il ~John
Sunday, April 5
Found in St. Clair County, IL, April 5, 2009,...~Rick

Sunday, April 5
Here's a nice group of small grays found in Fairview Heights, IL. on April 5th. I found 80 morels under 7 different trees but they all had Southern exposure. This cold snap will put the kaybosh on them for a week but they should come back strong if we get a warm-up. ~Larry

Sunday, April 5
Found 210 nice ones on 4-5-09 in Hamilton county, Illinois.....THNX, ~Greg and Jeff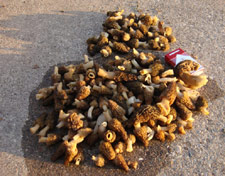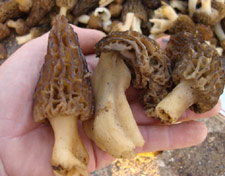 Saturday, April 4
April 4, 2008, St. Clair County, Illinois, Found six yellows about 11/2 to 2 inches tall in a sunny spot with low grass at edge of scrub brush that yielded early last year. From the looks of them I suspect they popped April 1, still in good shape. I store them dry anyway so a little natural dehydration is OK by me. This is extremely early even for this spot. My other usual haunts in St. Clair and Randolph counties are still saving the fabulous fungus of fun and fortune for the future...~Rick
Saturday, April 4
More shrooms from hamilton county. We found 125 in about two hours....~Greg and Jeff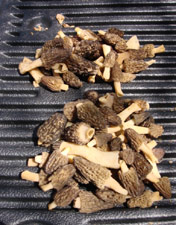 Friday, April 3
I found 14 morels in the past to days April 1 and the 3rd ~Justin
Thursday, April 2
Found 36 in southcentral hamilton county 04-02-09. There getting bigger!!! ~Greg and Jeff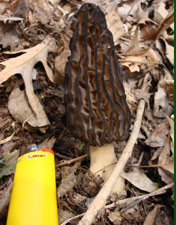 Thursday, April 2
There are 7 morel mushrooms in that picture. See if you can find them. I'll give you a hint; most are small. Now, put your mouse over the picutre. They're at the ends of the red lines. These are the first in Fairview Heights, IL. as far as I know and they are tiny. ~Larry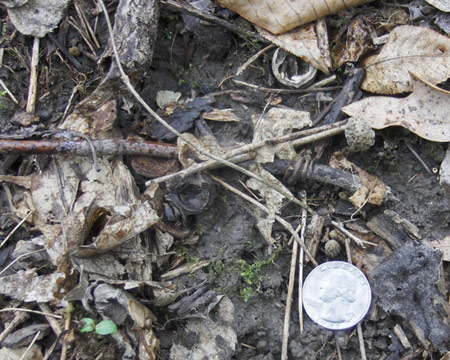 Thursday, April 2
Found about 50 small greys on Monday, March 30th. Alton, IL- ~Mike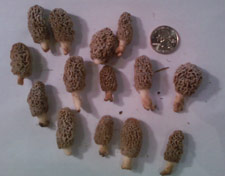 Tuesday, March 31
Mike & I found 7 black morels under a pecan tree in Northern Pope County on March 30th ~Willie
Sunday, March 29
Five Small grays found near Greenville Il. ~Karyn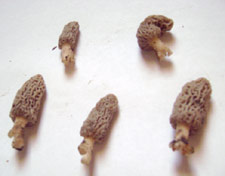 Friday, March 27
Found a tiny grey in Jackson Co, Il ~Joe

Thursday, March 26
Found today in Perry County, IL ~Gretchen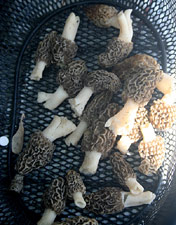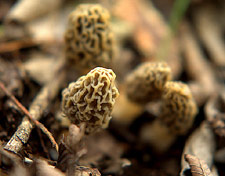 Wednesday, March 25
Found these 3/25/09 in southern saline county, Illinois... Gonna be a great season!!! ~Thnx, Greg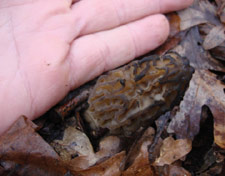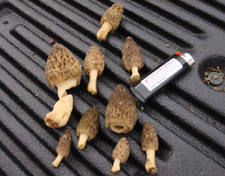 Wednesday, March 25
Just wanted to let everyone in southeastern IL. that mushrooms are up got look but we found nine wed morn. near shawnee forest.. ~Jeff
Monday, March 23
Found this in Franklin county in Southern Illinois today 3/23/09 ~Heather

Indiana
Friday, May 8
My husband and I have been hunting the last 10 days and we are slaying them , it's such a mysterious year we are finding blacks, grays and yellows , must be the temperature differences! ~John and Rose H.
Friday, May 1
Ben Gaurin Northwest Indiana found these selective morels 45 yds off the road in a secret location. There about 16 morels in total that weigh anywhere from 2-2.5 pounds.. i found these morels within 5 minutes of gettin out of my truck.. and this was all after a really nice terentual rain storm about two days ago and yesterday was nice day.. so today i decided im goin morel hunting and what i came back with even suprised me. ~Jeremy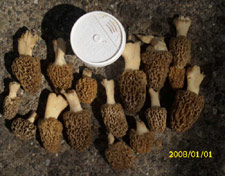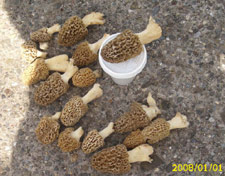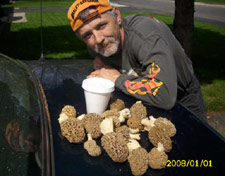 Friday, May 1
Didn't find many but what I did find were nice. Had to share with a friend but here is what was left. ~Bill|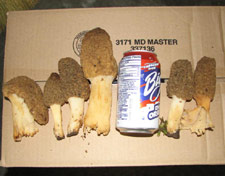 Tuesday, April 28
Found 114 total. Yellows and grays in Galveston, Indiana ~Ron

Monday, April 27
Southern Indiana report from Tom Nauman. I took a few days off and traveled to Brown County on 4/22 through 4/24. I met with Chris Matherly of morelmushroom hunting.com; Alex "The Mad Russian" Babich; and Dave "The Mad Scientist" Warner. We checked Brown County State Park, part of the Hoosier National Forest, Yellowwood, Morgan-Monroe, Racoon Lake, Turkey Run, and some private land owned by friends of Chris. All told, we probably walked about 15 miles and found about 2 pounds. A mixture of grays, half-frees, a few blacks, and a couple of yellows. Not much success for four experienced hunters. We tried to get off the beaten path, away from the other hunters as much as possible. The other hunters we did meet were having about the same success as we had or worse. The weather pattern of cold-hot-cold-wet-and then hot again had a lot to do with it. I think the mushrooms were confused as to when they were supposed to emerge! We had a great time even with the lack of mushrooms. If you ever pass through Story on Rt. 135, the food at the Story Inn is superb and the service fantastic. Would we do it again? We've already started planning for next year. We then attended the Mansfield Mushroom Festival on Saturday and Sunday. Saturday morning started with over 100 coolers of morels turned in to sell at the auction. I figure there was an average of 8 pounds per cooler - approximately 800 pounds of morels! Prices at the auction probably averaged $40 per pound which is probably less than half of what they sold for last year. With the struggling economy, there were more pickers (sellers) and less buyers. Congrats to our good friend, Sue Alger of Terre Haute, who won the contest on Sunday by finding about 2 pounds. ~Tom Nauman
Saturday, April 25
My daughter in law found 2 yellows growing beside a parking lot in down town Syracuse yesterday (24th) the caps were about 4". She didn't know what they were thought that they looked neat, and picked them. ~James
Friday, April 24
Hello my name is jon .I have been finding morels for three weeks. here is one picture. I have been hunting them for almost 40 years. ~Jon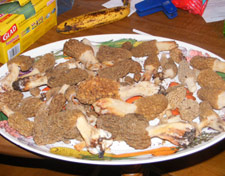 Thursday, April 23
I keep reading about people finding morels growing in their yard..Here is something I have done for about 20 years:

After I bring the morels home, I put them in a pot of water (no salt). Put the pot in the refrigerator. Leave them there for about 3 hours. Put a plate over the morels and I walk into my back yard and pour the water onto my back yard. I do this 3, or 4 times. After I remove the morels for "processing" there are a lot of small pieces of morels in the bottom of the pot. These get dumped on my yard, as well. For about 15 years I walk around my yard and pick morels. Sometimes it is only a few. The most was 25 big yellow morels, in 2004. They are never in the same place. ~Roy
Tuesday, April 21
Found about 50 nice sized gray morels in western Jackson county. They had been up a few days. The cold weather seems to have slowed them down a bit. ~Bill
Monday, April 20
We found these mushrooms along an old set of railroad tracks south of cauga indiana....they were in a area that had been flooded then has recently been dried. ~Kevin

Saturday, April 18
Found in north central Indiana.. need more sunlight and the hunt is on. These were pretty tasty by the way. I left the 2 little ones for later. ~Jason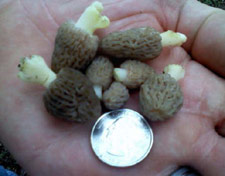 Sunday, April 5
Just wanted to pass this on. I found about 40 blacks this weekend in Jackson and Scott counties. Starting out to be a good year....~Bill
Thursday, April 2
Found 12 black morels in Scott county yesterday 4/2/09. They are starting. ~Bill
Sunday, March 22
Just wanted to report that I found two small Black Morels near my Home in Williams Indiana this morning. Zip here is 47470. They were about two inches tall.
I am sending a photo with the latest paper I had to verify the date. It is from A week ago Friday's Indianapollis Star 13 March, 09. Sorry but that is the latest paper I had to use.
Thanks and good luck hunting... ~Jeff

Iowa
Tueday, May 19
fter many trips early looking for greys and blacks, gave up and waited for the next rain. Found this batch hidden in a new spot, some already getting a bit dry. Left about a Walmart sack for my 8 year-old to find, all similar sized. Not the biggest I've found, but good ones. ~Rick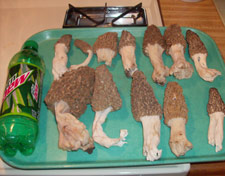 Monday, May 11
75 morels found Sat. 5/09 - north slope of wooded area along Des Moines river valley in Pocahontas County - all small greys with the exception of one 5" yellow; with temps in the 70's this week and plenty of moisture, this weekend ought to prime time in NW Iowa. ~Steve
Sunday, May 10
We found these in NW Iowa on Mother's Day 2009. As you can see, it was a whole family effort! ~Rachel

Tuesday, May 5
Found this mess of 3lbs in Guthrie County Iowa today! Hard work but most of these were all in one patch! Have a great Day! ~ Sheryl

Monday, May 4
Found these morels today in southeast Iowa (Johnson County) Still seems a bit cold in the timber. Will try for more tomorrow! ~J.C.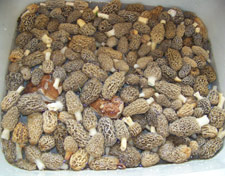 Wednesday, April 29
WE FOUND 150 GREYS FROM 1/2 INCH TO 3 1/2 INCHES ON 4/28/09. THEY WERE UNDER ELMS AND COTTONWOODS MAINLY UP ON TOP OF HILLS IN SOUTHCENTRAL IOWA FACING SOUTH AND EAST WHERE SUN GOT TO THEM. ~JANE & DAVE ROLAND IOWA
Tuesday, April 28
April 28--near council bluffs iowa, found 30 small to medium grays. ~Annette and Marty
Tuesday, April 28
Amazingly enough I found 10 "white" morels near the top of a southeast facing slope last night, 27-Apr-09 south east of Fort Dodge, IA. Nothing on the south slope I began looking on. This was a very isolated spot where they were at (about a 20 foot area). The ground isn't the black soil of Iowa but a clay type. The spot felt warmer than the surrounding woods (sheltered from the wind) as it was in the low 40s while I was out. This was a surprising find since the vegetation in the woods is very low and the earlier wild flowers are just beginning to bloom (ground isn't warm enough for morels yet). The 2.5" of rain we had this weekend will certainly help. Maybe more shrooms will be out by this weekend. ~Hoop
Monday, April 27
I found 48 gray morels yesterday (Sun., Apr. 26) and 24 more of the same today. ~Chris
Monday, April 27
Found 7 tiny grays in nothern Benton county Iowa. ~Kuhns
Sunday, April 26
Found 78 inch n a half size grays in wapello co. iowa today ~Dave
Friday, April 24
1 small grey in Warren County IA. ~David
Thursday, April 23
Looking for crest big moral mushroom in council bluffs, IA. ~Mike
Wednesday, April 22
Found a bunch of little grays the size of my thumbnail today-April 22-Coralville, Iowa Should have eating sized ones by early next week. ~Morel Meister.
Friday, April 17
Found Friday April 17th in Wapello Cty. Ottumwa, Iowa. It is suppose to rain today and tomorrow and then back warm and sunny...hope to find more. Happy Hunting ~Cheryl S.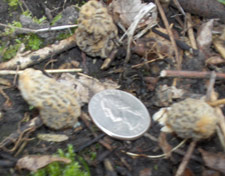 Kansas
Tuesday, April 28
SE Kansas. Weather is as unusual in SE Kansas as hunting Morels. Todays findings were mixed fresh grays and yellows, small and large. 30 total. ~Kent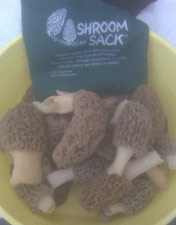 Friday, April 24
Found a dozen in elm grove…3-5 inches…perfect moisture and air temp. this year! ~Mark
Friday, April 24
They are still visiting the area. SE Kansas, pic attached 04242009. ~Kent

Tuesday, April 21
SEK, Montgomery Co. found 16 mushrooms plus this dude, Dewey found this one and it is the biggest mushroom I have ever seen. Hope this is not the tail end of the season. ~JJ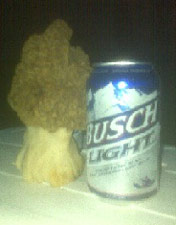 Sunday, April 19
5 miles East of Leon. Lots of Morels being found beginning 15APR09. ~Casey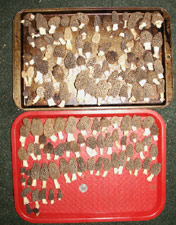 Tuesday, April 14
SE Kansas 4-14-09 found 17 morels after work on Tues. and on 4-15-09 found 11 on my lunch hour. I rolled my four wheeler on Tues.underneath a bridge in SE Kansas, who knew mushroom hunting was so much work. ~JJ
Tuesday, April 14
Findings SE Kansas Tuesday, April 14. 30 morels after work. ~Kent
Monday, April 13
4/13/2009 SE Kansas findings. Picture attached is just short of a six-pack on the side of a small creek bank, actually out of the picture a dozen patch. 29 after work. ~Kent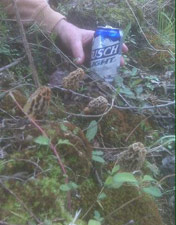 Saturday, April 11
23 nice ones today, 041109 SE Kansas Weather still not treating us well. ~Kent
Friday, April 10
SE Kansas. 36 Morels and lots of walking. ~Kent
Thursday, April 9
Heavy rain, lightening and small hail stopped our hunt just a few minutes out of the truck. Soaking wet we called it a night. Last one to the truck returned with a "Shroom Sack" containing 15 nice Morels. More Morels will be there tomorrow and so will we. ~Kent
Tuesday, April 7
Seven today after work. Kansas weather is not treating us very well. ~Kent
Monday, April 6
Cold weather but we are finding them. 25 after work today. ~Kent
Sunday, April 5
April 5, 2009 a landowner called one hour before dark reporting a sighting for us to check. We picked twenty as dark set in. Will be back tomorrow. ~Kent
Saturday, April 4
18 small ones yesterday, 04042009 made a good pan fry. 63 nice ones today 04052009. Cold weather in SE Kansas is not helping... ~Kent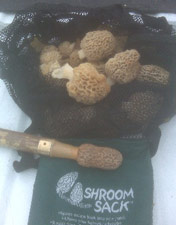 Thursday, April 2
E Kansas -- Mushroom reports have been heard all around us for a week. The weather is not helping us out much in SE Kansas. Twelve today after work with ground temp 6 inches deep in upper 40's air temp was 39, kinda unusual. Have a good season everyone! ~Kent

Sunday, March 22
One confirmed report of a small gray Morel all by itself in SE Kansas Sunday March 22, 2009. Below may set SE Kansas Morels back some. ... ~Kent
Kentucky
Thursday, April 16
I know the first two pics are of a false morel and are toxic. What about the ones pictured with the pencil? What are they and are they edible? ~Daniel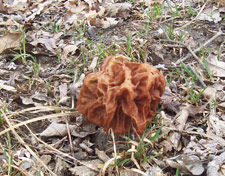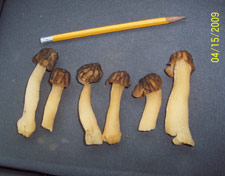 Response from Tom:
Hi Daniel, you're correct on the first two. They are of the Gyromitra family. While some people are able to consume them, they are generally considered toxic. The third picture contains Morchella semilibera. They are a true edible morel. Common names are half-free morel, peckerhead, spear points, witch's hat, and others. There are pictures of other ones with the Clay county, IL report on April 16. Check Michael Kuo's info on them at <http://www.mushroomexpert.com/morchella_half-free.html> The only similar non-morel is the Verpa bohemica which are also known as wrinkle caps, skirt caps, or just plain caps. But you probably won't find them in Kentucky. The half-free morel is hollow inside the stem while the verpa has a cottony fiber inside the stem. ~Tom Nauman
Thursday, April 16
Here are some black morels (let me know if I'm wrong on this) that I found yesterday. I took them straight home, sautéed them in garlic butter and tasted fresh morels for the first time. WOW! I'm hooked for life. Since I'm letting the ones grow in my yard, I am finding that they do grow larger if left to do just that. Once I pick them, I will send a picture of my home grown greys! These were found under a stressed, mature ash tree.~Daniel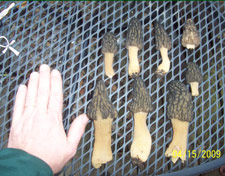 Saturday, April 11
My name is Dan and I am a first time morel hunter. I have searched the net to find out when, where, temps., etc. to find them. At the end of last season, I had a client just moved to Louisville, Kentucky from Ohio who introduced me to the fabulous taste of the morels! I began searching the forested and fence lines of multiple farms and properties that I typically do whitetail deer shed hunting on for the shrooms to no avail. I am a landscape designer and have some nice hosta gardens at my home. While strolling around my garden I looked down next to a rock border and there sat this morel (tell me if I'm wrong, but I think it's a morel). After searching a bit longer I found 6 more! I found them all on Saturday, April 11 under a large pin oak. ~Dan

Saturday, April 11
These Mushrooms were found on April 11,2009 in Eastern kentucky ~Justin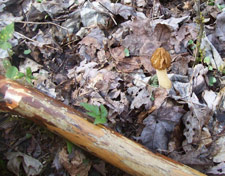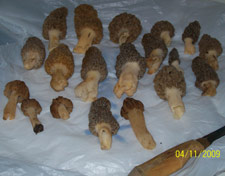 Saturday, April 11
Hello fellow mushroom lovers.

I am from the the hills of old Kentucky, where the shroons grow the best, & taste better to. All jokes aside, I have enjoyed hunting mushrooms ever since I were a little boy on these Ky. Mountains. This is the best year that I have had for the black ones to date!!
My little girl & I went Saturday, 4-11-09, & we counted each & every one, we found 355 of the black ones. They weighed in at 4.5 lbs. My Pap & I went to another secret spot on Sunday, & raked in another huge stack, ( I lost count.)
This is a very special time of year for myself, & there is nothing else that I had rather do, than to get out in those woods & look for those goodies.
I think that I will go in the kitchen, & fry me up some right now. ~Nathan
Maryland
Sunday, April 5
Happy Easter! I found about a dozen morels on the 5th of april, and another 2 dozen on the 10th. We had a good rain yesterday and I'm heading out to the woods! We live in the north east corner of MD... affectionately reffered to as the "armpit of the Chesapeake" Happy Hunting ~Alena
Massachusetts
Friday, May 8
Found morels today 5.08.09-about 25 big ones-more in the next few days-cambridge mass ~Keith
Tuesday, April 28
Found one medium size grey up here in Pittsfield Massachussetts ~George
Michigan
Sunday, May 24
New sighting from Petoskey, Mi. Found these on Friday the 22nd, east of Boyne Falls, Mi. Only out a couple minutes near my nephews home. About twice what my wife found the same day - but she found her's for sale at the Toski-Sands store for aobut $12.50. ~Larry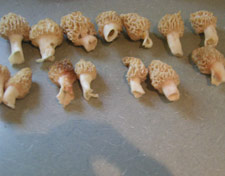 Thursday, May 21
This is my Third trip out into the woods near Petoskey, north of Boyne City's Festival. Picked these in about an hour, over near Harbor Springs, where I grew up. The 2nd time out out, on the 20th, got a lot more, but already ate them. The first trip was over here, East of Petoskey, and got a good bunch about on the 18th, but also ate them. The last group, on the 21st, got the 5 inch black morel pictured. ~Larry M, Petoskey, Michigan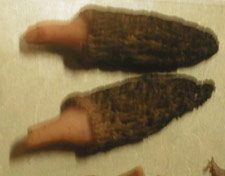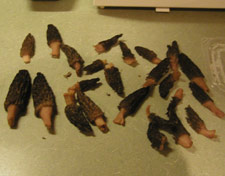 Tuesday, May 19
We spent the weekend, May 15 through 17, at the Boyne City Morel Festival. While I didn't do any hunting myself, we saw and heard reports of all kinds of morels being found. There were still a few large black morels being found. The small grays/whites, along with some larger ones and some small yellows reported also. The weather on Saturday was less than perfect with some sprinkles in the morning and strong winds all day. There was a freeze warning for Saturday night and even snow reported near Wolverine. Rain was predicted for Monday through Thursday. Temperature is supposed to reach 81 on Wednesday, 5/20/09. The morels should be plentiful on the weekend. We heard that the roads around Chandler Hill resembled a Walmart parking lot. So, you may have to go "deep woods" to get away from the competition. It was another great festival put on by the Boyne City committee. 2010 will be their 50th year and they plan on going all-out to celebrate it. The website is <http://www.morelfest.com/> ~Tom Nauman
Sunday, May 10
St. Clair, Michigan Yesterday we picked what had come up in our yard. Counts are way down from past years. Went to one of my spots that has produced well in the past years, and only found 4, and they were past prime. Funny year for shrooms. ~Greg
Saturday, May 9
At last Tom, the black morel has re established growth in the upper peninsula of Michigan, This picture was taken yesterday in North Menominee county. ~Gratefully, Sara the MorelQueen of Upper Michigan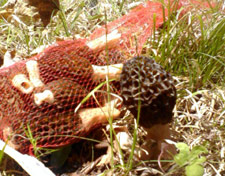 Wednesday, May 6
Found a few blacks, of assorted varieties, south of Flint. They are late for this area and scarce compared to other years. Will try again this weekend. ~Just
Monday, May 4
I found 23 Black Morels this weekend in Cadillac Michigan. Not very many, but a good start. With temperatures in the 70's this week I'm sure there will be more. ~Lori
Monday, May 4
Found four while fishing in williamston, about three inches tall. At rose lake they were creams, next too a pine tree. Sorry no pics. ~ Code-E
Monday, May 4
7 creams an inch tall under small thickets of trees, on a hill side.Real dry hasn't rained for days. In haslett, michigan. Again sorry but there aren't any photo's. Good luck! ~Cody
Monday, May 4
Last trip out and picked a few starting to dry out. ~Cody
Sunday, May 3
Went out hiking with a friend in the Pinckney Rec Area and found 113 early season morels, my favorite kind, with the largest 3 1/2". ~Mark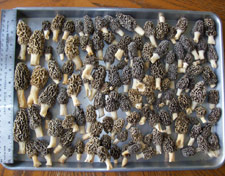 Thursday, April 30
Found 89 in Berrien County, MI yesterday, 4/29. Found 79 today. picture of 89 attached, medium to small but delicious. ~John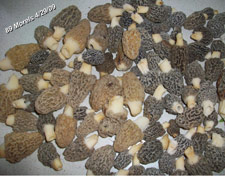 Tuesday, April 28
My son found 24 bite size shrooms in branch co michigan 04/24/09, lets hope for a great season ~Holmeshollowgirl
Tuesday, April 28
They where in the same place we found them the last couple of years. It's real wet and rained all day long, only about a inch tall though. Good luck. Sorry no photos. ~Cody
Friday, April 17
Hi Tom , Andy T. hear , just wanted to tell ya that the southern Michigan Mushroom man has made his first find of the year today 4-17-09, one little black in Hillsdale county, and i can send pictures now so look out this year !!!! to be continued . ;-) ~Andy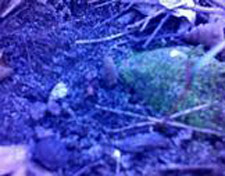 Friday, April 17
April 17 in Ionia, found 3 white morels, less than a inch tall, on the same hill that I found them early last year. It's very dry. ~Dan (The Mushroom Guru)
Tuesday, March 31
http://www.youtube.com/watch?v=a7LZouqkIkA
Minnesota
Friday, May 22
May15 found 238 shrooms with a buddy, lots of goldens. May 16 found 71 all goldens, best find ever. May 17 Only found 47 mixed batch. Need rain, keeps missing us. My total so far this year is 927 I'm having the best year yet. Sent a e-mail the other day don't know if you got it! ~Mushroomhead Bill , Hastings Mn.
Tuesday, May 19
May 15 My buddy Ron & I found 238 shrooms today, lots of goldens. May 16 went by myself, found 71 big goldens. Probably the best find ever. May 17 only found 47 today. Really need some rain it's been going around us. My Buddy Al ( the mushroom man) says it's prime time. ~Mushroomhead Bill, Hastings Mn.
Saturday, May 16
We found a couple dozen+ straight West of the Twin Cities in Meeker and Wright County. Need some rain and some warmer days and nights. They might be late this year, considering the Lilacs are in full bloom, but with some warm/wet, should still be a good year! ~Jim and Doug, Cokato, MN
Thursday, May 14
Blue Earth Co.~ Found 30 on mon. the 11th. A dozen of them were 4"-5" beautiful blonds found all together. ~Awesome! Sarah&Mike
Thursday, May 14
In the last week I've found over 600 shrooms, with a little help.174 & 199 on separate days have been the big numbers, mostly greys , but have found some decent goldens also. Need rain it just keeps missing us, but they are out there. Will hit it hard this weekend in a new area. ~Mushroomhead Bill from Hastings, MN
Sunday, May 10
7 nice blondes in Blue Earth County - Southern MN this morning ~Mike
Friday, May 8
I found 39 shrooms May 7, mostly greys & one batch of yellows. Need some rain, they're just starting to pop up near Hastings. Taking a buddy tomorrow to show him how it's done. ~Gary
Friday, May 8
Tolerating this harsh winter finally feels worth it! Only 5 today, 3 greys 2 blondes, but it's only the beginning! If the weather keeps cooperating I think we're in for an awesome season. ~Sarah & Mike
Tuesday, May 5
First one for the 2009 season Unusual warmth and a nice mix of showers should provide the makings of a great year…..time will tell ~Kevin

Missouri
Saturday, April 18
Found 25 HUGE yellows today in St. Louis County. I want to ring up all my friends and brag about it, but then I'd have to share. J/K ~Connie
Friday, April 17
Found six here in da 'hood on Friday. We got cut to 32 hours so trying to make the best of it close to home. These were almost within walkin' distance, just a short short drive. Golfers musta been there first. I don't play the game so not sure how to clean the dimpled white ones, nor how well they'll fry up. ~Timber Troll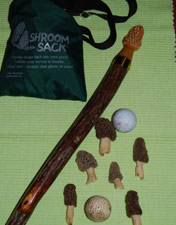 Thursday, April 16
Found 11 gray and 1 white today in Pettis Co Missouri... ~Pam
Tuesday, April 14
Found 48 yellows in st. louis county, most of them were pretty large with this one being the biggest! found these mid slope so they are starting to move into the valleys.

Friday, April 10
Found this nice gray in Central Missouri on Friday April 10th. The children have eggs to hunt and the adults have Morels to hunt. Happy Easter and Happy Hunting 2009. ~Sue

Friday, April 10
Found 32 on april 10 in st. louis county, missouri. starting to get larger and this shows that they are all up, half-free, black, and yellow morels. all from south facing slopes also.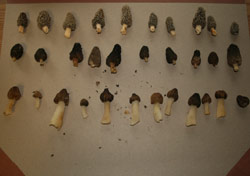 Wednesday, April 8
Hi tom, this is Tom In Creighton Mo. again, it is the 8th of April and we've found 38 so far some almost 4 inches tall so its a bout to happen. it just keeps staying a little cold at night and we had 2 nights of hard frost , just cant seem to get a 70 degree day with a 50 degree night let alone 2 or 3 in a row this is the earliest I've ever found mushrooms that big .I think great things are on the horizon. God Bless Tom n Carrie Creighton Mo. ~Tom
Monday, April 6
St Louis area - My dad found 335 little greys in his back yard on Mar 31, 2009. In the last week, the family has picked at least 100+ more out of the yard. We've never seen anything like it. They did a story on him in the local paper and Channel 2 and Channel 4 news. This is no joke! ~Darrell and Lisa
Monday, April 6
Found 6 blacks and one half free in st. louis county on April 6, 2009. not too big though.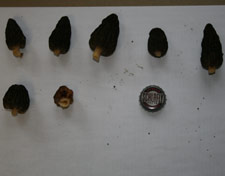 Thursday, April 2
Tom this is Tom In Creighton Mo.Today April 2nd 2009 my wife and I found 3 tiny greys and 3 little white things i am assuming are the beginning of more morels.They were solid white a little fat on the end where the ridges would be on a bigger morel, and I think I have seen pictures of something like them from people that try growing them.Today It is raining, 35 degrees and have had a lot of rain and snow.The next few days are supposed to be 60s n 70s we should be seeing these guys' cousins pretty soon... Be safe everyone, good luck and God Bless...~Tom & Carrie
Tuesday, March 31
I found 2 blacks & 1 grey this morning in st louis, co., 3-31-09. This is the earliest we have found greys here. One of the blacks came from the same early tree as the past few years. The other was a fully matured black morel that looks like it had been up for 4-5 days. All three morels came from Ash trees. No other morels from any of our other early spots today. ~Willie
Thursday, March 26
Found the first tiny, tiny grays, 27 total, on March 26th in sandy bottom area in Central Missouri. Have continued to find some, but not of much size. The colder weather has set them back. Happy Hunting! ~Mushroom Annie from Missouri
Montanna
Friday, May 15
W e found 21 golden morels on may 8th and 65 tan morels on may 15th in the river bottom near missoula , MT, near cottonwoods. this has been a dry spring, so we don't expect a good harvest. ~Steveo
Nebraska
Tuesday, April 21
Found a good cluster of small morels today in Valley, NE along the Platte River. Hunting should be better in a couple of days and even better with rain and more warmer temperatures! ~Sheryl M.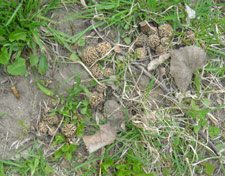 Saturday, April 18
hi tom,Well i went from 5 mushrooms last saturday to 79 nice gray and a few yellow,dont get me wrong i still had to do quite abit of walking but thats part of the thrill. I was hunting in the N.W.part of Missouri.Im curious to see what happens when we get these 4 days of high 70s these week with all the moisture we have i'll keep you updated. ~Kevin
Saturday, April 11
Hi Tom, I found 5 small ones today 4-11-09 and there about the same color as the ones in the spring bouquet on your home page The weather here has its ups and downs - 60's one day and mid 30's the next. We're getting the moisture so I believe once the weather straight'ens out it should be a good year. So good luck all you shroomers, ~Kevin
New Jersey
Wednesday, May 6
Found about 7 blacks about this size near mountainside NJ ~Kyle

New York
Friday, May 8
These are just 13 of the three dozen or so i just found in my backyard in Jefferson County, New York. Quite the surprise for this early in May. ~Chanda L. & David S.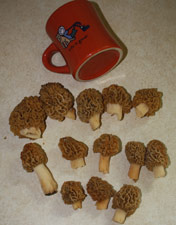 Wednesday, May 6
Found these beautiful morels in Westchester County! ~Dave

Monday, April 27
This is the my first morel ever! I found it in the Peekskill area of New York. ~David

North Carolina
Sunday, April 19
We found these 4/19/09, near greensboro, NC. Hopefully more to come.~Tammy

Monday, April 13
SIYO! SHROOMERS! FOUND 37 TODAY IN ABOUT A 1.5 HOURS BEFORE RAIN AND FOG CAME IN. THIS WAS ON THE CHEROKEE INDIAN RESERVATION!
ME AND AL BUNDY FOUND THEM. MORE TO COME HOPEFULLY!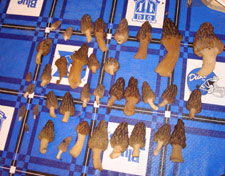 Ohio
Tuesday, August 4
Went out today and found 2 blacks about 1 1/2" long on a sandy mound at the top of a south facing slope. This is about 10-14 days early for around here.
Friday, May 8
Check out the Lancaster Eagle-Gazette Newspaper for Friday May 15. ~Aaron
Friday, May 8
We have found over 950 in Jefferson Cty, OH in past 7 days 5-2 to 5-8-09... Best Yr ever... Happy hunting fellow shroomers..... ~Ken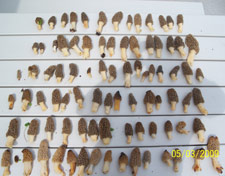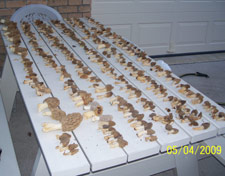 Friday, May 1
I found 180 yellow sponges all in one spot on Friday, May 1st in central Ohio. ~Bob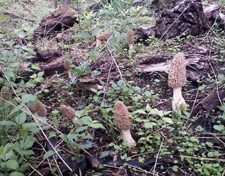 Thursday, April 30
Hi, my name is Nikki from Kalida, OH and I just received my Instant Morel Garden and I think they are great! My uncle just found over 300 greys and we are all excited. Theres nothing better. ~Nikki
Monday, April 27
Over two dozen found Saturday 4/25 and Sunday 4/26 a mix of grays and browns with the sizes of 2" up through 7" Lebanon, Ohio ~Don
Sunday, April 26
Hi there! Just found 15 half frees today! live in allen county, ohio. good luck to eveyone!! gonna be a great year i believe. ~Bert
Thursday, April 16
Found these on 4/16/09 on state land outside of Greenfield Ohio. ~Steve

Tuesday, April 14
About 2 dozen greys biggest about an inch and a half, rest about the size of the end of a q-tip, butler county ohio ~Kerry
Saturday, April 11
We found 10 black Morels in ross county, OH around Paint Creek Lake.. ~Steve
Friday, April 10
Found 16 blacks on April 11th in Miami County Ohio! ~Mandy Mushroom :)
Friday, April 10
Found 29 black morels on 4/3/09 and 33 more on 4/8/09 in Ross Co. Ohio. along with my sister and her husband. Another week or two and the hunting should be great. ~Tammy G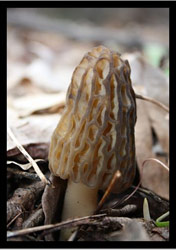 Friday, March 20
Vinton Co. Ohio. Found this one the same place as the frist one last year. ~Mirco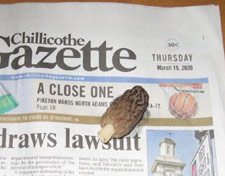 Oklahoma
Sunday, April 5
Bryan found these 38 grays and yellows in Seminole County, Oklahoma April 4, 2009.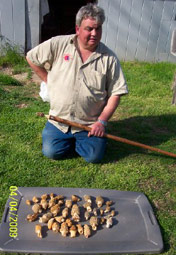 Wednesday, April 1
Brian found 13 grays & 10 yellows in Pott. County, OK. on april fools day, NO FOOLIN!!! ~Mike

Tuesay, March 31
Found my first pair in midtown Tulsa today (3-31-09); sunny, west-facing slope, just off a pedestrian trail. Apparently they survived our 8 inches of snow on saturday ~Dean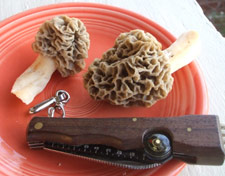 Tuesay, March 31
There are 29 gray's here. ~Mike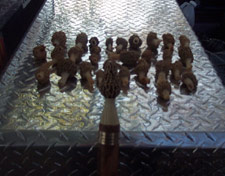 Thursday, March 26
My husband, daughter and I found 10 yellows about 3 inches tall in Osage County Oklahoma on March 20th 2009. Thought they were gonna take off cause of the rain we got, but now they are saying snow! I hope it does not kill off all the morels for this season, we haven't even gotten started yet! Good luck everyone!!! ~Don
Friday, March 20
DEANE MURRAY FOUND 3 SMALL MORELS ON 03/20/09 IN LINCOLN COUNTY, OKLAHOMA. THE WEATHER IS DRY BUT RAIN IS COMING THIS WEEKEND, THE MORELS WILL BE POPPING UP NEXT WEEK. HAVE FUN SHROOMERS. ~Carolyn
Oregon
Friday, June 5
Season is on in Deschutes county Oregon, finally! ~Mikey
Saturday, March 14
I found a few down the street from my house when i was walking my dog in medford oregon. ~Rory

Pennsylvania
Thursday, May 7
Found 39 large brown/copper colored morels in Snake spring township,Bedford county,Pa Not sure of this variety of morel. ~Darrel
Saturday, May 2
THEY ARE JUST STARTING TO POP UP here in northern franklin co, pa, found one 5/2/09 yesterday. I found 2 5/2/09 today. they r starting to pop its getting warmer.anyday they will pop up soon. ~C.G.B.!
Sunday, April 26
Picked about 4 DOZEN in a one acre plot down by my creek in far western Pennsylvania near the Ohio River today, April 26. Some large blondes but mostly grays. Happy Hunting, ~Mar
Saturday, April 11
Weds. 4/08 was my 2nd sucessful day with only 2 blacks, thurs. my son shane and I found 66 blacks, sat. he & I found 45 blacks! lot of small ones so far. nothin in the world beats this! ~Bruce
Tuesday, April 7
Yahoo yeah alright! huntingdon,pa. found 12 small black morels earliest ever! april 7. bruce baker. The most awesome way to spend a day! ~Bruce
Monday, April 6
Hi Tom, Me and my friend found seven in Bedford County, Pa yesterday on April 5. They where under poplar trees. I'm going to dry some out this year, so I may email you again and make sure I'm drying them out right. ~Rodney
South Carolina
Sunday, April 5
A great season in SC is coming to an end. Between my buddy & I, we have harvested over 3000. Thank God for the morel! ~Terr

Thursday, April 2
Sighting Date: 04/02/2009, Location: Greenville, SC, Quantity: 3, Type: Gray
The spring has been slow to arrive this year, but finally found three young morels no more than 2 inches tall amidst a stand of poplars near a creek ~Evan
South Dakota
Wenesday, May 20
Hello from the great state of South Dakota! The ides of May were good to us, however, the season may be a little late due to cool & dry conditions. Mostly early greys (Morchella vulgaris) with a smattering of esculentas. The grasses, sedges, and various forbs are getting tall, so our work is cut out for us unless some big foots(crassipes) poke their lovely heads above the covering vegetation. The wind is picking up (imagine that) so we believe the north slopes may yield the most now. As others have reported, the rascals are popping up between trees, around trees, in the middle of nowhere, and for the first time in my 30 years of hunting, at the base of LIVE Black Walnut (Juglans nigra). East river South Dakota proves once more to be unpredictable. Once we get this new fangled technology figured out we'll send some photos. Happy Trails, ~Scoutmaster Bruce
Tennessee
Thursday, April 23
Found 6 giant whites along with 22 small whites and greys, and 27 blacks above 2000 feet in Carter County, TN. Going out tomorrow for more.....hopefully! ~Wes
Thursday, April 23
Found 50 yellows and grays ,,, 1821 for the year here in tennessee they are about gone i'm afraid. ~Cherry
Tuesday, April 21
We found about 120 blacks and 5 greys on a long road on 4/18. We found another 35 blacks, 6 greys, and 5 whites on 4/19 near water in Carter County, TN. ~Wes
Sunday, April 12
It's looking good. Found 95 blacks and 25 greys today in Carter County, TN. WOOHOO! ~Wes
Tuesday, April 7
Went out on 4/7 and found 30 blacks above 2000 feet. Things are looking good! ~Wes
Saturday, April 4
F ound 446 today in clay county tennessee ~Cherry
Tuesday, March 31
The season seems to be just getting started! We found 20 greys and yellows on 3/31 and found 2 blacks and about 10 greys on 4/1 in Carter County, TN! ~Wes
Tuesday, March 31
Went today and found 244 good day can't wait till the weekend after this next rain comes threw look out the big yelows will be up !! ~Cherry
Saturday, March 28
Its been tough to find good hunting grounds, but a handful is better than none. Last year I started finding them about two weeks later than this so I believe the season is just beginning.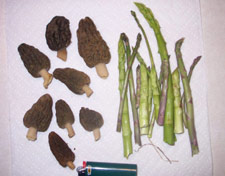 Wednesday, March 25
i found 9 this morning in clay county can't wait till the sun pops out should be a good year !!!! ~Cherry
Texas
Tuesday, March 31
Hello, I found these in North Texas up near the Red River just past Sherman TX. I think I got in on the last of them, there were a few getting pretty dry. Only 20 but I'll take them. ~Jamie, Dallas TX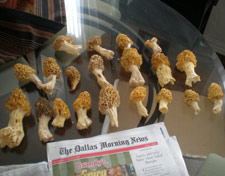 Virginia
Sunday, April 19
Happy to find this dozen along the Potomac River just off the Capital beltway. ~Rob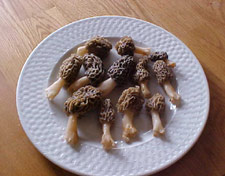 Monday, April 6
Found around 20 in Orange County, VA on Saturday!!! Woohoo Mushroom time is here.
Washington
Monday, April 20
Found 12 pounds on the 20th of April in Northern Whatcom Co. WA Had time to pick 8 pounds the next day trapping. ~WAWildlife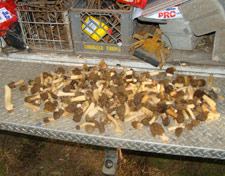 Tuesday, March 17
Found 5 morels today in Olympia Washington in a burn pit…~John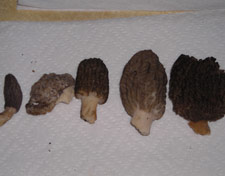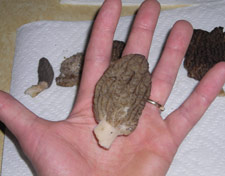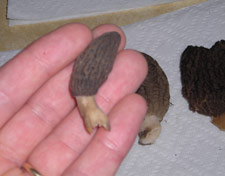 West Virginia
Thursday, April 23
This is the best moral trip I ever had. Southern West Virginia, April 23. My bags are in red, 329 shrooms. Don't know about my friends bag he wouldn't count, but he had more than me. Great time in the woods. ~Curtis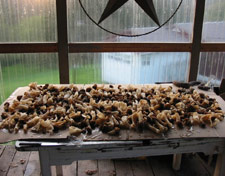 Saturday, April 18
My husband and I went out today. No black morels up yet in our regular patch, but we found 7 half-frees and 9 small greys (I don't recall ever finding a grey before the blacks in the past). Expecting lots of rain this week. Should be better next weekend. ~A.Winland
Wednesday, April 1
We have found a handful of morels in tyler co this week. they were around 1200 ft elevation. Good luck to one and all this year. ~P&B
Wisconsin
Saturday, May 23
Found 15 greys & yellows May 23 2009 south of Hudson, WI. ~John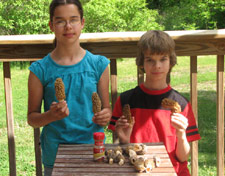 Monday, May 18
Picked over 200 morels on May 14th. They were scattered in some of the most unusual places. ~Scott
Sunday, May 17
We found some greys and yellows today(2-3lbs) in western Wisconsin in St.Croix county, near Connorsville. Largest were about 4-5 inches big. Had to crawl through a thicket of Nasty thorns, but it was worth it. Not many bugs on these, maybe because they are very fresh and just coming up. Found them in two different spots. Happy Hunting!! today is Sunday May 17th
Sunday, May 17
Found these today in Oconomowoc, Wisconsin. First tme collecting morels. ~Will E.

Thursday, May 14
I apologize for the late report but I figure better late then never. During the week preceding it was pretty slim pickins for me (no groupings, mostly singles). On Saturday I did find the attached picture under one dying elm. Oddly the largest were the furthest from the trunk (about 8 feet) and the smallest were within a foot of the base. They made do for my favorite "MLT" morel, lettuce, and tomatoe sandwich. Also found the motherload of beefsteak morels (I believe Gyromitra brunnea). Several hundred over 2-3 acres of pine grove.
Thankyou for doing this board, it is not only a very resourcefull tool but fun to read. ~Jeff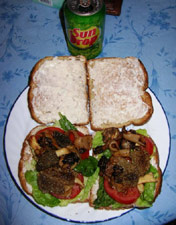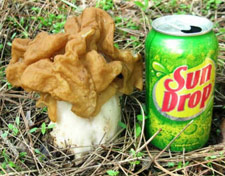 Tuesday, May 12
Found 19 of the biggest grays I have ever seen and all came from the same massive elm! The largest was 1/4 lb and 7-1/2" tall. Half frees are done here and starting to find some mid-sized yellows. Hopefully 7-10 days left in South Eastern WI, Milwaukee County. ~Mike S :-)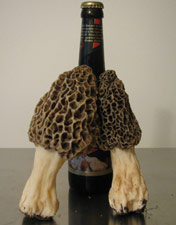 Tuesday, May 12
Found more big yellows in Portage County again yesterday. They all seem to be big and perfect this time around. I am starting to feel gluttonous about my consumption but…..I don't care. ~Brian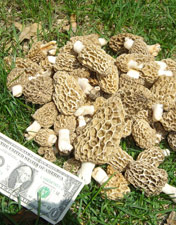 Monday, May 11
The season is good as predicted for Central Wisconsin. Found my first batch in Eastern Portage County on 5/9 and picked about 2 pounds of smaller greys and left some to grow. Went into the woods again on 5/9 and harvested about 50 or 60 big yellows. Still need to go back for the little ones I left but I am sure there will be a ton more yellows in addition. ~Brian

Sunday, May 10
Western Fond du Lac county, Wisconsin, Sunday 10 May. Yellows and greys.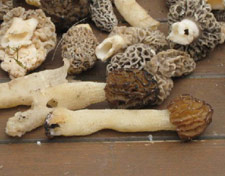 Sunday, May 10
The season's finally started near Wausau. I found 16 black morels, all about 2", and two 1/2" grays which I'm letting grow. Any rain should get it started nicely. ~Bob C
Friday, May 8
Morels are alive and well in Waupun,Wisconsin. Found a nice mess yesterday with my brother. Love the site, ~Brian
Tuesday, May 5
The temperatures have seemingly been ideal and a recent spell of rain gave me high hopes for my first outing of the season today (May 5th). I found a nice escuelenta 5 minutes into the woods which got me all excited. Unfortunately I didn't find another for 2 hours. I did end the day with 5 nice sized morels and 5 of the largest half free morels I've ever picked. Enough for a couple MLT's (morel, lettuce, and tomatoe sandwiches) for dinner. Cheers, ~Jeff.
Saturday, May 2
Found a few small grays on Saturday, May 2nd in Milwaukee county. They doubled in size in three days and started turning yellow! I couldn't take it any more and harvested them last night. Conditions look good for a record season. ~Mike S.

Saturday, April 18
Hello Every One: Started finding small greys in South West Wisconsin on Sat, April 18th: Good luck to Everyone ~Jim R.
Ontario, Canada
Tuesday, June 9
Hello Tom, These are my last morels for the season in southern Ontario collected June 8. It was a long and abundant season. Can you please advise me on the edibility of a Laetiporus sulphureus (Chicken of the woods) I found growing on a Black Cherry log? ~ Thanks Umberto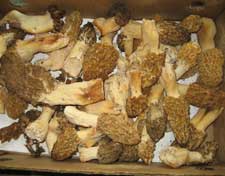 Response from Tom @ Morel Mania
Hi Umberto, we find the Laetiporus sulphureus, also known as the chicken mushroom or sulphur shelf, regularly here in Central Illinois and it is one of our favorites. I did see a field guide years ago published by the State of Iowa that stated it had a higher level of toxins than what would be considered "safe". So, you may want to try just a little at first. Here's a link <http://www.morelmania.com/5Mushrooms/Article0908.htm> Thanks for your reports.
Tom Nauman, Morel Mania, Inc.
Thursday, April 29
Today April 29, 12 days later we spotted 8 Morchella esculenta one inch in size as per picture, so season is ripe in southern Ontario. ~UL

Friday, April 17
Hello Tom, New Morels season has started also here in the Greater Toronto Area. Found 19 Morchella elata this afternoon, Apr 17, the picture tells all. Thanks for the good job and lucky hunting to all. ~UL