2012 Sightings
(Click pictures to enlarge)
*Disclaimer - MorelMania.com makes no effort to verify the authenticity of the sightings posted.
**Submission of any images acknowledges that MorelMania may use the images at our discretion.
Please remember to include the state in your sightings submission so that updates can be done as soon as possible.
Alabama
2/25/2012
Bob from Alabama found 4 grays. ~Bob


Arkansas
Arkansas
California
4/30/2012
In the Pinecrest/Strawberry area in Tuolumne County, California right now they are sprouting up everywhere. The weather was beautiful this weekend and Pinecrest Lake is full - it was really a great trip! ~ch
Colorado
Georgia
Idaho
5/3/2012
Saw you a couple of times at Boyne. These morels were found at 2100 feet along the Lochsa River in northern Idaho in late April. You go up several hundred feet and you still have patches of snow. When Lewis and Clark came through here over 200 years ago they found Morels on June 18 at higher elevations. Quotinng from their journels" these tasteless insepid morsels etc". I can imagine that if they cooked them in old bear grease that they would not have tasted very well. Have a good year. ~Dick


Illinois
5/10/2012
I spent two hours walking thru the woods on a beautiful Wednesday afternoon. Mine was more than a stress-reducing walk. I did find mushrooms, 2 to be exact. They were fully grown, water-logged, and fallen over so I left them to rest where they were. May be my last trip for the year.

Didn't get home to Fayette County this year, but had a fair year here in Cook & Will. Will try to be patient and do some fishing and game hunting until the morels come again.

Thanks to both of you for your help in making this season a good one. Hope to get out with both of you next year. ~ Ron
5/8/2012
2012 Midwest Morel Fest Winners

GRAND CHAMPION
NICKEY GREER, SEATON, ILL

1ST PLACE MALE & SMALLEST MUSHROOM
RANDY DEDECKER, SILVIS, ILL

2ND PLACE MALE AND BIGGEST MUSHROOM
ALEX LINTOTT, CHICAGO, ILL

1ST PLACE FEMALE
NADINE RENBARGER, CHICAGO, ILL
5/3/2012
Late in the season. Bugs and rain taking their toll. Big yellows still to come, I hope. ~Charles


5/3/2012
At least one out of 20 to be proud of. ~Charles

5/3/2012
The best 'shroom of the day. Southern Cook County, IL. ~Charles

4/26/2012
40 or so. Nice whites. Many fresh. Picked 4/25 in Southern Cook County. May apples looking better all the time. Don't know what this cold spell will do, but looks like we'll have some rain. Next week could be good again.~Ron

4/22/2012
Its been challenging year for me. More ticks than shrooms along my usual haunts along the river bottoms in Whiteside county. Found 14 yellows in early stages of growth in Lee county yesterday. April 21st. I am of the opinion that the shroooms are on a typical schedule for this area this year. Good luck fellow shroomers. Endeavor to persevere. ~Mayor Boondini in Lee County


4/21/2012
Magnolia, IL, 04/21/12. I haven't had much time to look. But at least Vicky has priorities straight. She found these 200 feet north of the mushroom workshop. I can only imagine how many more we'd find if we'd get some rain. ~Tom Nauman Morel Mania, Inc.

4/16/2012
Found 11 on 4 / 15 between all the rain and lightning in kendall county,happy hunting to all, see you at the Ottawa Morel festival ~Rogelio


4/15/2012
Found a half dozen more yellows this morning 4/15. Good thing cause I at all the ones from last week! ~John
4/12/2012
Found 63 today with my daughter today in Winn. County. Hope we get some rain. ~Mark :)
4/10/2012
Hey tom found this little guy in batavia ~Rogelio

4/8/2012
Excellent Easter hunting today! Found 21 good sized yellows, they'll go great with Easter dinner tonight. ~John
4/7/2012
Found this little guy March 27. Marshall County IL, Went out today found a lot of small ones left behind to grow for a few days. ~JT

4/6/2012
Went for a quick walk pretty good one tree shelbyville, Illinois. ~Cgarrett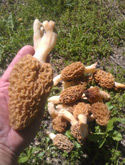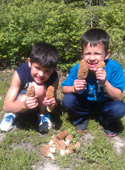 4/5/2012
Went 4- 4 and 4- 5 mclean co and champaign co found 24 the first day mixed greys and yellows then today we found 15 yellows in a burned out area in about 20 mins of looking during lunch good luck they are up but we need rain. ~Rich
4/4/2012
Found this mix of greys and yellows today 4/4 in East Peoria in an hour. ~Noah

4/4/2012
1st batch of the season shelbyville illinois.

4/2/2012
Found 10 2-3 inch grays and yellows after that last good rainfall we had on Sunday afternoon in McLean County. Definitely up. Just need some more rain to match the temperatures! ~ Tcanuth
4/2/2012
All from the past weekend. Saturday, Sunday and Monday ~Bob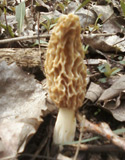 4/2/2012
Found 140 nice greys and yellows in Fairview Heights, IL on April 2nd. We really need a good warm rain!! The sunlight was perfect for this photo. ~Larry


4/1/2012
Found 4 grays in my backyard in Joliet yesterday! Never found them there before. Then found close to 200 yellows 1/2 hour south! ~Michelle


4/1/2012
Found 25 small greys in Peoria County. ~Ted
3/31/2012
Found about 10 thumb size grays in Kanakee county on March 31st ~Rich
3/30/2012
John from St. Charles found one gray morel approx. 2" tall. I'll be back out to the woods in the morning. Happy hunting! ~John
3/28/2012
On March 28th found 55 nice greys around a dying Elm. Nothing around last years hot spots yet. This find is a month earlier than 2011! ~Linda

3/28/2012
Found these morel mushrooms (three pounds) on March 28, 2012 in Peoria County. All it took was a little advice from my dad Mike H on where to locate them. Looking forward to a good year of hunting. All we need is some rain and sunshine. ~Matt
3/28/2012
Hi! Yesterday, 3/28/12, in Fulton County, Illinois I found about 30 tiny grey morels ranging in size from 1"-3", and also found about 10, 3"- 4" yellow ones! This is about 3 weeks early for me! I think it's going to be a "great" year!! ~Lisa
3/28/2012
Spent an hour and a half in the woods today in Knox County. The result was one tiny grey morel ... and by tiny I mean less than a half inch. Hope its still just too early. ~Norm
3/25/2012
First grey of the season! ~Randy in the QC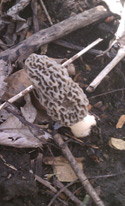 3/25/2012
Found morels tiny ones on sun 25th in effingham county but its on my phone so i cant get it on the site. Thanks. ~Jacki
3/25/2012
Hi,Tom and Vicky. Ive hunted the morel mushroom for many years and never found them this early in Peoria co..I found these on March 25th and many others i left behind to continue growing.Fingers crossed for the perfect mushroom weather.Take care and good luck hunting.Your former professional automotive sales consultant. ~Larry P.

3/24/2012
Found a pound and a half on the 24th in Sang. County. ~Conrad
3/24/2012
Hunted at Vienna on Saturday, 3-24. Found 40 mixed grays/yellows, 1"-2" and very scattered. Then went 1 ½ hours north and hunted by Centralia. We found 14 blacks in one very small area. Both areas very wet w/lots of moisture due to recent rain. ~Jim
3/24/2012
Found 4 super small greys in Cass today, Crazy early! ~Julie

3/23/2012
Hi Tom and Vickie. Mike Hanleys brother Pat found 1 very small gray morel today March 23rd. Warm weather but need rain to make them pop. Good hunting this early season. ~ Mike and Sally
3/22/2012
My father in law, husband and myself went out north of Chillicothe on family farm wood land and found 50 from micros to an inch n half ones. Just got some rain so while I am at work this weekend my husband and his father are on a mission to go out again Sunday to find them. Haha. I will update. ~Kaylee
3/21/2012
Greetings Tom. I hope this early spring finds you well. Perhaps unbelievable, I found three tiny grays in Peoria County today, my earliest find ever. They were on the edge of a field and all withing a few feet of each other near an elm that died more than a year ago. A few days of rain and it should be hopping. I just hope it doesn't end too quickly with these crazy temperatures. ~Matt B.'


3/19/2012
Found these two, partially dried-up greys this afternoon, March 19th,in Fairview Heights, IL. ~Larry


3/17/2012
Found 30 dark morels and one yellow at garden of the gods today! Not sure how to post a pic here but pic posted on fb under Jacki black Whitacre. ~Jackie
3/16/2012
Could it be? Friend of a friend found these this week in Fayette Co. ~ Nathan

3/13/2012
Found this little one in northern St. Clair Co. On 3/13/12 ~Brent

Indiana
5/2/2012
20#s of big yellows Laporte Co., IN ~Lila


4/19/2012
37 Yellows 4-5 days old in parke county. They related to sycamore and horsetails. ~Pete


4/2/2012
Skillet full found near Greencastle, IN. Pete

3/13/2012
Hi, Just wanted to report I found this one small black morel this afternoon near my home in Williams, IN 47470. Happy Hunting... ~ Jeff


3/15/2012
Hi, Just wanted to report that I found two more small black morels near my home in Williams, IN 47470 today 3-15-2012. Good luck Hunting...~Jeff

3/17/2012
Hi, Just wanted to send a photo of the Black Morel found on todays hunt. 3/17/2012 Found near my home in Williams, IN 47470. Found 5 total so far in the same patch. Looks like another good year and around two weeks earlier than usual here. Thanks, ~Jeff

3/18/2012
Hi, Just wanted to report that I found 8 small black morels today near my home in Williams, IN 47470. One this morning and 7 this afternoon, 3-18-2012. Thanks, ~ Jeff

Iowa
4/16/2012
Here you go. Southern Iowa on April 14 and 15. 75lbs. Note from Tom: I think the rains have begun our regular season. The grays we found three weeks ago were a pre-season bonus. ~Brant



4/7/2012
Tom, I've attached a copy of the picture of the 50 gray morels I found in Dubuque County, Iowa today. Some were as small as a fingernail, others as large as my thumb. All were found on south-facing slopes, gullies and ravines. It is the earliest I've ever found them here so hopefully it will be a good, long season. Good luck to you and everyone else hunting them and great job with your website! ~Christopher

4/4/2012
Found about 1.5 pounds in the hills of Council Bluffs, Iowa. Early for hill mushrooms here. ~Angela
4/2/2012
23 NICE GREYS IN AN HOUR OR SO ~Raceready
3/29/2012
The first of the season, maybe one of the earliest finds in the state, but to be expected based on March weather. More to come, many more, but not for a while. At least we know what to look for. Town of Brigham, Lake View Road, Iowa County. Good searching. ~Jerry

Kansas
4/1/2012
Hi Tom, Found these nice morels in the Augusta area last week around the 26th. Found a few more since. The kids love them! Thanks, ~Wilena

3/27/2012
Found several nice tans in Wichita area. ~John
3/24/2012
SE Kansas, we found 28 Morels at a little patch this afternoon, forest "GroundCam" picture attached. Confirmed sightings of Morels since Sunday, March 18, in SE Kansas and NE Oklahoma. ... ~Kent

Kentucky
4/5/2012
Found these along a popular trail in the Natural Bridge State Park last weekend. ~Mother Chalk Bags

Maryland
3/27/2012
Classification: UNCLASSIFIED Caveats: FOUO Hello! Love this early spring! Morels sighted in Conowingo Maryland! Same patch every year, just a few weeks early. Picked about a dozen on the 25th, cant wait till Saturday to get more.
Massachusetts
Michigan
4/29/2012
A friend and I found 15 blacks just south of Houghton Lake, MI on 4/29/12. They ranged in size from a 1-1/2" - 4" ~I.BE.
3/20/2012
Hi Tom and Vicky ,just wondering what your thinking about this prolonged warm temps.and your upcoming morel season? We are down at Siesta key,Fla.for the month of march again this year,so I don't have a handle on what's going on in central Michigan. My previous record for the first blk.in my area is March 29 th. would not be surprised if we break that record this season. I did not see a 2012 sighting link on your web page. Hope all is well, ~Rog and Lela.
Minnesota
5/8/2012
First timer's find in an hour by our woods in Western MN-we are now hooked! ~Amber
Missouri
4/3/2012
Hi Tom, I love your website. My best friend and I found 35 Morels on my farm in Maysville, Missouri on March 31, 2012. Here is a picture of our little mess. They sure were good eating! Happy Hunting! ~Farmer J.

3/27/2012
Morels were found at MKT trail in Columbia Missouri. ~Stanley

3/25/2012
Found 33 Sunday March 25, near Smithville, Missouri. Small but delicious with eggs Monday morning. Wife had 16, I had sixteen and we arm-wrestled for the last one…I lost, man the first of the new season are always some darn good 'shrooms. ~Timber Troll Kansas City
3/24/2012
Yes, the sun is shining, after 5 days of rain and the Grays are starting to come up outside of Kansas City area; mostly thumb size. ~Ed
3/23/2012
Found 2 small yellow in Cape Girardeau MO. ~Doug

3/23/2012
From my yard in St. Louis about a dozen, St. Louis, MO. ~Mindy


3/20/2012
Tom, Mark P. here from kansas city mo. Went out the 20th found over 60 picked 38 about the size of your thumb. There here. ~Mark
Montana
Nebraska
New Hampshire
New Jersey
New York
North Carolina
3/20/2012
These were 2 of 6 found March 20th in NC. ~Darlene

Ohio
4/5/2012
I found 8 small yellows after this week's rain in our usual spot in central Ohio. ~Melinda
4/2/2012
Hello,I found these april 2nd 2012 in southeastern Ohio 38 big Morel they were some getting old 4-5 they were too old to bring out of the woods we are having aq very early year usually about apr 20 when these come up here but due too warming temps. and good rain we are having a early year, enclosed is 2 pics found on ridge rich soil around elm and popular. ~Michael

3/25/2012
Found 36 Greys near Paint Creek State Park. ~Steve

3/20/2012
The blacks are up in southwest Ohio on Tuesday ~Martin

Oklahoma
3/24/2012
Hi Tom. Bryan here i found 66 saterday 27 was in a 2 foot sq. found another 40 on sunday. ~Bryan
Oregon
4/26/2012
Found about 60 over a few day period in Portland last week. ~Jessica


Pennsylvania
5/2/2012
24 blondes - 5-2-12--central Pa.~Curt
4/20/2012
4 nice ones. beaver county, pa ~Gregg

4/13/2012
27 blacks Huntingdon Pa ~Curt & Deb
4/1/2012
Huntingdon,Pa. 3 nice blacks & 4 small ones. ~Curt & Deb
3/23/2012
Huntindon, pa. 3/17 4 black one ,3/20 8 blacks, & 3/22- 6 blacks! WOW! 3 weeks early. ~Bruce, Shane, & Lucas
South Carolina
South Dakota
Tennessee
3/31/2012
We have found black, grey and yellow mushrooms starting around 3/11 Not a good year. We had a frost and it hasnt been good since. ~Deb N Bruce
Texas
Virginia
Washington
West Virginia
Wisconsin
5/6/2012
Thought we were almost done this year because we have been finding them for about 4 weeks now. But came across this one yesterday in the De Soto, WI area, along with 6 more that gave us about 4 pounds. ~Joy


5/2/2012
We located about 8 quarts just south of Ripon, WI. ~DH


5/2/2012
My first morel in my back yard under my dead elm tree. Pepin county, western wisconsin. I'm getting into it now. ~Terri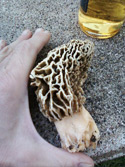 4/19/2012
Looking good in SW Wisconsin! ~JE

4/15/2012
Found 9 tiny silvers in Buffalo County Wisconsin. (This is the earliest date I can remember. ) ~Laura

4/9/2012
Hi: Tom: These were found the week of April first in S,W, Wis: ~Jim R,

4/6/2012
Picked about 130 today in Southwest Wisconsin - mostly small grays. Had frost here last night though. ~Kelly K


3/31/2012
Finding pins in S.E. Wisconsin as of Monday, March 26 ~Robebabu
3/24/2012
Hi: Everyone: Found the first ones of the year on the 24th: They are tiny: But pretty: Good luck All: Jim: S,W,Wisc, ~James
British Columbia, Canada
Ontario, Canada
3/21/2012
Hello Tom, Has been pretty warm here, went out to check. No Mayapple shoots yet, but spotted some 2 dozen Morchella Elata (blacks) 1 to 3 inches in size, picked
8. Attached are pictures. Season is one month earlier. Happy morelling to everyone. ~LUP


Netherlands